The water takes over Venice and enters the Basilica of San Marco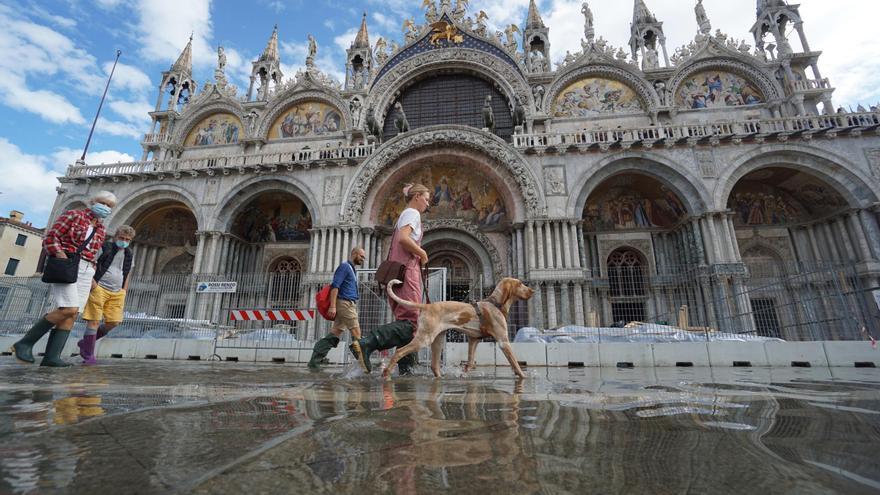 A rise in the tide aggravated by a storm caused the water would once again flood the emblematic Plaza de San Marcos in Veniceas well as the interior of the basilica, since it was decided not to activate the sea protection dikes.
The Venice Tide Forecast Center warned early in the morning of a sea level rise of 105 centimeters and advanced that the MOSE system would not be activated, the dikes capable since last year of isolating the Venetian lagoon from the Adriatic Sea.
Although much of the city was not flooded, the water did reach its lowest areas, like the Plaza de San Marcos, which is about 80 centimeters above sea level. Thus, it was possible to see how the water flooded this square again, in which elevated walkways were arranged to allow pedestrian traffic, as well as the interior of the Basilica of San Marcos.
Venice was equipped with the MOSE system in October 2020, almost twenty years after the start of the work: it is a series of dikes that close the three mouths that connect the Venetian lagoon with the sea in the event of tides exceeding 110 centimeters . A pharaonic and expensive infrastructure which became even more urgent after the serious floods of November 2019, of 187 centimeters, a figure that had not been recorded since 1966.
Now The objective is to protect the greatest jewel of this World Heritage city: the Basilica of San Marcos. The biggest threat is the salt from the seawater, which soaks and corrodes its delicate ancient frescoes and mosaics. For this reason, a wall of transparent material has begun to be built around it, to save the temple from light floods like those of this Tuesday.
Last July, the Italian Government prevented Venice from entering the List of heritage at risk of the Unesco after prohibit the entry of cruise ships in its waters, something for which neighbors and environmental organizations had been fighting for years.