The war between Russia and Ukraine splashes Formula 1: the future of Haas and Mazepin, in the air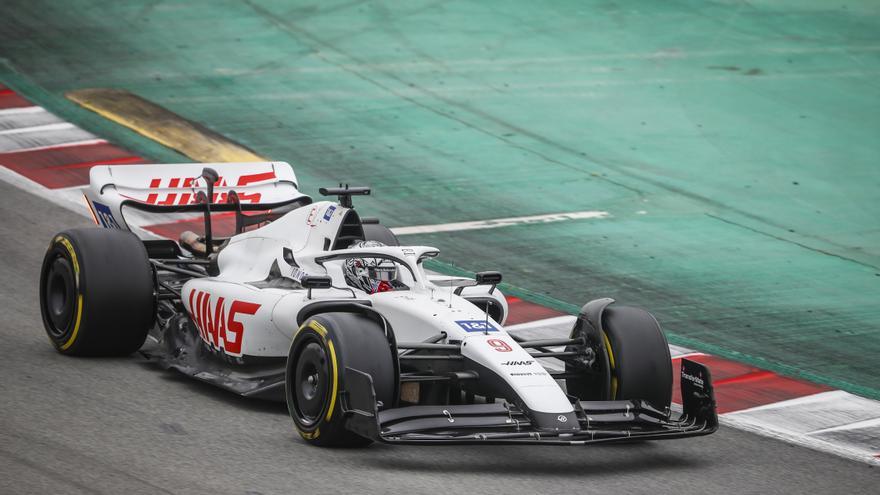 The war between russia and ukraine It has meant a great international impact in all areas, crossing the barriers of geopolitics. The conflict has also affected the world of motoring and Formula 1where Hassa team North American present in the competition since 2016, has begun to break ties with its official sponsor, the russian company of fertilizers Uralkali.
To this controversy, we must add that Nikita Mazepinone of two riders on the American team, is the son of Russian businessman and oligarch Dmitry Mazepin; who is also a good friend of the Russian president Vladimir Putin. So, for the moment, the future of the team and the pilot are up in the air.
Haas goes blank
By now, Haas has already taken the temporary decision to remove from his car everything related to the sponsor Uralkali, with which the car has ceased to have the usual russian flag of its bodywork, which right now is completely White. This first indication of the separation of paths between team and sponsor has been seen on the circuit of Montmelo (Barcelona) during the test session this Friday.
Despite this change, which suggests a crisis due to the division of political interests within the team, Haas has only issued a release warning of changes in your car. However, for now, the team founded by Gene Haas gives no clues about its future nor that of its pilots, who continue to train normally on the track.
'Red flag' for Mazepin?
the friendship of Dmitry Mazepinoligarch and chemical company owner Uralchemwith Russian President Vladimir Putin could cost his son his career, Nikita Mazepin, who has been riding for the Haas team since last season. In addition, the Russian tycoon is one of the owners of Uralkali, with which a total separation between sponsor and team could lead to the disappearance of the team or, on the contrary, to the possible expulsion of the rider.
So far, the Russian driver is still adapting to the car for the following season, and his schedule has not undergone major changes. However, the team has preferred that Mazepin not attend the Press conference which was scheduled for this afternoon.
Russia disappears from the calendar
After what Sebastian Vettelfour-time F1 world champion, declared this Thursday that he would not attend the Russian Grand Prix if it were disputed, the International Automobile Federation (FIA) announced this Friday that the September GP at the Sochi Autodrom is suspended for the 2022 World Cup.
This has been reported by the Formula 1 through their social networks, where they have stated that "it is impossible host the Russian Grand Prix under the current circumstances.