The viral mother who gave "her first Luisvi" to her daughter appears in 'La hora de La 1' and responds to criticism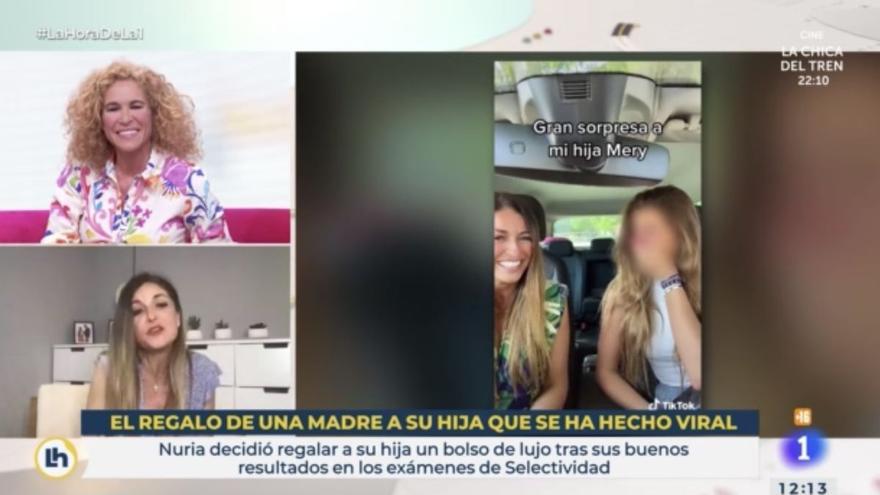 Yesterday 'La hora de La 1' interviewed Nuria Pajares live, the mother of the latest viral video of the social media. In it, this woman from Salou gives her daughter a surprise by showing her a photo of your next gift for finishing the selectivity: a Luis Voitton bag. "His first Luisvi!" she says while her daughter can't hold back the tears of emotion.
The video has turned the internet: "It has been a very controversial weekend, but we are enjoying it," said the affected woman when she entered the TVE magazine. Pajares, which is defined as "creator of content in Tiktok for a year, "he took away the criticism and jokes:"I have been greeting and congratulating everyone who has made memes ".
His attitude won the applause of Boris Izaguirre, present on the set: "You have faced all this taking advantage of criticism, making us become more adept. "" I think you should occupy a communication position in a much more important place than your own home, "joked the collaborator.
"We have to respect the good and bad reviews, because they teach us," said Nuria. However, Nieves Herrero did criticize him: "Everyone can do whatever they want, but I do tell you that our children have to learn that fulfilling their obligation does not deserve any kind of gift".
"Let me explain. It's a decision I made freely because a lot of things accumulated," she replied. "First, my daughter came from a covid that I had had a very bad time, like many people, that I respect them ... but hey ", and added:" My daughter had had a very bad time, she was at a stage with 18 years of living life madly, with friends , discos and others. I had passed a baccalaureate and a selectivity and I am going to study away from home for four years in Barcelona. "