The 'violet point', present at the GranCa Live Fest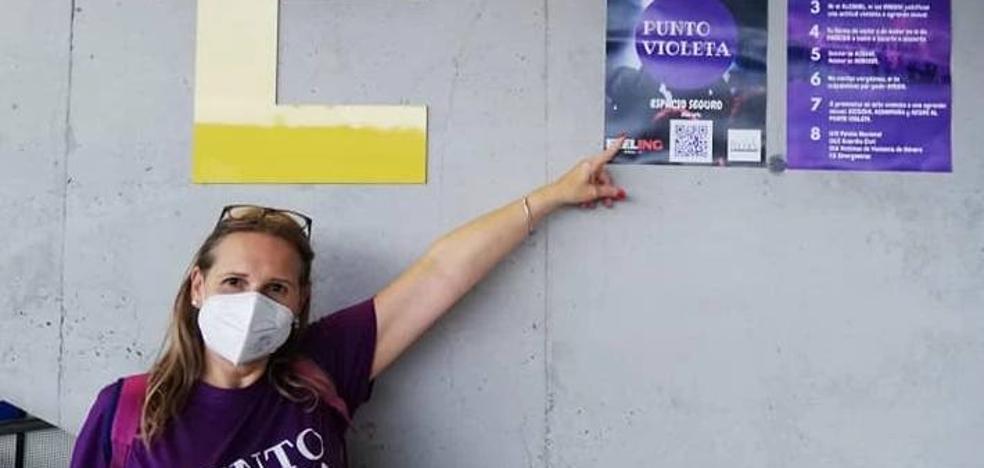 The volume of people who come to ask is increasing, giving the attention, information and help to victims of any type of sexist aggression the importance it deserves.
The
purple dotshabitual spaces in massive events that try to prevent the
sexist attacks and raise awareness by guaranteeing the necessary information and attention service for safe leisure, they are becoming more and more pervasive among the attending public.
Esther Alvarez, president of the
association 'To you, woman', highlights the importance of having this type of instrument that "involves the whole of society in the fight
against sexist violencemassively spreading the necessary information to know how to act in a case of violence against women", he explains to emphasize something even more important, "bringing attention to the very environment where this type of aggression takes place".
Safe leisure and rise of a necessary trend

The
GranCa Life Fest is committed to this measure that promotes safe leisure, thus satisfying an essential need in massive events of this type. «There will be 8 people at all times and between artist and artist a voiceover will be broadcast informing of the
violet dot and a video will be put up accompanying this information to give visibility to this tool", explains the person in charge of this space, who assures that "more and more women and men go to
thank the presence of the violet dot and request information on how they can act in the event that they see an attack or if they or someone close to them is a victim."
The evolution of this tool as a prevention mechanism is unstoppable, as Álvarez points out, who values ​​it positively: «it is increasing and at each concert we are
serving over 100 people every night». Despite this, he warns that "there is still a long way to go, but it is clear that things are changing and more and more people want an end to any type of aggression or violence in any of its forms."
A festival of great importance

The first edition of the "GranCa Live Fest" aspires to be the largest sustainable Latin music festival in Europe and will bring together more than 14 national and international artists with a
total of 22 hours of live music on July 8 and 9 at the Gran Canaria stadium.
Artists like
Marc Anthony, Resident, Camilo, C. Tangana, Dani Martín and Myke Towers, plus other national and international groups, are the main attraction of one of the events of the year in the Canary Islands and that hopes to establish itself as a reference Latin festival on the continent.
Tickets can also be purchased at
www.gclivefest.es at post offices throughout the Canary Islands and at El Corte Inglés.
This event is supported by
Cabildo de Gran Canaria, City Council of Las Palmas de Gran Canaria, Government of the Canary Islands, The Canary Islands advance with Europe within the European Regional Development Fund, the European Union, Tourism of the Canary Islands and the Canarian Institute for Cultural Development. Mahou and Arehucas are sponsored and Archipiélago Renting, Binter, I Love The World, Unión Deportiva Las Palmas, Century 21 Capital LPA, Coca Cola, Red Bull, +Led, Distergen and the media partner Cadena Dial collaborate.