The Villacañas case: the incredible story of the man who pretended to be a Espanyol footballer in Castellón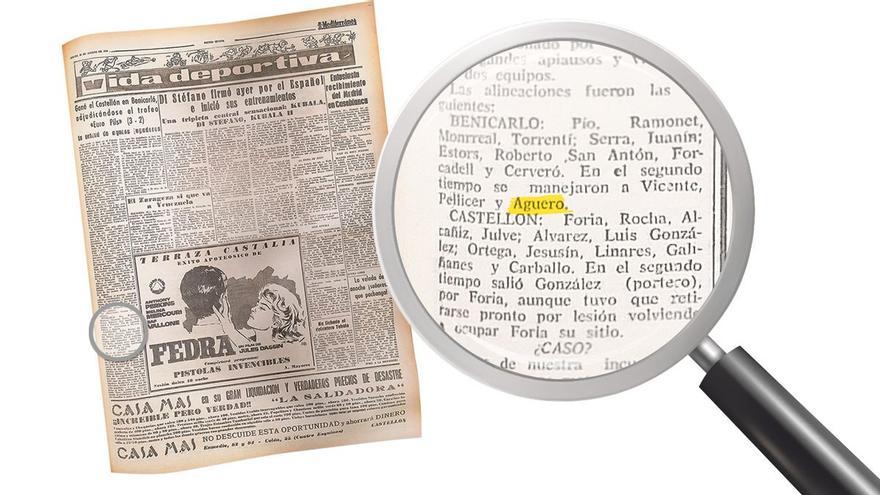 Asked by Mediterranean During the summer of 1964, foreign tourists visiting the province of Castellon they showed their surprise at some of the local customs. "The young women want to get married right away", "there are few gas stations", "at meals they serve three courses," they said. All this seemed strange to them because they did not have time to know the story of Jose Luis Villacañas Agüero, which in Castelló made its particular August. He appeared in the capital of La Plana saying that he had played in the Spanish, pretended to be a footballer to live to expenses paid, He even managed to do a test at CD Castellón and ended up playing a friendly with him Benicarlo, where the charade was discovered.
"He must have been quite a character, a real lifeie," he explains. Gregorio Segarra, author of History of Benicarló football. The young Villacañas was 20 years old, had been born in Lleida and was a neighbor of Barcelona. He arrived in Castelló in the middle of summer and used the admiration caused by the footballers to finance himself a kind of full-board vacation. They did not last long.
As he writes Jose Maria Arquimbau at Platinum Book of CD Castellón, Villacañas He appeared in cafes and bars as an Espanyol player, and he did not lack the power of conviction. Chatting with local fans, who used to invite him, he learned that Camilo Liz, Castellón's technical secretary, had gone to Madrid for a few days, a situation that he took advantage of to go to the Castalia stadium and request a test. Before, He had convinced the owner of the pension where he ate and slept that he was going to sign for Castellón, and that the club would pay the bill later. Several fans even lent him money that he would return when he signed and received his first salary.
None of that happened, of course. Villacañas managed to perform the test with the team orellut, but did not convince the coaches. Despite this, in full preseason, tried to get on the bus that took the albinegros to Benicarló, where they were going to play a friendly preparation. As they did not let him, Segarra indicates, "he convinced someone to take him by car, and in fact he reached the field before Castellón himself." The club orellut, then in the Third Division, he was immersed in one of his classic troubles, because five of his players – Quinocho, Cela, Marín, Axpe and Abiétar – refused to play if they did not collect the money they were owed before, a circumstance that delayed the expedition trip, which had to be completed with several juveniles.
Finally, a few minutes late, Castellón reached Benicarló and the match was held. The albinegra expedition observed with surprise that one of the local players coming off the bench was a recent acquaintance. It was Villacañas, who played for a while with Benicarló. The team deciduous He was a member of the fourth tier of national football and had agreed to use him on trial. «Talking it with the president Bautista SorlíYears later, he told me that he didn't play badly at all and that if what happened later doesn't happen, they'll sign him anyway, "says Segarra.
What happened later was that «the Castelló pension had already claimed the payment of what was owed to the club orellut, and the managers present there recognized it, 'this is the one who has left without paying,' "he adds. They called the Civil Guard and quickly understood why Villacañas used Omen, his second last name, on the roster sheet. He was not a footballer but an impostor. He was in search and capture by several courts in Barcelona, ​​where the incredible Villacañas case ended.