The Villa de Santa Brígida cadet gets his doctorate and wins the Club World Cup in Cambrils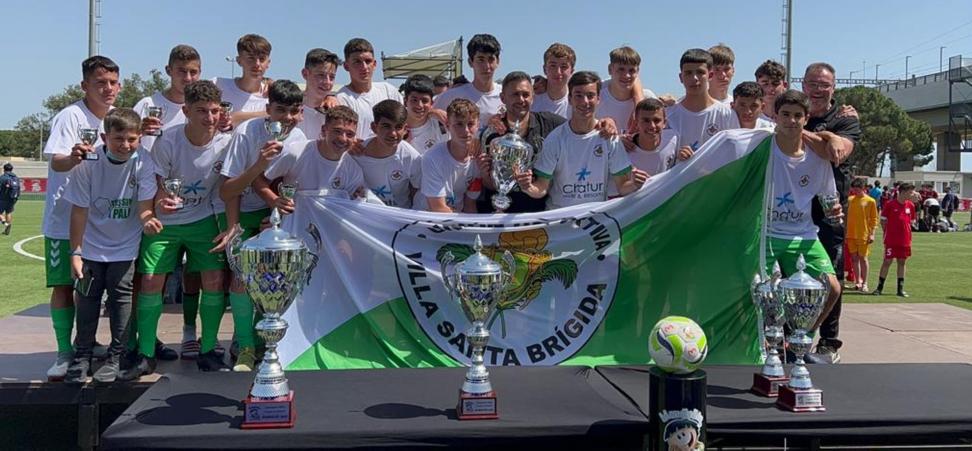 The Satauteño team beat Valencia 0-1 in the final and became champion of the prestigious international tournament
The Villa de Santa Brígida cadet culminated his feat in the Club World Cup, held this week in Cambrils, in Tarragona, and yesterday he became champion of an international event in which he rivaled important rivals such as Juventus or Valencia in the grand final. The team led by Alillo and Manolo Marrero beat the Ché team 0-1 in the decisive match for the title, which put the finishing touch to a successful participation that elevates the players from Gran Canaria.
«
It was a very tense meeting.. We put heart and effort into it and little by little we beat Valencia, although the break was goalless. Our goal came with twenty minutes to go, thanks to Coco, and we were able to score another one. We forgave and then we had to put up with it, because Valencia scored three forwards and they even gave us a penalty against us, which the referee annulled at the request of the line judge because the foul occurred outside the area.
These players are heroes», Alillo emphasized yesterday, still with emotions on the surface.
"Our hearts do not fit in our chests.
We feel enormous pride for having represented Canarian football in this way and the coaches have the immense joy and happiness that the boys have received the award they deserve for their work and quality, "he added.
Villa had an immaculate record en route to the title.
In his debut he beat Juventus and, later, he did the same against Cambrils, Rayados de California, San Apóstol, La Floresta and, already in the decisive duel, Valencia. Six of six. Almost nothing.
The goalkeepers Bryan and Saúl, the defenders Diego, Víctor, Dela, Ale Guijarro, Cerpa and Fran Alemán, the midfielders Machado, Jaime, Israel and Orellana and the forwards Coco, Jorge Luis, Álvaro Sánchez, Óscar, Iñaki Sintes, Rodry, Anish and Ismael have been the architects of this feat in which they wanted to have a special memory for La Palma and its inhabitants due to the volcanic eruption that occurred months ago.