The venues of the Barça elections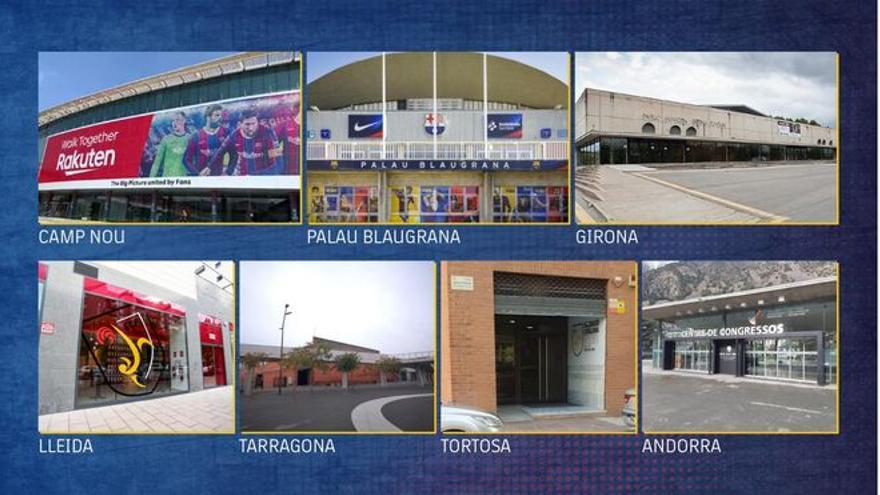 Decentralization is one of the singularities, along with postal voting, of the elections to the Presidency and the Board of Directors of FC Barcelona that are celebrated this next Sunday, March 7. For the first time in the history of Barça, the elections next Sunday will not be held in a single location, but the members with the right to vote have been distributed among six different easily accessible venues, located in the cities of Barcelona, ​​Girona, Lleida, Tarragona, Tortosa and Andorra.
The city of Barcelona brings together the largest number of the 87,479 partners who are called to vote in person in these elections. In the electoral college of the FC Barcelona Campus, for the entire census of Barcelona province, the rest of Spain and the rest of the world, a total of 78,987 voters are assigned (after deducting those registered in the postal vote and the members who requested a change of venue), which will be distributed among the 111 tables located between the Camp Nou and the Palau Blaugrana. The Electoral Board, the Electoral Board and the trustee of the partners will also be located in person, with permanent contact with each and every one of the venues.
But apart from the facilities of the FC Barcelona Campus, new scenarios will also work in these elections, chosen with the criteria of diversifying the presence of voters, alleviating possible crowds, reducing movements and ensuring the safety of all in times of pandemic. For this reason, two sports pavilions, two territorial venues of the Catalan Football Federation and the Palau de Congressos de Andorra will also host the elections to the Presidency and the Board of Directors of Barça next Sunday.