The Valencian who directs the sounds of the mountain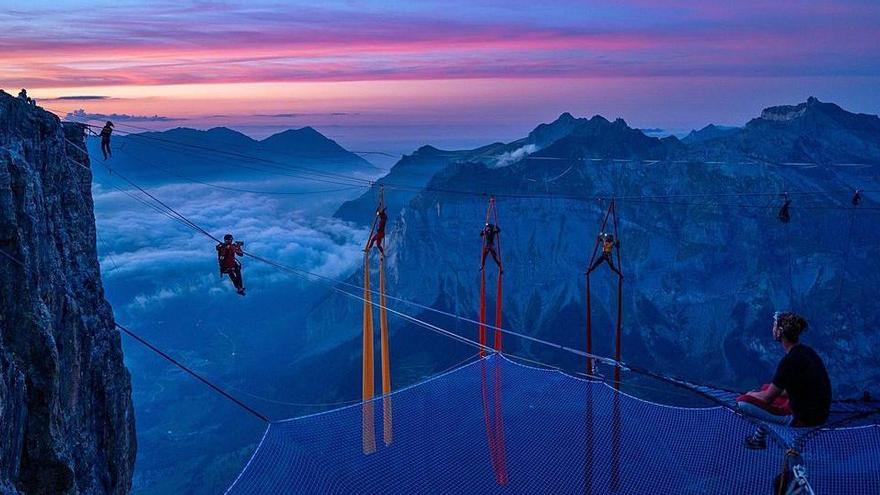 The Valencian composer Josué Vergara signs the soundtrack of 'Out of the blue', the documentary about the adventures of some acrobats in the Swiss Alps. The music of the Valencian reflects the majesty of the Oberland region, the highest in the canton of Bern, as well as the tension experienced by athletes when contorting themselves tens of meters high.
Vergara won the prestigious Hollywood Music in Media Awards, considered "the Oscars of music in cinema", for the soundtrack of the production Superhéroes, by Abdelatif Hwidar and Natxo Alapont. It also won Best Song at the Akademia Music Awards for the miniseries "Parany," with a screenplay by Rodolf Sirera.
For 'Out of the blue', Vergara has prepared a soundtrack marked by the presence of the piano, the one in charge of capturing both the moments of tension, as the periods of magic that are lived in the heights.
The film, which will be presented tomorrow at the BBK Mendi Film Festival in Bilbao, narrates the adventure of Maja and Sebastian, two young acrobats from Switzerland who decide accept the challenge of an enigmatic character who has recruited street artists for a bizarre project on a peak in the Oberland. "It's a movie about the first few times. Maja and Sebastian symbolize the idea of ​​achieving something that you never thought you could achieve," explains Sebastien Montaz-Rosset, director of the film with Davinia Beyloos Montaz-Rosset. The two own the film studio, Montaz-Rosset, responsible for other films such as Summits of My Life and Path to Everest. "We like to bring emotions to life through images in a raw, authentic and forceful way. We use our experience for the benefit of history "explains Davina Beyloos Montaz-Rosset.
Music is another character in the film. "It's key. Josué Vergara did a moving job, he's a very talented composer and working with him was almost a fluke: he got in touch with me just a few days before we started editing. Editing is also essential. We edited four hands with Davina and she brought a very personal touch and a fresh vision to the process, "says the filmmaker.
Vergara has also composed the music for Naked, the short by Israel Sánchez-Beato and Abdelatif Hwidar, for which the Valencian won the Akademia Music Awards. In addition, he made the soundtrack for the documentary Pinazo. Notes and thoughts, directed by Ignacio Estrela and Laura Grande. Next year it will premiere The Book, a new production by Abdelatif Hwidar, Carrera a los Goya
Josué Vergara also has a candidacy for the Goya with 'Segrelles. Universal illustrator ', a Valencian documentary that accumulates 12 nominations. The film, which is directed by Ignacio Estrela Blasco, features interviews with renowned filmmakers such as Guillermo del Toro. The nominees for the Goya They will be unveiled on January 11 at the Soho Theater in Malaga, where the awards will be held.