The "unusual" auction of a Botticelli painting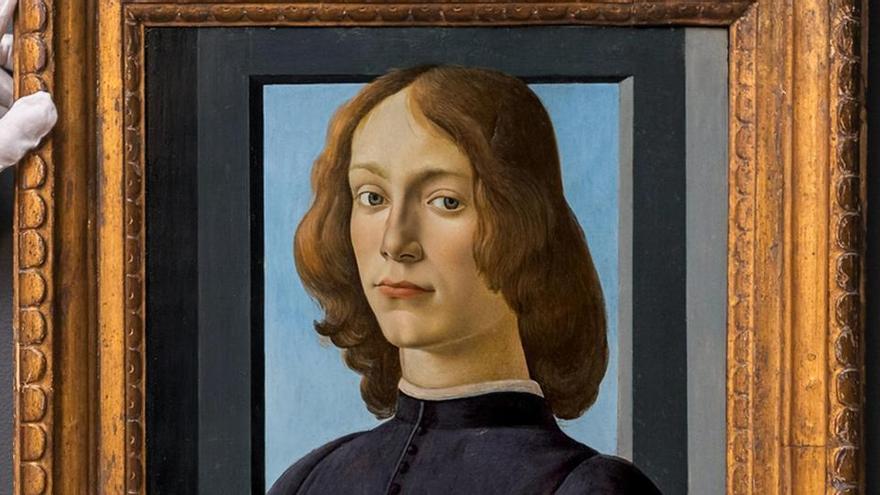 She has porcelain skin, a green gaze, and an elegant pose, but What makes this mysterious 550-year-old "young man" most attractive is the imprint of Sandro Botticelli in every detail of his portrait, a Renaissance jewel that art lovers from all over the world have admired and that now seeks to woo a new owner.
Is about 'Young Man Holding a Roundel' (Young man holding a medallion), one of the few portraits painted by the Italian master that have survived to this day and that It will be auctioned in January 2021 at Sotheby's headquarters in New York starting at $ 80 million., although it is expected to exceed that price and set a record.
"Only a dozen survived Pictures. We know 'The Birth of Venus', 'The Spring', many madonnas, religious, mythological paintings … But there are only a small number of portraits that have survived to this day, "the New York director of the department of Grand Masters of Sotheby's, Christopher Apostle.
"(Buy) a great portrait like this is really a unusual event; a painting in these conditions and with this visual impact, which says so much about the Renaissance, about Florence … at this moment, it is a very unusual event ", reiterates the expert in the auction house, which has been closed to the general public for half a year for the COVID-19.
Apostle notes that The last time this work went on sale was in 1982, when a private collector purchased it for around £ 810,000. (about 1 million dollars at the current exchange rate), after which it has been sent on loan to the most important art galleries, including the National Gallery in London or the Metropolitan Museum in New York.
"Is a once in a lifetime opportunity for a Botticelli portrait of this style, condition and beauty", adds the expert, since" it exemplifies a very specific era of culture in the world; the moment in which in Florence there is a great educational, artistic, literary, musical explosion … all at the same time, which we call the Renaissance ".
Comparable to two portraits dated between 1470 and 1480, the 'Portrait of a young man with the Cosimo de Medici medal', which wears in the Uffizi Gallery, or 'Giuliano de' Medici ', in the National Gallery of Washington DC, this painting it differs because the portrayed holds a golden medallion that is almost a "second work" painted on the first and shows a saint in an attitude of blessing.
The locket is a original 14th century work attributed to painter Bartolommeo Bulgarini and its meaning "remains to be decoded, but it must be related in some way to the identity of the young nobleman who displays it with such pride" and also suggests the contrast between their lives, the auction house said in a statement.
"He's a very attractive young man, probably in his twenties. We do not know who he is, but it is thought that he could be a member of the Medici family, although it is not safe. What we know is that clearly (…) it was someone from that circle, the Medici, the Vespucci … one of the families that were significant citizens of the Republic of Florence at that time, "says Apostle.
The expert stressed that this Botticelli is "a jewel at the level of other great paintings by great painters"and its auction in January is an" exciting moment "because in recent months Sotheby's has seen" very strong prices for exceptional works "despite the pandemic, the evolution of which will dictate whether the bid can be made in person or online, as has been the case up to now. .