The unions offer discounts to their members to travel to the beach on the May 1 bridge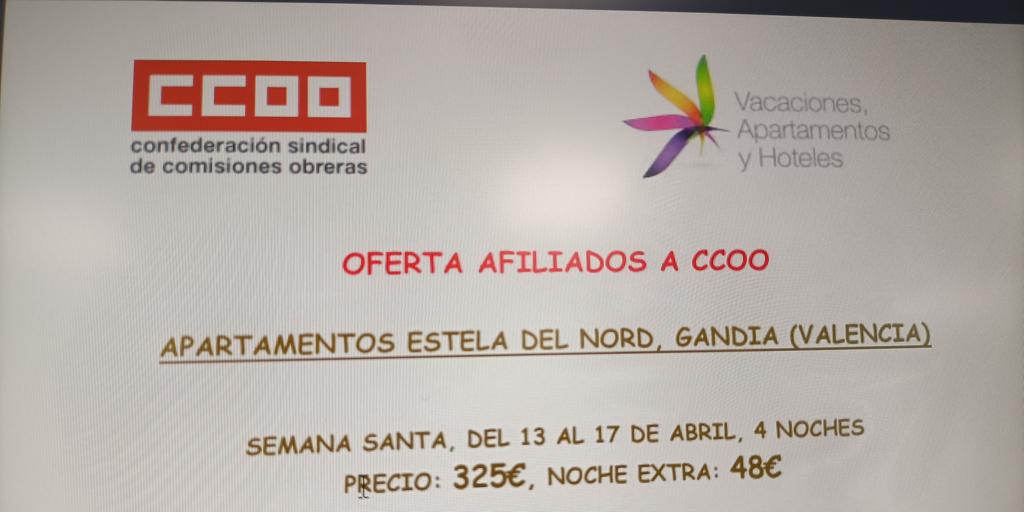 Alberto CaparrosFOLLOW, CONTINUEMADRID Updated: 04/28/2022 14:29h
Save

Apartments on the beachfront in the Mar Menor, urbanizations with tennis courts and swimming pool in Gandía or accommodation next to the most exclusive sandy areas in the province of Almería.
The class unions include among the offers and advantages that they offer their members discounts to travel to coastal destinations during the May 1 bridge. The dates of the trips overlap with the mobilizations called for this Sunday on the occasion of International Workers' Day after two years of symbolic acts due to the restrictions imposed by the coronavirus pandemic.
UGT and CCOO try to encourage affiliation with a battery of services ranging from legal advice to discounts on health care, beauty treatments or activities related to leisure and free time.
In this last section, CCOO offers special offers for getaways during the May bridge.
Specifically, the union has discounts for accommodation between April 29 and May 2 for accommodation in destinations in the Spanish Mediterranean exclusively for members who, consequently, will not be able to join the demonstrations on Sunday as they find themselves enjoying a festive bridge .
CCOO offers its members the possibility of staying in apartments on the beach with special prices starting at 59 euros per night.
Class unions use their portfolio of services and offers to encourage a militancy that has been on the decline in recent years. According to the latest data available, CCOO and UGT add about 950,000 members each, which is the lowest figure in three decades. In Spain, only sixteen percent of the population is affiliated to a union.
View commentsTopics

Source link