The unions announce war on Caixabank for the working conditions of the workforce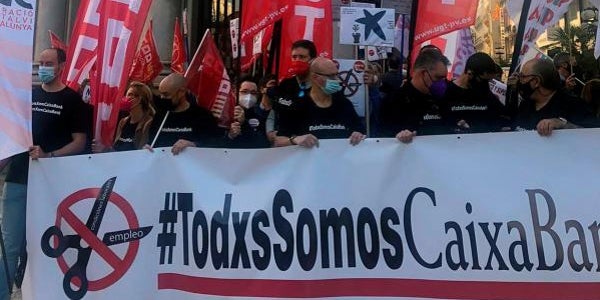 Madrid
Updated:
Keep

Seven months after agreeing on the largest Employment Regulation File (ERE), the unions' war against caixabank. The job adjustment
after absorbing BankiaIt generated a harsh confrontation between the staff and the entity, although they finally agreed to leave 6,450 people. Now, the problem comes from the working conditions of those who have stayed.
CC.OO., UGT and SECB have announced war on the bank due to the situation in which the staff finds itself. "We have called concentrations in the main provincial capitals. The current status of the workforce
caixabank it's unsustainableagain in the spotlight of public opinion and facing customers for decisions made by the bank's management, which we do not understand or share, "they have reported in a statement.
The representatives of the workers denounce that the situation in the offices is "unbearable due to the volume of clients" that they serve when there are fewer and fewer staff after
the outputs of the ERE. "To this we must add the excessive pressure in achieving unattainable commercial challenges that multiply casualties due to anxiety and depressive processes," add the unions.
The three organizations, which represent 90% of the Caixabank workforce, will once again take to the streets to say "enough" to the bank's management. Seven months after closing a historical ERE for the amount of exits, although it was not easy to seal the pact.
The agreement came after three days of negotiations with marathon meetings. They had meetings day and night. Early mornings became the new battlefield as the deadlines for the process tightened and not a single second could be missed.
In addition, all this took place under a climate of tension never seen before in the entity. Demonstrations took place in the streets and even strikes occurred with extensive staff participation.