The ULPGC presents in Gran Canaria I like its new Food and Gastronomy HUB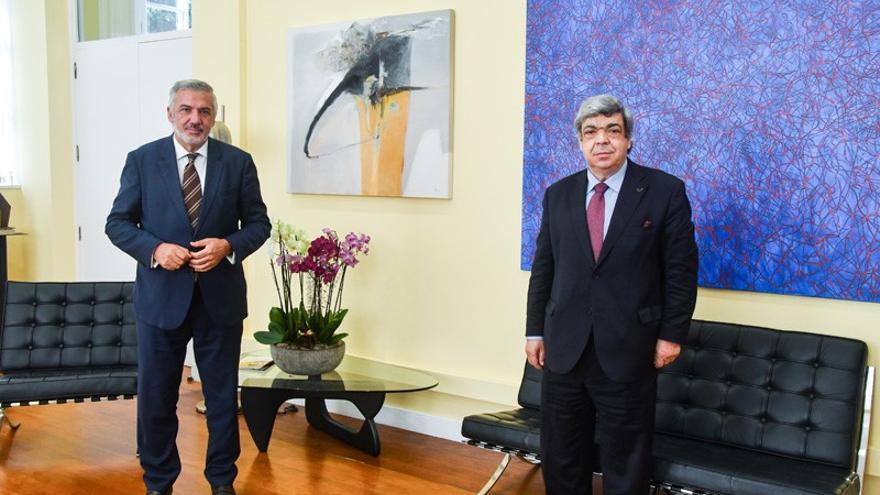 Within the framework of the initiative Gran Canaria I like it, the ULPGC has presented its proposal for a new Food and Gastronomy HUB, which it has called HUB GRASTROFOOD ULPGC.
The term HUB refers to a space where entrepreneurs work together, collaborate, interact and form a community. The Hub Gastrofood ULPGC emerges under the VIcerrectorate of Culture, Sports and Social Activation of the Campus, with the support of the rector Lluís Serra Majem, and aims to bring together the actions that have been developed by the ULPGC in relation to the food, drinks and gastronomy.
It will have a Scientific Committee, chaired by the Rector, who will harmonize and coordinate the actions of this HUB that will be directed by the Dr. Javier Aranceta, honorary professor of the ULPGC, President of the Spanish Society of Community Nutrition (SENC) and person of high prestige and extensive experience.
Among other initiatives, the HUB will bring together different projects developed by the ULPGC, such as the following:
Research and training projects within the framework of HECANSA, such as the teaching of a degree in food, beverages and gastronomy. This activity has the collaboration of the General Directorate of Tourism Planning and Promotion of the Government of the Canary Islands, together with the Faculty of Economics, Business and Tourism, the Faculty of Health Sciences, the Faculty of Marine Sciences and the Faculty of Veterinary Medicine. of the ULPGC.

Dissemination and Transfer through the ULPGC Science and Gastronomy Classroom, directed by Professor José Antonio González.

Activities of the Chair of Gastronomy and Nutrition 'The island on your plate', where the Cabildo de Gran Canaria, the University Institute of Biomedical and Health Research – IUIBS and the Faculty of Health Sciences participate, for the development of review programs and advice on school menus and innovation and transfer with products from the Primary Sector.

Specific classrooms such as the existing Wine Room and the proposal to create others such as the Coffee Room, Cheese Room and Extra Virgin Olive Oil Room

Through the RIC ULPGC society, coordinate university cafeterias, dining rooms and food vending, with the gastronomic advice of chef Borja Marrero.
For the management of the Hub Gastrofood ULPGC, which already has the recognition and collaboration of the Spanish Academy of Nutrition, the Royal Spanish Academy of Gastronomy and the Academy of Gastronomy of Las Palmas, there will be a board of trustees participated by the University Foundation of Las Palmas-FULP and a scientific committee.