The ULPGC participates in the creation of an App to prevent diseases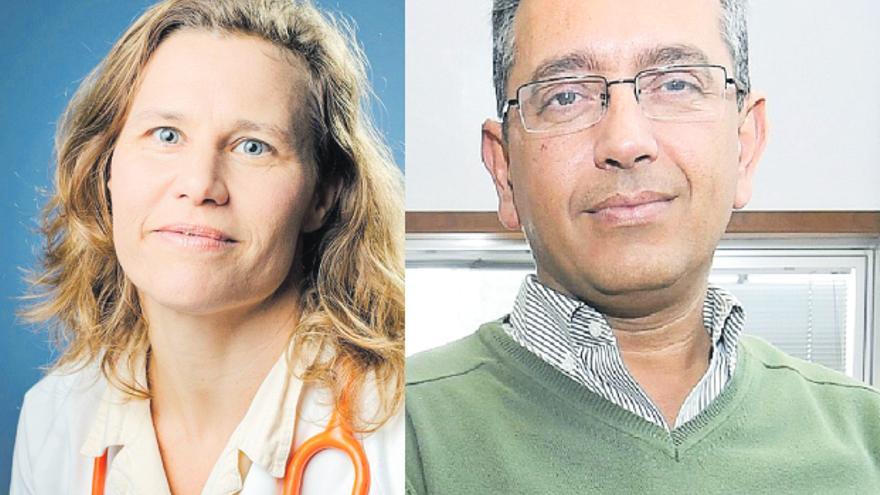 Thanks to this risk assessment tool, based on the automatic processing of both user-generated data and big data stored in a central system, citizens will be informed about the risk of developing a certain pathology that they did not previously have. knowledge, or on one already known so that the disease does not get worse. One of the most important novelties that it will provide will be the possibility of advising citizens who are at risk of contracting several non-communicable diseases at the same time. You will also have the ability to merge and balance the recommendations that address the different pathologies to avoid contradictory advice.
"The idea is to anticipate ourselves," says Gustavo Marrero Callicó, IUMA researcher and specialist in biomedical engineering. "The idea is to go one step beyond diagnosis and treatment and anticipate non-communicable diseases, that is, to try to take healthy and personalized measures to prevent people from getting sick. For this we are going to develop a set of tools capable of analyzing the risk that a person has of contracting a disease and notify them of it through a mobile application ".
It is aimed at stopping non-communicable diseases such as diabetes, cancer or cardiovascular
This tool will be designed with an easy-to-use graphical interface that will help assess the need for preventive measures on an individual and person-centered basis. In addition, the application will provide a personalized set of recommendations on the individual's lifestyle according to their personalized risk profile, developed by Artificial Intelligence technology. "Here we use what is called hidden patterns, the hidden patterns are situations that are not perceptible by the human being, but that are there and can affect their health. If a person is part of a risk group, but is also doing things that are wrong but are apparently not related, the application detects it thanks to artificial intelligence, which allows establishing relationships between things that are not known if they have it or no "highlighted the IUMA researcher who will work on the artificial intelligence part of the Warifa project -Watching the risk factors: Artificial Intelligence (AI) and the prevention of chronic conditions. chronic diseases)-.
Marrero stressed that, through big data, a large amount of data from many sources of information is processed, and with all this a large database is generated that in turn is nourished by what users are putting into their respective application, hence the concept of personalized medicine. "Artificial intelligence tries to go a little beyond medical knowledge, we feed the machines with a lot of data and they by themselves find if there is any other relationship to prevent disease, habits that apparently have no relationship but that could be harmful already priori it is not seen, hence the importance of working doctors with engineers ", concluded Marrero Callicó.
The medical part of the project at the University of Las Palmas is led by Ana Wagner, IUIBS researcher and diabetes specialist, one of Warifa's main areas of action to prevent complications and improve lifestyle risk factors, such as a unhealthy diet and physical inactivity. "It has been seen that most chronic non-communicable diseases, such as cardiovascular, cancer, respiratory and diabetes, have common risk factors, which are lifestyles such as exercise, a healthy diet, not smoking and not drinking. alcohol, and if we get people to improve in this, we will achieve a risk reduction in many diseases, the most frequent also ", indicated the specialist in Endocrinology and Nutrition.
It will help to assess the need for preventive measures individually
Dr. Wagner's research group at the IUIBS collaborates closely on this project with the Endocrinology Service of the Hospital Universitario Insular de Gran Canaria, and with other clinical partners in Bucharest and in Norway, the three Warifa clinical nodes. "Our task is, first of all, to find which are the relevant diseases and risk factors from the point of view of health, the scientific evidence regarding the recommendations, and adapt it both to the needs and preferences of users. This will not be done only with the review of scientific evidence, but through tests along the way, so that we will be in contact with the technicians -computers and engineers-, and with the users, so that they can test the tool in its different phases ". The final step will be the validation of the tool, in order to demonstrate its usefulness in preventing chronic diseases. "Collecting information from different sources, in different formats and that you can integrate everything to make an estimate of risk and then a recommendation is, from a technical point of view, very ambitious," stressed the endocrine.
Wagner's group also contributes its extensive experience in type 1 diabetes, so that the App will also help people with diabetes to cope with their day-to-day lives. "In this disease you are constantly making decisions based on how you have glucose, if I have a glass of wine, if I come from exercising ... We are going to try to automate all this so that it also helps in the short term", the researcher concluded.
Consortium formed by researchers from six countries
The Warifa project on artificial intelligence and the prevention of chronic diseases, in which the ULPGC participates, began on January 1, 2021 and its international consortium includes a total of 12 partners from six different countries, representing expertise in artificial intelligence technology. , telemedicine, preventive medicine, clinical medicine, epidemiology, sociology, psychology, biostatistics, communication and dissemination. It is funded by the EU Horizon 2020 research and innovation program (GA 101017385) with six million euros, of which 800,000 euros correspond to the ULPGC. The partners that will develop Warifa in the next four years are: The Norwegian Center for E-health Research (Norway) - coordinator of the initiative-, University of Medicine and Pharmacy 'Carol Davila' Bucharest (Romania), UiT The Arctic University of Norway (Norway), University of Las Palmas de Gran Canaria (Spain), University of Oslo (Norway), Munster Technological University (Ireland), CiaoTech Srl (Italy), Netsun Software Srl (Romania), National Research Council (Italy), Rey Juan Carlos University (Spain), Sensotrend Oy (Finland), and Norwegian Melanoma Association (Norway). | MJH