The ULPGC advances towards international accreditation in Veterinary Medicine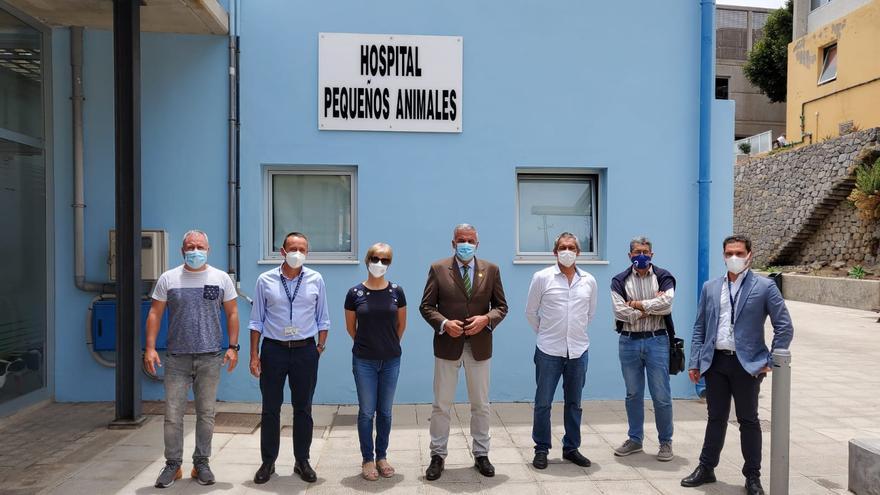 The dean of the veterinary school of the University of Las Palmas de Gran Canaria (ULPGC), Miguel Batista Arteaga, has transferred to the teachers, researchers, staff and students of his center that the team of experts of the ESEVT (European System of Evaluation of Veterinary Training) has already made the visit to the faculty, where these experts have made a exhaustive assessment of the corrections and improvements made by the Center, in relation to the deficiencies (major and minor) that the Faculty presented in the Full Visitation 2019 and that prevented it from being accredited.
"The preliminary report of the experts indicates that the deficiencies outlined have been corrected and, therefore, our Faculty is in a position to be accredited. However, this positive preliminary report has to be officially endorsed by ECOVE, at the end of September ", indicates the Dean.
Miguel Batista adds that "the results of this preliminary report are great news for the entire Faculty and represent the sum of synergies, efforts and commitment on the part of the entire Veterinary university community."
The European Association of Veterinary Education Establishments (EAEVE) is the official accreditation authority for the Veterinary Faculties of Europe. Its mission is to evaluate and promote the development of quality in veterinary schools and the teaching that takes place there. To this end, EAEVE has established the European System for the Evaluation of Veterinary Education in conjunction with the Federation of Veterinarians of Europe (FVE).
At the end of last June, the Rector of the ULPGC, Lluís Serra Majem, he went to the Faculty to express his support in this international evaluation, accompanied by the Vice-Rectors Marisol Izquierdo, Research and Transfer; and undergraduate, postgraduate and new degrees, Luis Hernandez Calvento, and where they have met with the Dean Miguel Batista, with the Vice Dean Jose Vilar and the Director of Human Resources in Research, Juan Alberto Corbera.
The main objective of the EAEVE is to monitor the harmonization of the minimum standards of the Veterinary study programs in the European Union established in different directives of the European Parliament and Council regarding the recognition of professional qualifications and administrative cooperation through the Internal Market Information System.
In January 2009, the Veterinary Faculty of the ULPGC was already visited by the European evaluators and obtained a positive evaluation. At this time, some of the indications made in the last review of 2019 that prevented it from being accredited are being corrected.