The 'Uber of laundries' is born in Portugal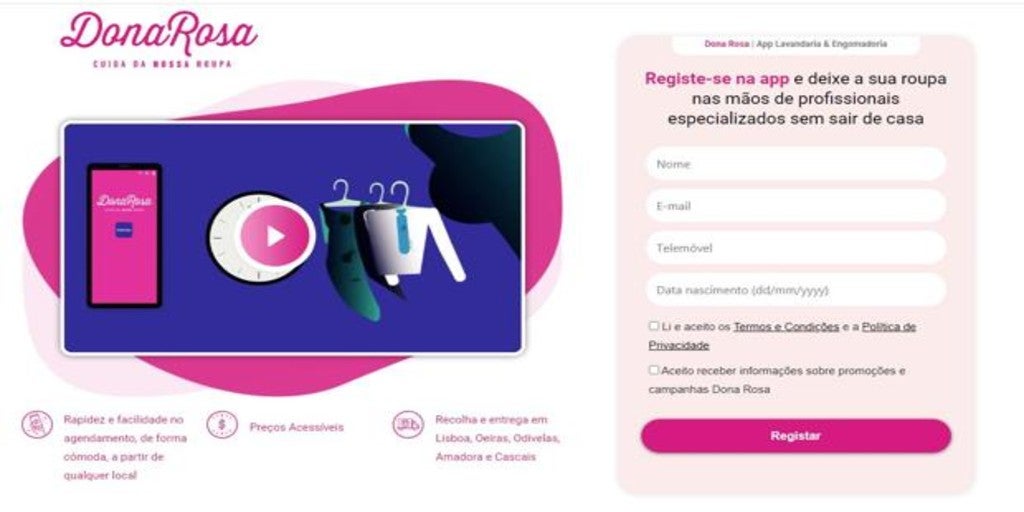 Correspondent in Lisbon
Updated:
Keep

The 'Uber of the laundries' It is already a reality in Portugal and it begins to open its market once its success is proven in Lisbon and its surroundings. Is called madam Rosa, a company that collects dirty clothes at home, sends them to laundries with which they have reached an agreement and, finally, delivers them with a pleasant smell of soap.
At the moment, it provides its services in the Portuguese capital area, with complementary attention to users in surrounding municipalities, such as Cascais, Oeiras, Amadora and Odivelas. In the next few months, the signature will be extended to Porto and surroundings since its growth is booming.
The platform succeeds with its flexible hours, given that it carries out its work on a daily basis from 4:00 p.m. to midnight. A strip that is better adapted to the needs of customers and takes advantage of the time that remains after conventional laundries close, which is usually between 8:00 p.m. and 10:00 p.m.
The affordable prices They do the rest, as the demand for clean, ready-to-wear clothing has increased in times of a pandemic. For example, if you have 25 pieces of laundry to wash and iron, each one will only cost you one euro.
Rodrigo ruiz Y Thomas Noronha are the two founders of the company, which carries out its activity through the application that they have launched under the name of madam Rosa, a designation that recalls the infallible maid who contributes to the cleaning and disinfection of different garments.
Naturally, it offers several services, that is, you can hire only ironing, for example, although the diverse functions are those that present a more competitive cost, according to the valuation of one of the two partners.
Ruiz announces that his flexibility It makes it go where the neighborhood laundries are not enough because, normally, people who work late, even if they do not need to leave the house, turn to this company.
They are situations facilitated by life systems such as those of the digital nomads, which are on the rise in Portugal and only need a good internet connection to carry out their mission.
In fact, the men and women who make use of this method to earn a living are already flooding the island of Madeira, to give just one example. Specifically, the municipality of Ponta do Sol (25 kilometers from Funchal) is the most prominent in this regard.