The U21 fall to Portugal: no goal, no luck and no end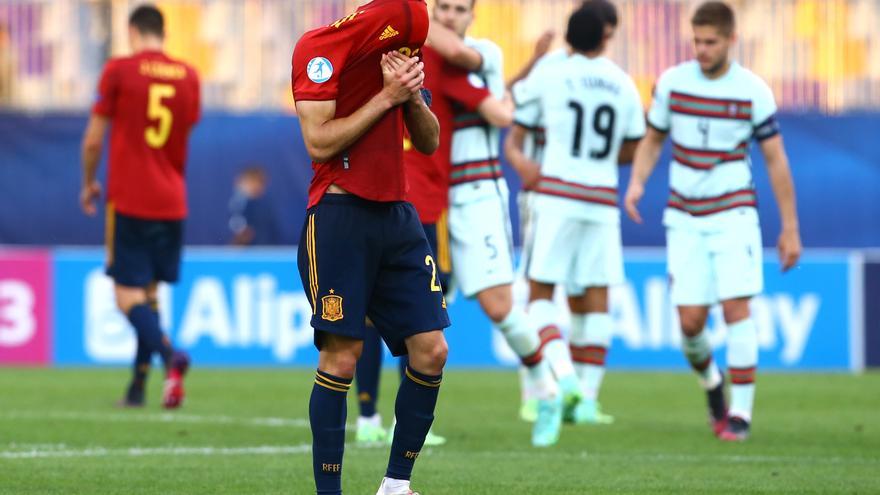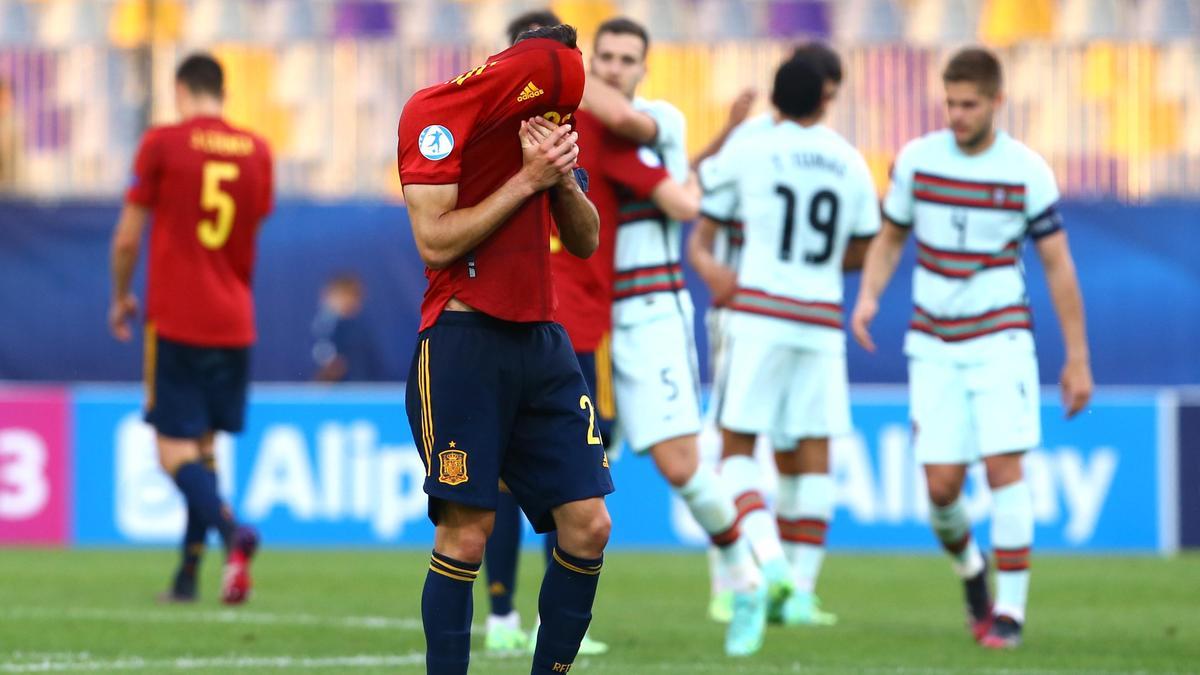 Until this Thursday came the adventure of the Spanish Under-21 team in Slovenia. He dominated again, being better at points than a great team like Portugal, but also he sinned again of lack of aim. Up to 18 auctions did. Nor was luck accompanying him since an attempt to clear Jorge Cuenca in the 80th minute became the Portuguese goal that left Spain with no options to revalidate the title.
Eleventh consecutive scoreless draw for Spain at halftime. Not even the highest-scoring team in the championship (11) could overcome Luis de la Fuente's wall in the first half. The coach changed pieces again, surprising in the starting lineup, and again he was right. He opted for Cucurella on the side instead of Miranda, with Pedrosa having an abductor discomfort since the match against Croatia, and together with Bryan Gil they formed a left wing that was a dagger.
Minute 3 of the game and the Barbate winger already warned with a great center. Another arrived at m.7, to which Javi Puado was millimeters away from being able to finish off with success, at m.12 ... it became the usual tonic of the first half. Given that he had no advantage at the top, rushing the baseline and putting it back seemed like the best option; and there came a great occasion for Brahim Díaz that only Diogo Queiros could prevent it from ending in a goal.
Martín Zubimendi gave a course on what a midfielder has to do and in the important battle for possession Spain won, largely thanks to him. Even so, Portugal left several notices with the offensive passing through the boots of a Rafael Leao who fell to the left wing to generate danger. Half an hour into the meeting, the Portuguese had their best option after the Milan attacker left Mingueza behind, central due to Guillamón's suspension, and Dany Mota narrowly missed reaching the far post; just touching it was a goal.
Bryan stayed on the bench at halftime, fused, but Spain did not lose its energy. Not a minute did he take to warn with a shot from Cucurella that crashed into the post. The dominance of those of Luis de la Fuente became more evident and the occasions followed one another, but without a prize; the endemic evil of this Spanish under-21 generation.
And luck, as in the match against Croatia with the penalty in the last minute added, was not on their side either. First with a penalty not called by the Swedish referee Glenn Nyberg of Diogo Dalot on Brahim Díaz. The Milan right-back tripped his clubmate, but the referee did not appreciate it live. And without VAR nothing could be done. It seems like another football with no option to review; although, luckily, with an audience in the stands.
Portugal knew itself inferior and his coach Rui Jorge made three changes in the m.65. It gave him physical but not football. Although the finalist was not decided by this, but by luck. 80th minute of the match and Vitinha put a very long ball, an error by the Spanish defense with so little time to go, in the run of a Fábio Vieira who wanted to put Tiago Tomas at the far post and ended up finding the 0- 1 definitive since in Jorge Cuenca's clearance attempt the ball made an unstoppable parable for Álvaro Fernández and slipped into the goal.
Spain tried to the end. On the side, as requested by Luis de la Fuente shouting from the bench, but luck did not smile on him. A generation died on their feet that, although it cannot revalidate the title and fall in the semifinals, is vindicated in a European in which Portugal will seek its first title.
Data sheet
0.- Spain: Álvaro Fernández; Óscar Gil, Óscar Mingueza, Jorge Cuenca, Marc Cucurella; Martín Zubimendi, Gonzalo Villar (Abel Ruiz, m.81); Brahim Díaz (Yeremy Pino, m.65), Manu García (Oihan Sancet, m.76), Bryan Gil (Juan Miranda, m.46); Javi Puado.
1.- Portugal: Diogo Costa; Diogo Dalot, Diogo Queirós; Diogo Leite, Abdu Conté; Daniel Bragança (Baró, m.65), Vitinha, Gedson Fernandes (Florentino Luís, m.51); Fábio Vieira (Pedro Pereira, m.90); Dany Mota (Tiago Tomas, m.65) and Rafael Leao (Jota, m.65).
Goals: 0-1, min.80: Jorge Cuenca at own goal.
Referee: Glenn Nyberg (SUE) admonished Brahim Díaz (m.57) by Spain and Rafael Leao (m.30) by Portugal.
Incidents: Under-21 European semi-final match played at the Ljudski vrt in Maribor (Slovenia) with a limited capacity of 1,600 spectators due to the coronavirus pandemic.