The two adolescences of LGTBI people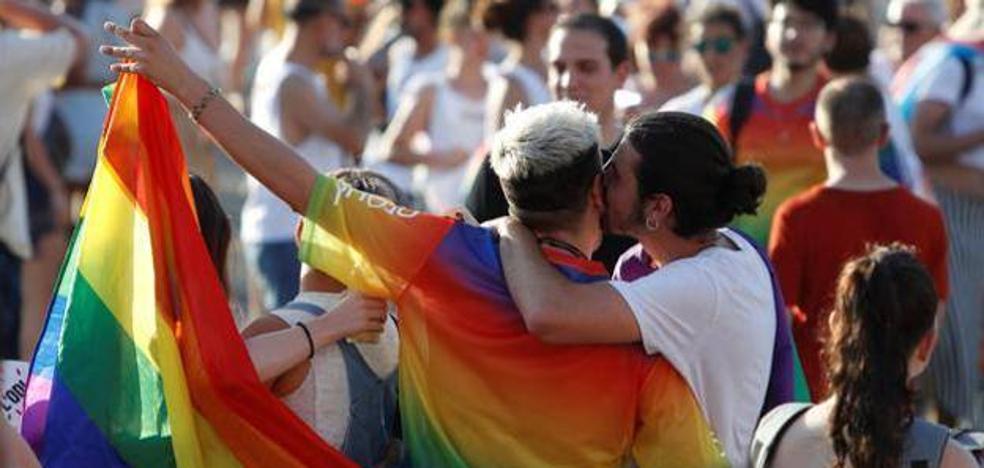 «I miss the first proper kiss or the first time you go out with a person you like. I haven't had all that, and I would like to have had it", confesses Fabiola
Fabiola would have liked to experience her first kiss and her first love with a girl when she was 16, like her friends did with their boyfriends back then. But, as happens to many LGTBI people,
the typical experiences and desires of adolescence were frustrated by being inside the closet.
«I miss the first proper kiss or the first time you go out with a person you like. I haven't had all of that, and I would like to have had it," acknowledges Efe Fabiola (27 years old, Malaga), who did not make herself "properly" visible as a lesbian until just three years ago.
In a stage of sexual awakening, personal discovery and exploration in love,
many people in the group are forced to postpone these experiences until they come out of the closetare aware of who they are or have been able to go to places with greater freedom and equality.
The premiere on Netflix of the series
heart stopperwhich narrates the romance between two boys in their time at the institute, returned to social networks the debate of the
"stolen adolescence"the shared absences between the people of the community and the second youth that some experience when, at last, they live in freedom.
«I did not live my adolescence fully. My first kiss and my first time were with boys that I didn't care about, I did it because of social pressure," says Fabiola.
Years later she came out of the closet and was able to connect with other realities and people in the group, which led her to experience a kind of second adolescence:
"For the first time I was doing what I should have done five years ago. (…) She had that feeling of adolescence ».
"And, although I knew that it was not really my time, I felt fulfilled living that," she admits.
Late adolescence and mental health

Delaying the usual experiences of adolescence can also have consequences in sexual and affective developmentpoints out Adrián Viedma, a psychologist specializing in LGTBI counseling.
First of all, because the first time you can
"arrive much later, with more nerves and much less information" compared to heterosexual people, explains Viedma. The same happens with the fact of not being able to "talk about who you like or who you are with" which causes "in the end a distance between you and others".
«The typical doubts and the typical problems that a teenager could have if he is in the closet, in the long run what he does is poison himself and
makes it all much more complex, which can lead to anxiety or depression problems", warns Viedma, who points out that LGTBI people are more susceptible to mental health problems.
And one reason, he argues, is
not being able to live a typical adolescence.
the social closet

"In some way, that adolescence was stolen from all of us, from the first love lived normally and not from humiliation and ostracism," underlines Sergio (25 years old, Tenerife) who came out of the closet at age 15 and now chairs the LGTBI + Miscellaneous association .
Making himself visible during his adolescence did not translate into the possibility of enjoying it. "That did not allow me to live outside the social closet that implies being gay, I came out, but the whole society was still inside the closet," she says.
Added to this is the fact that
the lack of references and LGTBI people in their environment at that time. He couldn't live a real love story until he left his town for college. "It was a kind of exile," says this man from Tenerife.
Being late to adolescence

Pablo (26 years old, Córdoba) began to experience many of the typical experiences of adolescence well into university, which gave him a continual feeling of "being late" and
have done "everything wrong".
Despite having spent all of high school in the closet, he was always haunted by the label "class queer."
For things like this, he believes that having made himself visible earlier would have even made things worse.
«They stole my adolescence because they forced me to shut up. Because I said, if what I have is fucking shit, if I make it public it will be much worse, "he laments.
For a year now, Pablo has been dragging under the name of Lucy Octopussy. For him, she means closing a circle with her teenage self that she wasn't capable of being who she wanted to be.
«I think of that image of the 7-year-old Pablo, being very aware that there are things that society does not allow him. And I think of Pablo now turned into Lucy Octopussy doing whatever I want and it's like giving my little self a hug and saying: 'Look, nothing's wrong, everything is fine and you're finally free' ", tells Eph.
The first times

The trans flag hangs on the wall of Elena's room (22 years old, Algeciras) while she does her live shows on the Twitch platform. It was precisely in one of them where she confessed to her followers that she was a trans girl.
This young woman began her hormonal transition about four months ago. Since then, she says she feels a "little adolescent." "Seeing my body grow and the gender euphoria that gives me,
I notice it as if I were living a second adolescence, a happy and real one»he says, although he confesses that he would also have liked to live it at the time.
Such a common thing as shopping, Elena couldn't enjoy it until her birthday this year. That day, she took a couple of friends and they went shopping.
"It was the first time I was truly happy. I took photos and went to the dressing room, although at first I was a little hesitant in case they said something to me », she says as her face lights up with a smile.
She points to her environment, her Catholic school and the fixed gender roles that prevail in society as some of the factors that forced her to "cover up her femininity" and that she was not aware of who she really was during adolescence.
Now, after all the road traveled, he is clear about what he would say to his 16-year-old self:
«I would explain to him what it is to be LGTBI, that he has to get out of there and explore without fear».