The TSJC refuses to suspend the Education oppositions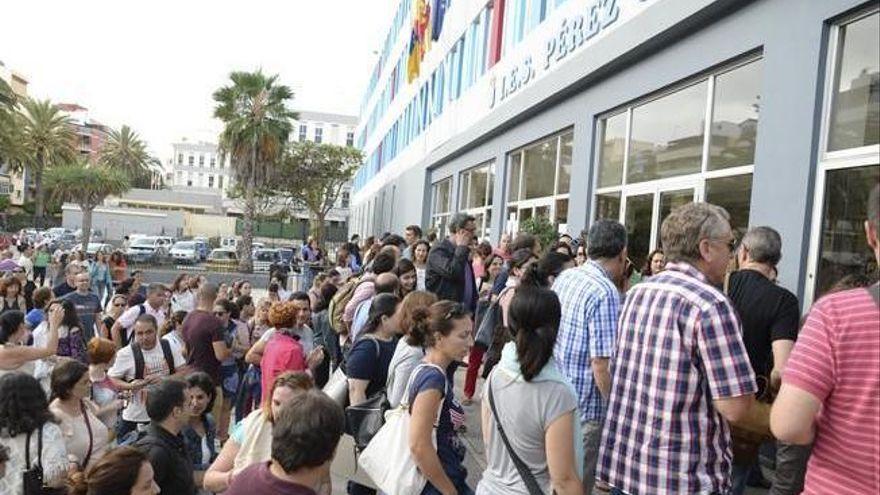 The Superior Court of Justice of the Canary Islands (TSJC) has rejected the request of the Union of Workers of the Teaching of the Canary Islands (STEC) for the Justice to suspend precautionary "all the selective processes summoned to admission to teaching bodies"Of the Ministry of Education de Canarias, not appreciating any manifest illegality that would advise a decision of that size. Among the processes whose suspension was concerned are the selective tests that are scheduled for this Sunday, in which a total of 1,377 positions for secondary school teachers, vocational training technicians and language schools are offered. The lawsuit is settled in the Second Section of the Administrative Litigation Chamber of the Superior Court of Justice of the Canary Islands at its headquarters in Santa Cruz de Tenerife, where the official headquarters of the Ministry of Education is located.
The Chamber, which in the past few days had already rejected the union's request to suspend the oppositions through the most precautionary way (unprecedented part, without even listening to the Government's allegations), has today issued an order in which also denies the precautionary suspension. After studying the Government's response to the STEC's demands, the Court has ruled that, without going into the merits of the matter, the appellant union "does not allege exceptional circumstances that cause irreversible damages, nor does it make any consideration of the magnitude of the damage caused. that would be caused to the teaching public service or to the applicants "and," although the choice of the interest most worthy of precautionary protection is not doubtful, "neither does" any illegality of those considered as manifest, patent, ostensible, easily discernible to the naked eye appear ".
The Chamber decides that at this procedural moment the appearance of good law is on the part of the Administration, and concludes that "neither the execution of the appealed act affects the legitimate purpose of the appeal, nor the alleged grounds for challenge have so much weight that they make this case an exception to the general rule of not suspending the selective tests ".
The TSJC order to pay costs to the Union promoting the request for precautionary suspension. The car is subject to an appeal for reversal.