The TSJC authorizes the Covid certificate in public spaces in the Canary Islands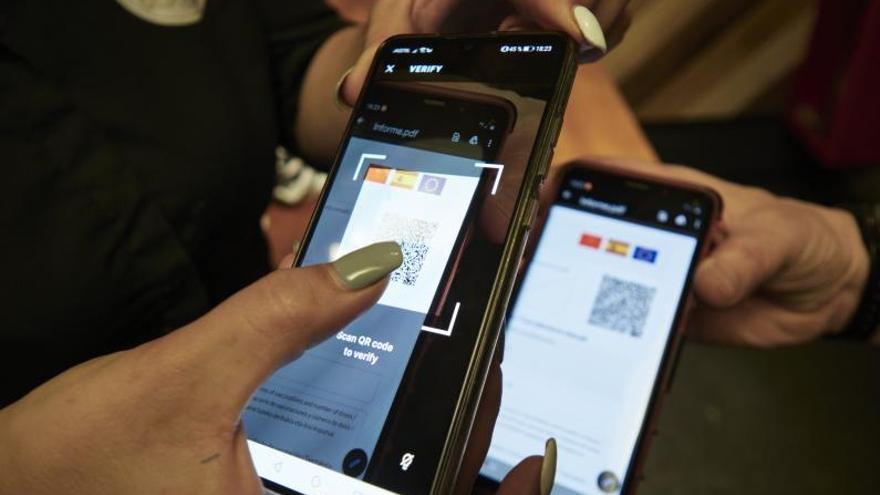 The Superior Court of Justice of the Canary Islands (TSJC) has supported the request of the Government of the Canary Islands to request the covid certificate in public spaces in the Archipelago, such as hotel and nightlife venues, to stop the expansion of coronavirus in the islands.
The Executive He sent this request to the TSJC so that those responsible for the facilities, voluntarily, request it from both the workers and the users.
Those public spaces They will be able to operate with the capacity and schedule limitations of the level immediately below that of the island, announced last November the Minister of Health of the Government of the Canary Islands, Blas Trujillo.
In this way, if an island is on level 2, a theater in which this procedure is applied, the capacity and hours will be that of level 1, and if it is a territory on level 1 there will be no limitations on hours or capacity.
This tool is intended to be used until January 15 and in case there is no judicial ratification, the agreements of the Government of the Canary Islands that expire on November 30 will be extended until that day in relation to the capacity of both urban and interurban regular land transport, and the capacity and hours in levels 1 and 2.
The Government's agreement is that the last two areas will continue as until now until December 15, and in the case of transport until January 31.
In much of Spain there is already the obligation to present the covid passport to access services such as hotels, nightlife or visits to health centers, although the requirements are different depending on the territories. At the moment it will not be necessary to have it in the Community of Madrid, Castilla-La Mancha, Castilla y León, Extremadura, La Rioja and Asturias.
The car of the TSJC of the Canary Islands arrives after last Thursday, the regional Executive announced that Health shuffles increase the restrictions of the capital islands after the December bridge, both Tenerife as Gran canaria. Both islands they maintain an upward trend in infections more pronounced in the latter, although after the modification of the thresholds of the national covid traffic light, they will remain in level 1 because they "do not meet the criteria yet" to be forced to increase their restrictions. Specifically, Tenerife has four of its epidemiological indicators at medium risk, including ICU occupation, and one at high risk. Gran Canaria, for its part, has two indicators at medium risk and two at high risk, all of them related to incidence.
In the review released on Thursday, Health also reported that Fuerteventura will go up to level 3 and Lanzarote and La Graciosa go down to 1, the level at which the rest of the islands remain.
There will be enlargement