The trio Particella presents its musical project "Contradance" at Fundación MAPFRE Guanarteme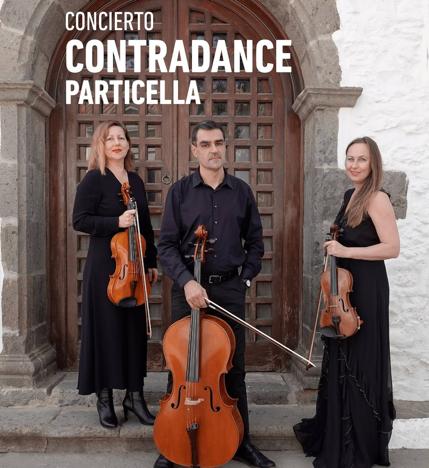 A concert in which, from the union of different personalities, they will offer new, unique and fresh interpretations of the classics
The musical trio Particella offers
This Thursday, May 26, at 8:00 p.m.at the Fundación MAPFRE Guanarteme headquarters in Gran Canaria, his concert
"counterdance"a project that reverts classics to turn them into new, unique and fresh interpretations, something that has been possible thanks to the union of the different personalities of its members.
Particella does not intend to be just another group, but rather a way of making and feeling music in itself.
They have performed since 2008 in the most important venues of the archipelago, demonstrating its versatility to tackle any piece, regardless of its style or period. Likewise, the group has participated in numerous concerts on the non-capital islands and in several municipalities of Tenerife and Gran Canaria.
Anna Kucherenko He was born in Moscow, where he began to play the violin at the age of six, later offering his first concert as a soloist at the age of nine. Since then, he has been part of several quartets, including the Caprice Plus, made up of musicians from the European Orchestra. Similarly, he has participated in various international festivals in Spain, France, Great Britain, Austria, Germany and Finland, Switzerland, Sweden and Norway.
Composers such as T. Khrennikov (Moscow) or Lino Liviabella (Italy) have invited her to participate in their concerts performing their works. She is currently a guest musician with the Gran Canaria Philharmonic Orchestra and a member of the Las Palmas de Gran Canaria Symphony Orchestra.
Elena Bardylovskaya He was born in Novosibirsk (Russia) and began his violin studies at the age of six, opting for the study of viola. She graduated as an orchestral musician and viola teacher at the Higher Grade at the Novosibirsk State Higher Conservatory and was a soloist in the Chamber Orchestra of the Novosibirsk State Philharmonic, also teaching viola classes at the Music College in this city.
He has participated in many music festivals in Europe, in addition to multiple performances at international festivals. She performed several times with the Novosibirsk Chamber Orchestra at the Tchaikovsky Hall in Moscow and at the Hermitage Theater in St. Petersburg. She has performed in concerts with the director of the London Royal Academy of Music Domian Yorio, sponsored by the English Consulate in Novosibirsk. She is currently a guest musician with the Gran Canaria Philharmonic Orchestra and solo viola with the Las Palmas Symphony Orchestra.
John Paul Aleman A native of Las Palmas de Gran Canaria, he began his piano and cello studies at the Superior Conservatory of Music, obtaining the title of Professor in both specialties. Throughout his career he has performed in different countries, although it has been in the Islands where he has developed extensive work as a teacher and musician.
Alemán has played in the most important venues of the Archipelago as a soloist and with various chamber groups, being a founding member of many of them. In addition, he has taught at several music schools on his native island, at the Academy of the Philharmonic Orchestra of Gran Canaria, as well as at the Las Palmas Conservatory of Music, among others.
Admission is free until full capacity. In addition, the concert can be followed in streaming through the Facebook and YouTube Live channels of Fundación MAPFRE Guanarteme.