The transmission of COVID-19 goes inside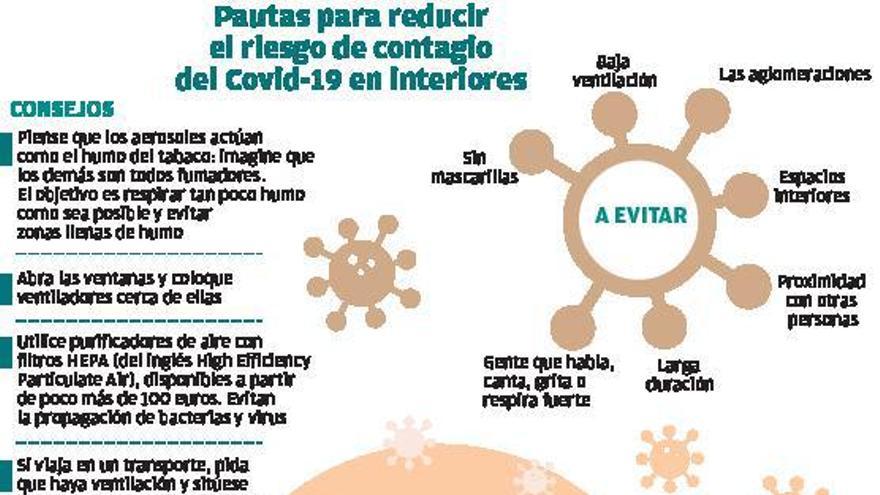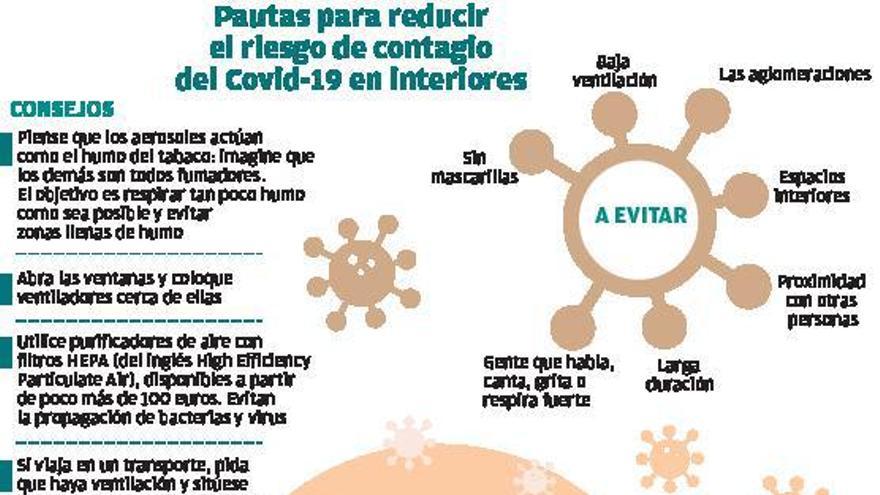 "When SARS-CoV-2 appeared, it was said to be transmitted by droplets. If that were the case, the current diffusion would have to be much less, given the widespread use of masks, said epidemiologist Juan Gestal. Today there are many studies and evidence that it is also transmitted by aerosols, tiny particles suspended in the air that remain in the air for a long time and are produced when we breathe, cough, speak or sneeze ".
As Gestal says, the differentiation between drops and aerosols is something old that must be reviewed and unified in airborne transmission. We return to live mainly indoors and the students of institutes and universities return to the classrooms, which, as José Antonio Peromingo, an internist, says, "can be a good breeding ground for the appearance of outbreaks, as has already happened in other countries. where university activity has already begun, such as at the University of Alabama, in the USA ".
This report is based on the latest scientific evidence, mainly on the advice of nine researchers from American and European universities. Five of them participated in the Workshop on Airborne Transmission of COVID-19, organized by the National Academy of Sciences of the United States, the highest level scientific organization in the United States. In addition, three belong to a group of experts in coronavirus of the Organization World Health Organization (WHO). Among them, the Spanish José Luis Jiménez, professor of Chemistry at the University of Colorado (USA).
How do aerosols behave?
As a general rule, scientists recommend thinking that aerosols that carry viruses behave like tobacco smoke. Like this, most aerosols - which, unlike smoke, are not seen - remain in the air for a long time, especially around the emitter, and only 10% settle on surfaces. If the room is not ventilated, they accumulate. Therefore, ventilation, reducing the number of people in the room, wearing masks and maintaining social distance is essential.
What real life facts have been studied to accumulate scientific evidence?
One of the landmark events was a choir rehearsal at Mount Vernon, the United States, in early March when a supercontagator unknowingly transmitted SARS-CoV-2 to 52 people. Two of them died. Another supercontagator passed the virus to 24 people on an hour-and-a-half bus ride in Wuhan, China, on January 19. Some of those infected traveled up to seven rows behind the infected, while others who traveled next to the windows were not infected. Also a traveler on a 10-hour flight that on March 1 infected 12 passengers, many more than two meters away. All these events occurred when the use of masks had not been imposed.
Is the safety distance sufficient indoors?
Keeping the distance of two meters is necessary, but may not be sufficient indoors. It reduces risk, but does not eliminate it. Coughing or sneezing has been estimated to project infective particles up to 6.5 meters. The two-meter rule is necessary for aerosols that remain in the environment of the spreader, just as cigarette smoke remains in greater concentration near the smoker.
Does talking and yelling increase the risk?
Yes. Scientists believe that a super-contagious event requires indoor environments and increases the risk when speaking and raising the tone of voice. For example, around 8M the outdoor demonstrations were not as dangerous as the social activity in bars and restaurants around them. Within the indoor events, there is no scientific evidence of massive contagions in cinemas or in the Japanese subway, where there is hardly any talk and there is better ventilation. Yes, there are hundreds of documented massive infections in bars, choirs and meat plants, environments where individuals spend a long time talking, shouting or singing, together and without masks.
How long do I have to breathe an infectious aerosol to get it?
The Ministry of Health, Sergas and the US CDC use the 15-minute proximity reference for "close contact." However, aerosol scientists consider this rule to be arbitrary and not based on evidence, so it might give a false sense of security to speak to someone closely for 5-10 minutes. They maintain that it is very unlikely to be infected by inhaling the air exhaled by an infected person casually or sporadically, but it is risky to do so for several minutes.
How long does the virus stay in indoor air?
It depends on the ventilation. Viruses have been detected in particles smaller than one micron that can float in the air for 12 hours, but these tiny aerosols usually escape from the building before settling on surfaces and their infectivity can decline in that time.
How can I protect myself from being infected by indoor aerosols?
Zero risk does not exist, but it is reduced if these factors are avoided: crowded spaces, closeness to others, poor ventilation; for a long time; where there are people without masks; speaking and especially loudly, shouting or singing, or also breathing heavily.
Are the buses safe?
The buses, like the subway, are much safer if they have adequate ventilation and the passengers speak and move the least. Even for three hours. For example, an urban bus in which trips of one hour at the most are made, the windows are open and the passengers remain still and quiet, is not the same as the coach of a sports team celebrating a victory and in which the passengers are partying, moving between seats, with their masks down and the windows closed.
Are airplanes safe?
Modern airplanes have very good ventilation and air filtering systems. The risk during the flight mainly comes from the people who are traveling alongside, which can be reduced by wearing the mask and talking as little as possible.
Is it enough to open the windows?
The amount of ventilation that is achieved with the living room windows open can vary widely depending on the weather and other factors. It is advisable to install window fans to move more air and ensure a more constant and continuous ventilation rate.
What technologies help?
The Health Ministry and scientists recommend HEPA filters, which trap particles down to 0.3 microns, but health authorities have not emphasized the importance of aerosol transmission, leading to confusion. In addition to these HEPA filters, it would be necessary to accommodate exteriors for holding classes and other events, ventilation, cheap filters with a fan and, of course, masks. Other tools that are quite useful are CO2 meters, which tell us if the environment is loaded if the concentration of this gas is high.