The transfer to Montjuic will cost Barça between 15 and 20 million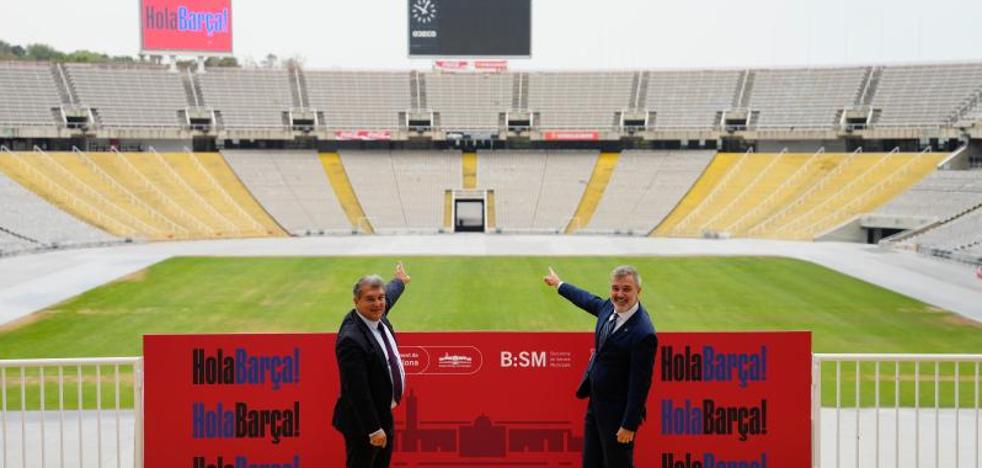 The Barça club and the City Council of Barcelona stage the agreement by which the culé team will play at the Lluís Companys Olympic Stadium in the 2023-24 season, during the main stretch of the remodeling works at the Camp Nou
Barcelona and the Barcelona City Council staged this Tuesday the agreement by which the Barça team will play its matches at the Lluís Montjuic Olympic Stadium during the 2023-24 season, in which the main remodeling works of the Camp will be carried out Nou.
The transfer will have an invoice for the entity chaired by Joan Laporta of between 15 and 20 million euros, as detailed by the Barça president himself. And it is that the club will assume the rent of the stadium, as well as the improvements of changing rooms, lawn or press area necessary to host duels of the highest level both in Spain and in Europe.
Meanwhile, in terms of retouching access by public transport and mobility, the investment will be shared between the Barcelona City Council, which will assume 36% of the cost, estimated at 7.2 million, and Barça itself, which will take care of the rest as and as revealed by Laporta himself and Jaume Collboni, deputy mayor of the Catalan capital, during an event held at the Olympic Stadium itself.
"Thank you for letting us share the Olympic spirit of the city of Barcelona. It is an honor, a privilege and a pride. We will play here during the construction of the Espai Barça, which will start this summer. We will be when we do the major works, "explained Laporta.
"We have committed ourselves to adapting the Olympic facilities to ensure comfort on match day. We will modernize some spaces and services, such as the press stand, the changing rooms and an internal parking area, but the facilities are very good, in very good condition. We will have to facilitate access to 55,000 people, so we will have to reinforce public transport with a mobility plan and improve the environment," explained the Barça president.
"I think this is the best way to celebrate 30 years of the Olympic Games. We are honored and proud to welcome you to Barcelona. We hope that it will be an excellent time and that a great field will be made in Les Corts, which will benefit the entity and the surrounding residents, "said Collboni.