The Tourism SKAL is recharged with Salto de Chira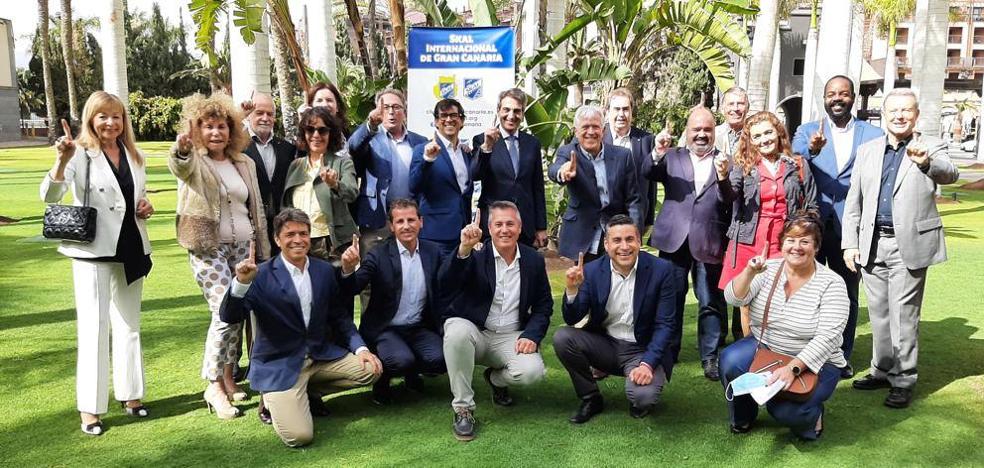 This association of professionals from Gran Canaria has resumed its monthly agenda of professional meetings
In response to the end of the health restrictions that, among others, limited the capacity for participation and attendance at events, the
International SKAL of Gran Canaria has resumed its monthly agenda of professional meetings around tourism, the main economic engine of the islands.
On this occasion, the central topic of analysis and debate in the colloquium talk held at the Alameda Terrace of the renovated Lopesan Costa Meloneras hotel, has revolved around the
Salto de Chira projectwith Yonay Concepción -technical director of the environmental project led by the Island Council of Gran Canaria- as guest speaker.
In a global context in which, in the words of David Morales, president of SKAL Gran Canaria, "our islands face two unparalleled exogenous factors, one circumstantial –the war unleashed by Russia-; and the other, already permanent, climate change, putting us, without a doubt, before the greatest of our challenges:
energy and water resources», the meeting developed by the association of tourist professionals of the round island has served to once again value Salto de Chira in the present and future.
For his part, Yonay Concepción not only spoke in an entertaining and practical manner about the technical and unique characteristics of Salto de Chira, but also lent himself to clarify all those
economic, technical and environmental doubts of the tourism sector around the abysmal leap that the project will mean for Gran Canaria, when it comes to reaching higher levels of energy sovereignty for a fragile island territory. At the same time as providing the primary sector, the landscape and the natural ecosystem of the island, which will be a key element in the future development of societies and the spaces in which they settle, water.
At the meeting, which in turn served to express the full support of SKAL de Gran Canaria for the Rotary Club project, «
One for La Palma», in order to obtain funds to build an educational center for the children of the beautiful island, a wide representation of the island society attended, through the Chamber of Commerce, the FEHT, the Consular Corps present in the island, as well as the women's collective Charter 100 Gran Canaria and the Tides of the ULPGC, among others.
The International SKAL Club of Gran Canaria, an association of tourism professionals with more than 60 years of experience, was awarded by the Island Council of the island with the
Roque Nublo of Tourism in 2018.