The top of the podium awaits Tara Pacheco in Lanzarote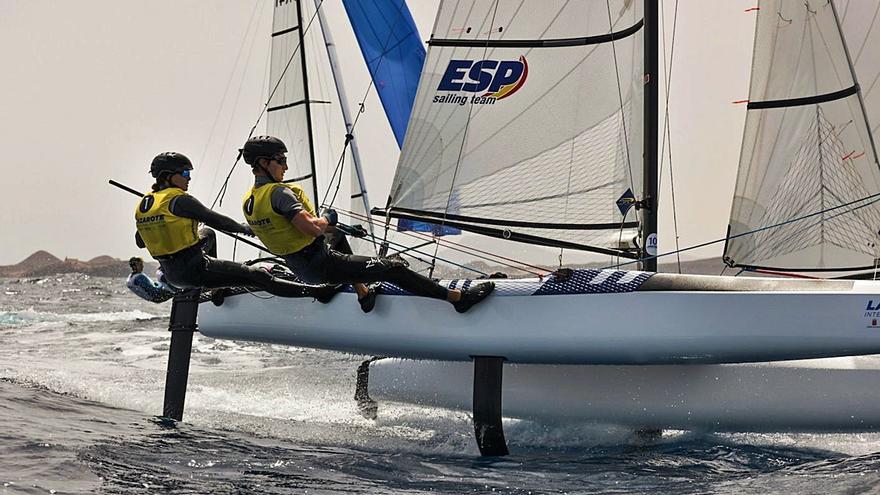 The penultimate day of the Lanzarote International Regatta, held yesterday, left the cards practically distributed for the final battle, with only one pending test to decide the top 10 of the final regatta, the Medal Race. In it, the three crews of the Spanish Olympic team have already secured a place, thanks to the advantages accumulated after closing on Thursday as leaders in the 49er and Nacra 17 classes with the duos Diego Botín-Iago López-Marra and Tara Pacheco-Florian Trittel, respectively , and climb to fifth place on 49er FX with Támara Echegoyen and Paula Barceló.
The three participating fleets disputed three new regattas yesterday, with fairly stable wind conditions in the direction and an intensity that moved between 10 and 14 knots.
In Nacra 17, the Gran Canaria Tara Pacheco and Florian Trittel remain firm as leaders after signing a 6-3-1 as partial, dominating a podium in which the differences, of 14 and 25 points against the second and third, give confidence without allowing distractions for today's final day.
Both the Germans Kohlhoff and Stuhlemmer as well as the French Delapierre and Audinet maintain a good rhythm of results and seem willing to not let our favorites breathe until the last finish line is crossed.
Those who already have the victory in their pocket are the Spanish Diego Botín and Iago López-Marra in 49er. With 35 points over the Danes Warrer and Pretch-Jensen, and 55 over the Irish Dickson and Waddilove, they were proclaimed virtual winners.
Diego Botín was satisfied seeing the results of many months of work, but still finding details in which to improve: "We are really happy with how we have sailed. We have hardly made any mistakes and everything has gone very well; I wish all regattas would turn out like this. In conclusion, I am left with the fact of being able to see the work we have done this winter, we are seeing results ".
An excellent day, which was also signed yesterday by Támara Echegoyen and Paula Barceló, with a 6-1-2 that makes them rise to the fifth position of the provisional in 49er FX, with many options open for the final day, in which there are still they have a regatta to scratch places before facing the Medal Race. The positions keep dancing in the rankings; the Brazilians Grael and Kunze maintaining command of the provisional and the Dutch Bekkering and Duetz returned to the podium recovering the second position, moving to third place the New Zealanders Maloney and Meech.
As for the Olympic places for Tokyo that are at stake, a battle where Spain does not enter as it has already done its homework, they remain without owners. Finland brushes the ticket for the Games in Nacra 17; Ireland holds the 49er pass, while Belgium opts for the pass and the Medal Race.