The Tomás Morales House-Museum receives a portrait of the poet by the artist María Suárez Alemán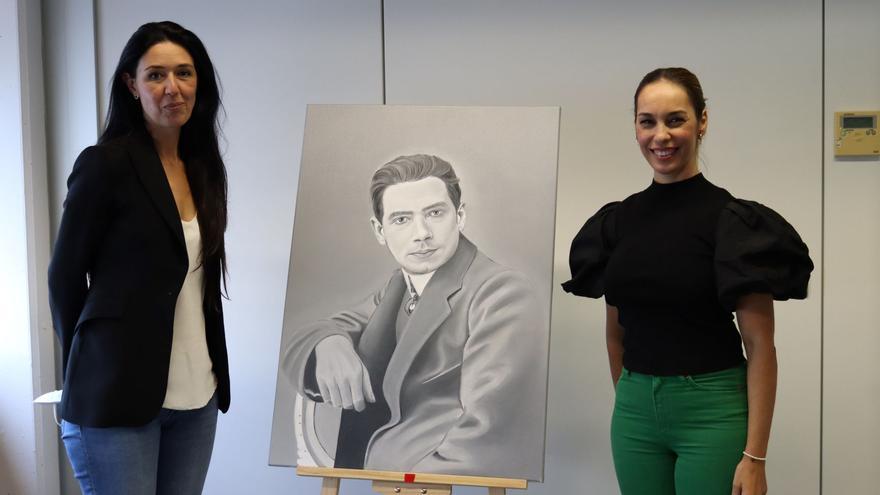 The Minister of Culture of the Cabildo de Gran Canaria, Guacimara Medina, and the director of the Tomás Morales House-Museum, Guillermo Perdomo, received this Wednesday a new portrait of the poet who has made the artist María Suárez Alemán on the occasion of Centenary of the death of Tomás Morales and that from now on it will house his birth house in Moya.
On the occasion of the appointment as Favorite Son of the Villa de Moya Two portraits of Tomás Morales have been commissioned from this artist, one for the City Council and the other for the House-Museum, with the aim of immortalize this illustrious modernist Canarian poet.
For the painting for the House-Museum, a photograph of the poet when he was young has been chosen as inspiration, from the collections belonging to El Museo Canario, which the artist has modified thanks to an Artificial Intelligence application that has allowed her to improve the details of the image in order to highlight, among other issues, his face and his gaze, which transmits solemnity and security.
In this black and white portrait, painted in oil on canvas and measuring 92 high by 65 centimeters wide, Morales is leaning against the back of a chair and looking directly into the camera.
María Suárez Alemán is a portraitist, born in Moya in 1980, with a degree in Art History and a postgraduate degree in Graphic Design. He has made several solo and group exhibitions and currently works as a portraitist for Televisión Canaria, making the portrait of the person interviewed in the program. Confessions.
The painter assures that it has been an honor to portray Tomás Morales because since she was a child she has always seen him as a very important cultural figure for Moya, an illustrious person.