The thunder of the 'Nova Creu Alta'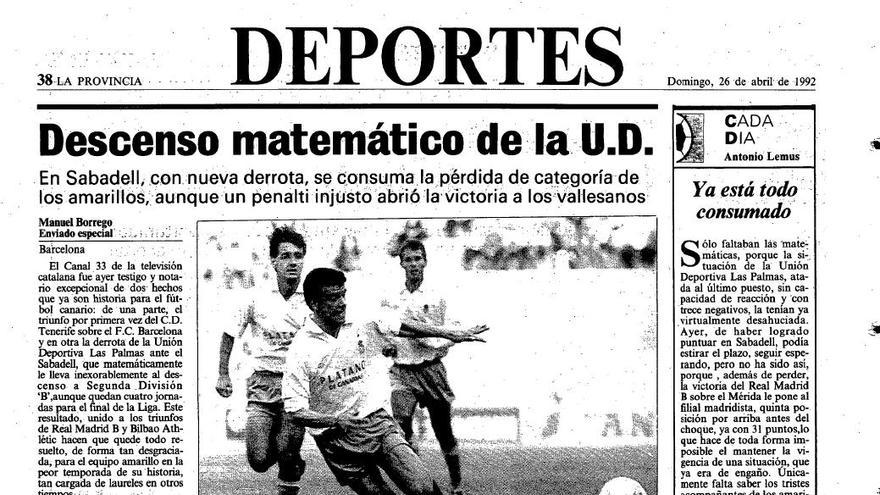 It is not a field that of Nova Creu Alta –La Nueva Cruz Alta–, where UD Las Palmas will play tomorrow against CE Sabadell (1:00 p.m., Movistar LaLiga), especially unfortunate for the yellow team, however, it is part of their Blackest history, because it was there that he completed his first descent to Second B on April 25, 1992.
There were still four days left for the end of the championship, but that 2-0 defeat against the Harlequin team sentenced the team then led by the recently deceased José Manuel León. It was, in fact, the last defeat of Las Palmas in the field that months later would be the venue for the Barcelona 92 ​​Olympic Games, but without a doubt the most painful.
Because from that fall began for UD a journey of four seasons in the catacombs, unknown until that moment for a club that was almost 43 years old and had been a benchmark in the top category decades ago.
Unfair penalty
According to the journalist Manolo Borrego in his chronicle of that fateful match in the Nova Creu Alta published in THE PROVINCE, Sabadell went ahead thanks to an unfair penalty by Pedro Luis's hands that Zurdi was in charge of transforming in minute 46. Then In a counterattack, Moragues would definitively sentence UD with his goal in 68 'and the yellow team would leave the Catalan enclosure as a new Second B team.
It took 20 years for UD Las Palmas and the Barcelona team to coincide again in the same category, and two decades seemed to be enough for the wounds of the unfortunate memory to heal, because the five times that the yellow players played there they never returned. to lose.
All of them were again in the Second Division – one in the Copa del Rey -, the first in the 2011-12 academic year, when UD drew a draw (1-1). In the following years there were two victories, one in the League (0-4) and another in the Cup (1-3), and two even (0-0 and 1-1).
Downpour and postponement
The last one took place on December 10, 2014, but that match should not have been played that day, but on November 29, however, a tremendous downpour that fell on the province of Barcelona throughout the day forced the contest to be postponed to a new A date that in no case could be the following days, because there was a Copa del Rey match.
The captains of the two teams and the referee Eiriz Mata, after checking the impractical state of the grass, agreed not to play. Another thunderbolt, less painful, had passed through the Nova Creu Alta.