The three battles of Elsa Lomas: 315 days against covid after overcoming cancer and a transplant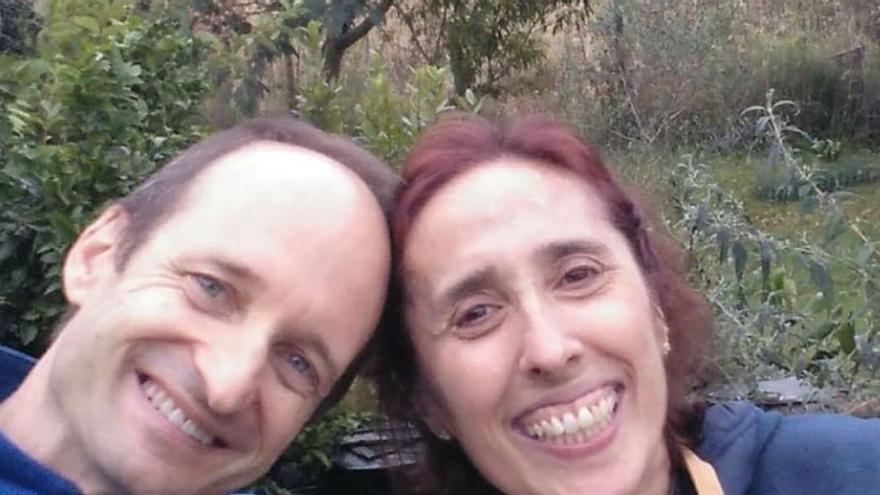 Elsa Lomas has just turned 54 this February 2022 and it seems like a lot to her, because she continues to get used to the idea that His 52s were spent mostly in a hospital bed and he barely remembers them. The Asturian took the covid-19 in a distant April 2020 and spent 315 days hospitalized in Madrid, Where he lives. It is one of the longest stays due to coronavirus with a happy ending on record. He was discharged a year ago now, two days before his birthday, and since then Lomas speaks much better, takes short walks and can do addition and subtraction. Based in Madrid and trained in computer engineering, Lomas begins to order all the things that the virus turned upside down.
The most He arrived at the Emergency Department of the Gregorio Marañón Hospital in Madrid almost as soon as confinement began, on April 7, 2020. Until a few days ago, and because her husband, Fran Menéndez, also from Gijón, had isolated himself in their bedroom due to symptoms that seemed to correspond to that new virus, she slept with their daughter and had become the one in charge of go out to run errands for the family. It was delicate, because the woman from Gijón was overcoming cancer and was still recovering from a recent bone marrow transplant, so the two options, that Menéndez not be confined or that Lomas had to go out to the street to buy and take out the garbage, posed a risk . She opted for the latter, in part because, being a cancer patient, Lomas, she was one of the few who could boast of having masks at home. She used to be the only one with her face covered in queues at the bakery and the supermarket. From that one, her neighbors went without a mask and with gloves, as it was supposed to be. Lomas would go out to applaud the toilets at eight, like the rest of her, and she took the opportunity to greet her husband from the window. But one day it was she who woke up with a fever.
The alarms went off in the family home, and the dichotomy arose again. "They had told me that as soon as I felt bad I had to go to the Emergency Room because of the lymphoma, but we delayed it as much as possible because at that time the hospitals were scary, it seemed dangerous", Gijón recognizes. But he did not improve, and after a week of fever, Menéndez realized that hospital admission was now inevitable. "I cooked for her, but she stopped eating and drinking and I saw that I couldn't do more for her at home," her husband recalls. And he remembers leaving her in that hospital, and that the first days the environment was somewhat chaotic and Lomas was in rooms and corridors of the Emergency Room before getting a bed on the floor.
The ICU, like a dream
Two weeks later, on April 22, Lomas was sent to the ICU. He was in intensive care for five months, until September 15, and along the way he suffered a stroke, various infections, a thrombosis. Those were weeks that passed like a dream for the engineer, and even today there are details that she remembers that she does not know if she imagined them or if they really happened.
She was convinced, for example, that she had given birth to twins. The detail with which she remembers him is almost creepy. She was convinced that she had given birth at the La Paz Hospital and not at the Gregorio Marañón Hospital: "I don't know why, because I don't know those delivery rooms, but that's how it was. My cousin was there too." She gave birth in a round space to two children named Olga and Lucas. Olga was one of the names that had been considered for her daughter. Lucas, the name of a small stuffed animal. "A very handsome and well-dressed man appeared and told us that if we didn't want the children he could take care of them. My cousin wanted to report him", she says, laughing.. So for weeks a very frustrated Lomas, speaking with great difficulty about her tracheostomy, asks the nurses about her twins. And she asked her husband, who did not know where to go. It so happened that a cousin of the family was expecting twins, so Menéndez told him that they had to wait, that they had not been born yet, and Lomas got angry. She also remembers the ball bounces of a so-called ICU classmate who had started playing basketball, and a few days later she asked her husband where the baskets were. "I imagined many things like this, in great detail, but no dream was bad," she clarifies.
Back to reality
With all this on top of it, it took Lomas a while to really be aware of what had happened to him. "They explained to me when I started to get better, but I was in a cloud for a long time. For me all this had been as if I had fallen asleep and woken up a year later. I felt disconnected from everything."bill.
What made him land in his new reality were rather small details. She understood about the thrombosis and the cerebral infarction, that 315 days had passed, that there were journalists contacting the hospital and her family to tell the story. She understood it, but she didn't understand it. She was helped more to get out of the loop by things like riding in the car with her husband and her daughter and seeing them sing songs that had become popular on the radio and that she was still hearing for the first time. Things like realizing that the housemaid cooked different recipes for her and no one else thought it was strange, things like seeing her husband wearing a sweater that she didn't recognize and that turned out to be a Christmas present that she had missed . In a year, many everyday things change, and Lomas no longer knew where the things in the kitchen were kept, nor did she recognize the inside of the cabinets.
But the detail that made him realize that the thing was serious was a sudoku. ANDHe was in one of the several rehabilitation sessions that he still receives weekly today:
-I knew that I had physical limitations, it was obvious, but I thought that the cognitive ones were fine. He remembered things, he hadn't lost taste or touch. They told me to do a sudoku to speed up my memory and I was very happy, because I liked them and I already did them before. Of the difficult ones, huh. They were good to me. Well, I started doing it and nothing, I couldn't concentrate. I had to go over each number several times. I forgot everything as I was thinking about it. Now I take these cognitive therapies very seriously and I make word search puzzles and lists of words by inventing mnemonic rules. Those things. I go to therapy from Monday to Friday, and also to the psychiatrist and the neuropsychologist. I have been told that I have improved a lot in visual speed, which seems silly, but it is important. Now I also talk more, maybe I even get involved too much, and I get stuck less. I speak better in the mornings, then I get tired. And I go on streaks. Something happened to me in January that suddenly it was like my words slipped, now I'm better again. Every day is different and sometimes I go backwards, but in general I go forward little by little.
Lomas –seeing the previous paragraph seems obvious– loves to talk. He still has a hard time, but much less than a year ago and partly because he insists on saying things well and pronouncing complex medical terms with all the syllables. He says that the most palpable progress of this last year outside the hospital has been walking again. He now takes short walks in a courtyard near his home, with a cane and not for a long time, but he manages:
–I did sports from the beginning, even in the chair. They gave me a giant balloon and a racket. I have a tremendous problem moving my arms, especially one of them, so the physio beats me up a bit. But is fun! I make some games with the Wii, the game console, and others in front of a computer that detects your movements. I am noticing many improvements. Now I stand up, although with a cane and I can't go out into the street just like that, but in my house there is a fenced area and I don't have to cross people. It's true that beyond that I don't go out anymore, but since I no longer have the stomach tube and I can get up, everything is easier. Now the physio can treat me face down, for a long time now I can go to the bathroom, which I couldn't before and I was very embarrassed, and I'm doing a lot of pelvic floor exercises. Regarding the lymphoma, I have an appointment with the hematologist in May, but they have told me that the cancer is in remission. I have so many open fronts that I consider that closed. For me, it is enough to recover from covid. And the important thing is that I am much better and, well, that I am alive. That's enough.