The thirteen most influential fighters in the history of Canarian wrestling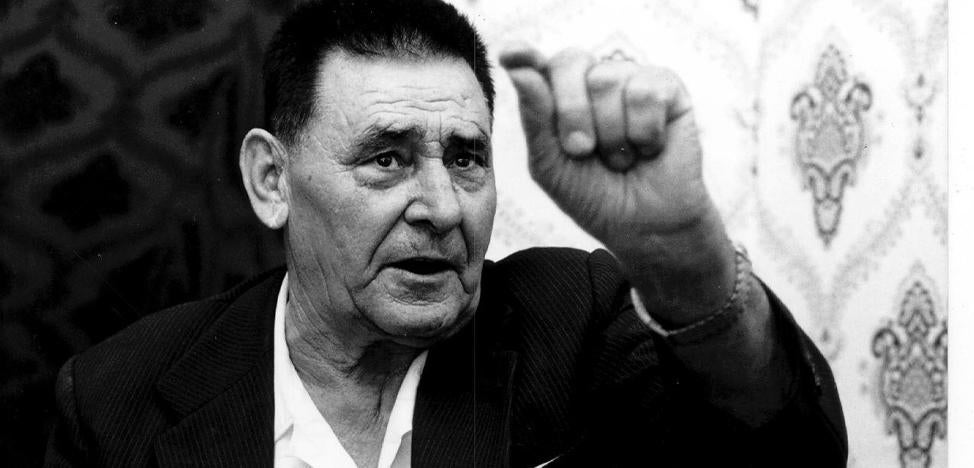 From Lanzarote Maguer at the beginning of the 15th centurythe first bregador of whom there is written evidence,
to the youngest A-strut of today, Tenerife
Eusebio Ledesmamany have been the fighters who have marked times and who should be highlighted with gold letters for their contribution to the vernacular sport.
A small Internet survey conducted gave more than 50 names that could be on the honor roll,
although we wanted to highlight only thirteen of the most influential, those who made an art of the Canarian wrestling and that led to the terreros or theaters where they passed, being crowded with fans eager to enjoy with them and in some cases, having helped the Canarian wrestling transcend our borders.
Each person who loves our sport will have their particular classification, but together with the survey carried out and the history investigated, the thirteen fighters with the most influence in the Canarian fight have been:
Ramón Méndez, Mandarria, El Faro de Maspalomas, Pollo de Buen lugar, El Palmero, Pancho Camurria, Santiago Ojeda, Juan Barbuzano, El Parri II, Melquiades Rodríguez, Loreto IV, El Pollito de la Frontera and El Trota II.
1 Ramon Mendez.
He was born in Frontera (El Hierro) on November 12, 1861 and died on April 25, 1954. He was the first great fighter of the end of the 19th century. He was tall and corpulent. Already
With 19 years in the Iron, he knocked down 24 opponents consecutively. When the island of the meridian was too small for him, with his friend Martín
"El del Pinar" another great fighter, they toured the entire Canary Islands doing exhibitions and challenges, revitalizing the fight. Hardly anyone could with them. One day he fell in Gran Canaria with the southerner Bartolo «the warrior» and did the impossible to fight him again, which he achieved and thus be able to defeat him.
Their fame was such that they went with Mandarria to Cuba, where they did the sameeven with other athletes from other sports disciplines, remaining undefeated and having to flee from there due to the anger of the Cubans for it.
2 Miguel Cabrera, Mandarria.
He was born in Gáldar (Gran Canaria) on April 13, 1872. He was
considered one of the largest in the early twentieth century and he could be seen in fights in the Cuyas circus. he was considered
"a teacher" by Justo Mesa or "the greatest fighter and with a lot of art that there has been" for José Navarro "the blond". Antonio Ayala said of him that "he was a master with his own overwhelming style, his lifts being fearsome."
He defeated the greatest of the time in challenges. In addition, he traveled to Cuba and Argentina where according to Issac Viera in South America he broke records by knocking down men with chest hair. He fought until he was 49 years old and ended up teaching other fighters.
3 José Rodríguez, Maspalomas Lighthouse.
He was born in Pajar de Arguineguín (Gran Canaria) on March 13, 1912 and was the man who dominated wrestling until the middle of the 20th century.
He was 1.98 meters tall and weighed 90 kilos. When he was 19 years old, Domingo Mederos "Pollo de Gáldar" knocked down one of the greats and his legend began there.
When he put his hand behind his opponents' backs he was virtually invincible. They say that the change in the grip from the upper hand to the lower hand occurred to prevent the Lighthouse from winning every time. When the Canarian wrestling federation was created in 1943, he had already defeated the greatest wrestlers in the entire Canary Islands, although he lost the first official individual championship with Víctor Rodríguez by 3-2 and whom he had defeated on several occasions. He took his revenge the following year, holding the title from 1944 to 1952, until he did not want to deal anymore with the death of his son. He was
considered the superman of the 20th century and he retired lifting the plow until he was 70 years old. He passed away in September 1991.
4 Manuel Marrero, Good Place Chicken.
He was born in the neighborhood of Buen Lugar in Firgas, on April 18, 1913 and is considered
one of the most complete fightersof history and of the few that could beat the Maspalomas Lighthouse, the other great lighthouse of its time. The challenges between them packed the venues where they were held, usually in Campos España, as they were considered the two best of the 40s of the last century.
Shooting 11 fighters from the Tenerife team in 1944 was one of his feats. He made the Guanches de Arucas champion of the Canary Islands in 1946 and the Ajódar de Guía in 1947. He was an elegant fighter and made the difficult easy. He was 1.90 meters tall and weighed 110 kilos.
In 1984 the press came to describe it as the most complete until that year in history. He died on May 14, 1988, two weeks before receiving the gold medal for sports merit.
5 Alfredo Martin, El Palmero.
He was born in 1924 in the town of Güímar (Tenerife), but at the age of six he went to La Palma. He did the military service in Lanzarote where he already fought in the Tao, where in a fight he knocked down the twelve opponents. He later moved to Gran Canaria at the age of 21, where he reached his best years at Adargoma alongside Juanito Mujica. He was a fighter
great technique and with great strength in his arms. He also defended the colors of Rumbo, Kruger, Vencedor and Breña Baja de La Palma.
The Villa de Ingenio named him adoptive son. He passed away in 2012 in the Llanos de Aridane.
6 Francisco Marrero, Pancho Camurria.
He was born in Santa Cruz de Tenerife on April 22, 1912 and died at the age of 70 in 1982.
He began to fight from a very young age in non-federated teams from the Cuatro Torres area. His first great team was Santa Cruz, where he arrived from Tinguaro, and where he achieved important victories, as well as in fights between Santa Cruz and La Laguna or some with the Tenerife team.
He is considered one of the greatest of the vernacular sport because despite his physical conditions, he showed that in the fight skill is better than strength. Currently they have a Wrestling Pavilion that bears his name in his hometown, as well as a tournament for youth teams from the Canary Islands for men.
7 Santiago Ojeda.
He was born in Gáldar on July 7, 1944 and died at the age of 52, in Las Palmas de Gran Canaria after an illness, on March 3, 1997. He is considered one of the
greatest Canarian athletes in history for their exploits in the vernacular sport and in other modalities, such as judo, with 19 titles in Spain, where he was the first Olympian in that specialty, European and world champion in sambo wrestling, and Spain in Olympic Freestyle.
In the vernacular sport, left the Adargoma quarry where he arrived at the age of 15 and stayed until 1968, when he passed to the Guanches. With the people of the capital he became a mainstay and
won several championships in addition to the individual provincial. With the Guanche, the Spanish team wrestling championship and the individual Canarian championship at the Santa Cruz de Tenerife bullring. Finally, in Guanarteme he finished his career at 38 years old.
8 John Barbuzano.
He was born on May 16, 1945 in Isora (El Hierro) where he began to fight at the age of 14 in the Ferinto of his hometown.
Already at 16 he had no rivals, so he went to Benaohare in La Palma and from there to Victoria de Tenerife leading this team to numerous titles, as well as being the individual Canary Islands champion. He is considered one of the
most complete fighters that have ever existed, for some the best for his great technique.
In addition to the Canarian wrestling, like other wrestlers, he practiced other modalities where
He was world champion in folk wrestling, European champion and runner-up in the world of sambo, Spanish champion of Greco-Roman and Olympic, being in possession of more than 200 trophies and diplomas. He is one of the few wrestlers who has his own museum in Frontera (El Hierro). The Canarian championship for cadet teams bears his name.
9 Jose Maria Gonzalez, Parri II.
He was born on February 3, 1953 in Santa Cruz de Tenerife and retired in January 1995 at almost 42 years of age. He started at Tacuense at the age of 16, passing through Unión Temporal del Aaiún, Jandía, Maspalomas, Chafira and Chimbesque as main teams, retiring at Tacuense.
He obtained all possible titles both individually and collectively at the insular and regional level.
To his great power is added the great nobility with which he fought, being one of the most important fighters in the 70s, 80s and 90s of the last century. Outside the island, his victory in Korea against the absolute and professional wrestling champion Sirum reached great resonance.
10 Melquiades Rodriguez.
He was born in Fasnia (Tenerife) in 1959.
From the age of 13 he began to fight in the Brisa del Teide, whose age had to be falsified in order to compete, being a youth champion. He then went to Victoria and 9 seasons at Santa Cruz. He was in La Palma in Tamanca and his Gran Canaria stage came, in Unión Gáldar, Maspalomas and Tinamar, to return to his island and sign for Rosario and Santa Cruz.
His rivalry with Parri II filled all the arenas where they faced each other, having played many finals against him.
Despite his physical strength, he came to weigh
160 kilos, he attached great importance to technique and mastering many tricks. He was champion of Tenerife and the Canary Islands in addition to other modalities such as Greco-Roman and Olympic freestyle where he obtained the Spanish titles, retiring at 41 years of age.
11.- Antonio González, Loreto IV.
He was born in Agüimes on January 11, 1967 and was active from the age of 13 to 42, passing through Roque Nublo, Casa Pastores, Arguineguín, Maspalomas, Castillo, Maninidra, Aldea Blanca, Tazacorte, Tinajo and Florida, hanging the laundry struggle later. Also
He won numerous championships with his teams, at the island and regional level, as well as individual titles.
His triumphs against great props with greater weight with him, he elevated to the category of art going left-handed, something that he dominated like no one else.
12.- Francis Pérez, Pollito de la Frontera.
Francisco Javier Pérez Machín was born on August 2, 1974 in Valverde (El Hierro). He started competing at the age of 15 until he retired at 33 due to injury.
In his record he has 14 first category League titles, 7 cups of the President of the Government of the Canary Islands, 6 Championship titles by weights, although he hosts more than 70 throughout his careerincluding challenges.
It is considered by many the
greatest fighter who has ever existed and the one who has been undefeated the longest, since there were very few who could take him to the arena on some occasion. He dominated the vernacular sport with an Iron fist while he was active, at the end of the last century and the beginning of the current one.
13 Juan Francisco Espino, Trota II.
He was born in Las Palmas de Gran Canaria on October 9, 1980. He started in the Guanarteme quarry and at the age of 24 he was prop A, a condition he maintained until his retirement from the Canarian wrestling. He later fought in Santa Cruz, in Almogarén de Valsequillo and in Castillo.
He was champion of the Canary Islands at the individual level in more than 110 kilos.
He participated in multiple forms of struggle, being the
Canarian and Spanish wrestler who has achieved greater international recognition with this sport. In mixed martial arts, as an amateur he has a record of 17-0 and as a professional
He debuted in 2018 in the UFC, being the first Spaniard to win a fight in one modality.
In grappling he became European champion five times and six times in the world. He was the European champion of Gouren wrestling, of Tartar wrestling and of the first European ring of Leonese wrestling. He was the only foreigner and white recognized by the Senegalese federation and Senegalese wrestling champion with seven wins and zero losses. There he was known as "the white lion."