The third germ of Simbeque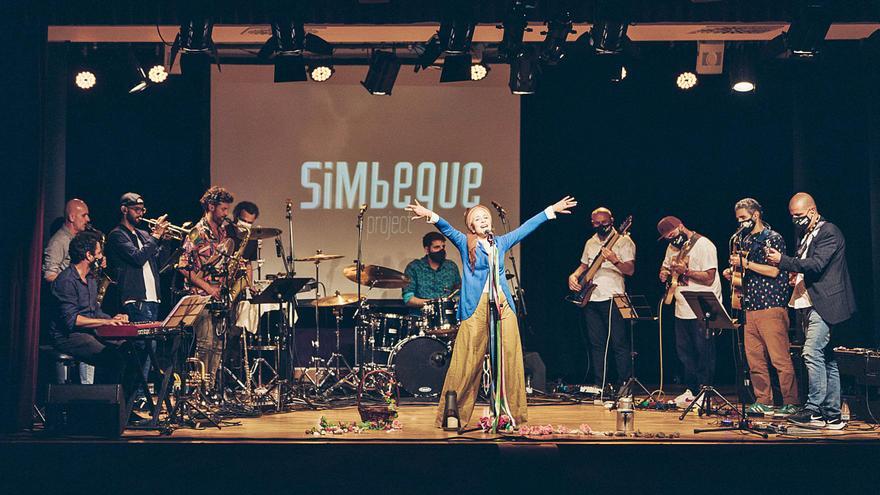 The term "simbeque" designates in the Amazigh language the "seed that germinates" and that is the substrate of Simbeque Project, the award-winning Canarian group that roots its music in the folklore of the islands and weaves its sounds with ramifications of jazz, rock, electronics , funk or drum & bass.
With two albums behind the project, the band discovers the third chapter of this cross-border ship of sound fusion that, this time, under the title Simbeque Project, Vol. III, inspires their new repertoire in the heart of popular music isleña through its most emblematic isas, folías, malagueñas, and stretches on Saturday 29 May, in the run-up to the celebration of Canary Islands Day.
"If in our previous albums we are based on not so well-known songs, with a slightly more intellectual coating, in this third album we are going on a winning horse with the most popular songs of our folklore", advances Miguel Manescau, musical director and electric guitar of Simbeque.
Along these lines, the binomial of «tradition-avant-garde» that synthesizes the spirit of Simbeque Project delves into its first vocation of «internationalizing» the symbols and melodies of Canarian folklore through their hybridization with different contemporary sounds, but always from the codes own that make up the Simbeco label since the band's formation in 2015.
«In this album we are going on a winning horse with the most popular songs of our tradition», Manescau advances
«For us it was a very powerful challenge to decontextualize these original texts and melodies to provide them with new sound nuances, so it was a very interesting work of composition and arrangements where there is a lot of respect and love for those purest sounds of Canarian folklore, but from the idea that it is necessary to normalize and naturalize all those experiments and investigations that are carried out on any music, "says Manescau.
In this regard, one of Simbeque's motivations lies in «being able to give a push to Canarian folklore, which I think is a bit behind other folklore such as flamenco, or Brazilian, Cuban or Argentine music, which yes who have developed on a larger scale a direct empathy with other music ». In addition, Manescau points out that the project aims to build "an intergenerational bridge" between the most purist regulars of the genre and the new audiences further removed from its musical tradition.
Along with Manescau, the Simbeque Project line-up is completed with 11 musicians from all over the Archipelago, led by Beatriz Alonso, vocalist; followed by Octavio D. Hernández, electric guitar; Jonay González Mesa, electric guitar; Roberto Domínguez, electric bass; Norberto Arteaga, alto sax, bass clarinet and flute; José Vera Bello, tenor saxophone; Óscar Hernández, trumpet; José Alberto Medina, keyboard; Akior García, drums (Sonor, Bosphorus and Wincent) and Luis Suárez, percussion and pads, with Jonás Superstereo as sound technician.
Party 3.0
The launch of Vol. III in the capital of Gran Canaria will take place this Saturday, May 29 at the Alfredo Kraus Auditorium within the framework of the Mundos cycle, which threads a program of popular music from anywhere in the world, as well as within the tour presentation of the album, #SimbequeCelebraCanarias.
In addition, this concert has the participation of the musician Fernikhan AKA The Lyrical Killer, founder and member of the Canarian hip-hop collective El Veneno Crew, as a special guest. Tickets are already on sale and can be purchased on the website www.auditorioalfredokraus.es, as well as at the Alfredo Kraus box office.
The project aims to build an "intergenerational bridge" between the most purists and new audiences
However, Simbeque Project not only takes root in the island's musical field, but also pays homage to it with its rereading. Materialized in 2015 by the hand of Mousikê and sheltered by his project Tiempo [Trabajo de Investigación y Evolución de las Músicas Populares], Simbeque Project is self-financed with its own resources and is constituted as a «party 3.0», in the words of Manescau, given that one of its fundamental pillars resides in «the feeling of a group of friends that is almost family, and that they get together to make music and have fun, as in the parties of our grandparents ».
Throughout its trajectory, the band has toured numerous stages and festivals in the Archipelago and has flown over the Atlantic with performances in the US and Colombia, since their second album was awarded at the Canary Music Awards as Best Album. of the Year and Best Jazz and Fusion Music Album. Even so, Manescau assures that it is "the meeting between friends that has guaranteed the continuity and credibility of the project over time, which is what we have wanted to prioritize from our beginnings."