The temporary doctors, on the strike: "We apologize to the patients, but the moment is key"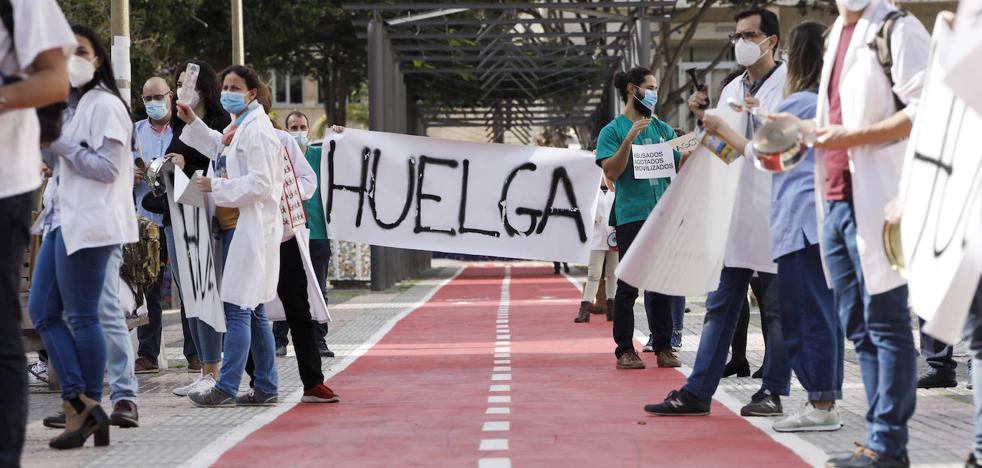 The interim doctors from the Canary Islands stage a strike this Friday, from 10:00 a.m. to 12:00 p.m., to demand participation in the negotiation of the selective process through which their positions will be consolidated
The temporary doctors of the archipelagojust over 2,200, are called to strike this Friday with the aim of requiring the Canarian Government to participate in the negotiations by which the extraordinary selection process will be agreed to consolidate their positions without the need for an examination.
«
We apologize to patients. We don't want to cause any inconvenience, but
we need the government to listen to us at this exceptional time in which we can end a temporality of more than 20 years, "said the spokeswoman for the strike committee of the Confluence Table of Temporary Doctors and Physicians of the Canary Islands, Dácil García.
The specialist in Infectious Diseases adds that this strike seeks "to have the
job stability that our patients deserve and that, without a doubt, will have repercussions for the benefit of the service».
The strike, to which hospital and Primary Care doctors are called, both permanent and temporary, is planned
between 10:00 a.m. and 12:00 p.m. this Friday and it would only be called off in extremis if the conciliation act between the Ministry of Health and the SEMCA union, of the Confluence Table of Doctors and Physicians of the Canary Islands area, convened at 9 in the morning, were successful.
Garcia points out that
in recent days there has been no approach by the Ministry of Health to agree on a consensual solution and avoid a strike.
A week ago, the Canarian Minister of Health, Blas Trujillo, ruled out the creation of a negotiating table parallel to the one legally established with the representatives of the workers to agree on the terms of the consolidation process, although he indicated that his department was willing to listen to the proposals of the temporary doctors in this regard.
«
we are quite confused. Not only the unions, but the managements. They have made the lists without comparing the data with each of the managements, "explains the spokesperson for the group of temporary doctors.
For this reason, they have sent a letter to the management of Primary Care and hospitals urging them to request that the data of temporary places in each health and service area be contrasted.
However, García acknowledges that he cannot value the
list of vacancies in the Canary Islands Health Service that can be consolidatedin application of Law 20/2021, of December 28, on urgent measures against temporary employment in public employment. "We do not know with what criteria it has been done," he says about it.