The Tedax of the National Police certify that the air quality on La Palma outside the exclusion zone is good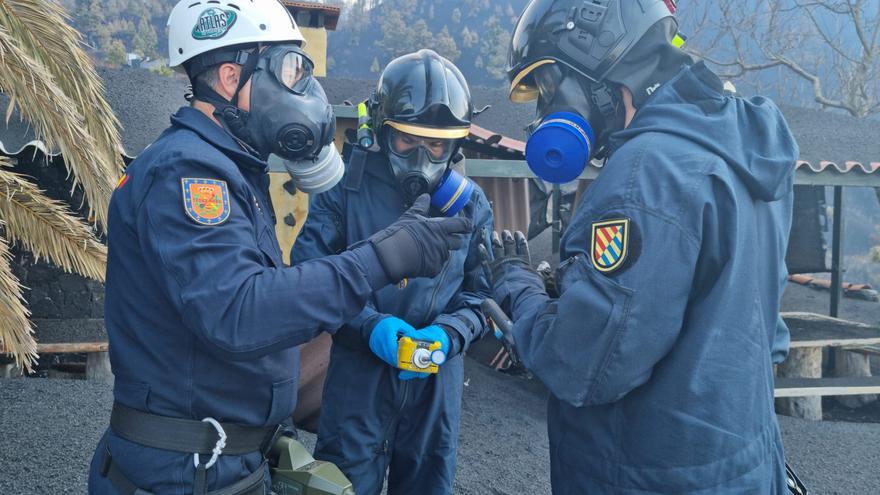 A team of Specialist Technicians in Explosive Ordnance Disposal – Nuclear, Radiological, Biological and Chemical (Tedax – NRBQ) of the National Police, scientists from National Geographic Institute (IGN) and members of the Military Emergency Unit (UME) have measured during the day the quality of the air outside the exclusion zone La Palma volcano, stating that this is good. Despite this, specialists recommend maintaining the use of masks in the presence of ashes.
The three officers from the Canary Islands Police Headquarters They have visited the different courts where the national police are located to ensure access and have certified that in all of them the oxygen level is optimal and that there is no presence of gases harmful to health in none of them, according to official Carlos Brito.
The Tedax-NRBQ has two substances measuring devices, which were used with the presence of scientists from the IGN and components from the UME. Specialists and scientists entered the exclusion zone to take more samples to determine the amount of gases that the volcano is emitting.
Likewise, the agents gave a talk during the morning for the Citizen Security and IPU agents of the National Police who are in control in case the situation changes and they are forced to use specific equipment due to the generation of gases. Thus, as Brito indicated, they were trained in the use of masks, filters and personal protective equipment.
The National Police officer influenced the benefits of collaboration with other bodies and organisms within a major emergency such as a volcano eruption. And he highlighted the good performance of the multidisciplinary team led from the Advanced Command Post (PMA). "It is very well oiled," he noted.