The tax increase on private pension plans would only affect 8% of their owners | Funds and Plans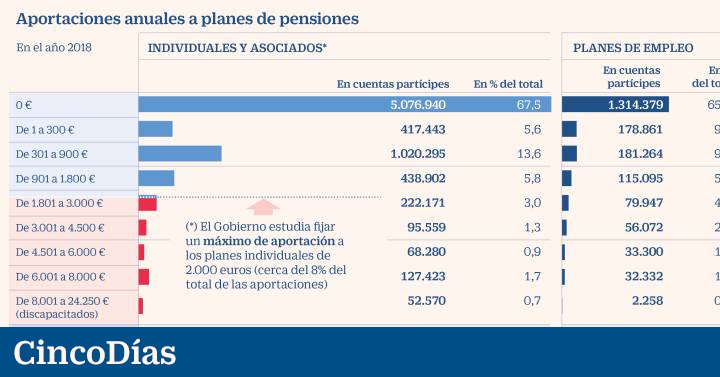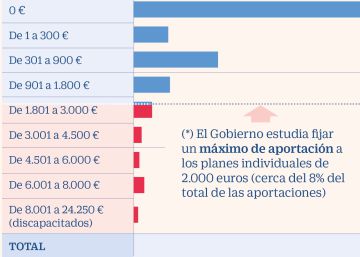 The Government wants to completely review the taxation of individual pension plans. Instead of being able to deduct from the personal income tax base up to 8,000 euros contributed, with the new budget law it would be lowered to 2,000 euros. Although it seems like a drastic reduction, the truth is that only 8% of the owners of this type of vehicle regularly make annual contributions above that limit.
In Spain there are 7.5 million people who have an individual pension plan (another 1.9 million have a corporate pension plan). The banking and insurance associations, which control this market, insist that the worsening of taxation would affect all participants. But the vast majority cannot, or do not want to, make contributions above those 2,000 euros set.
According to the latest sector report prepared by the General Directorate of Insurance and Pension Funds (DGSFP), 68% of the owners of individual plans did not make any contribution in 2018 (latest data available). In reports from previous years, the proportion is similar. Of the plan participants, 26% made contributions of less than 1,800 euros in 2018. And only 7.53% invested in their plan above that limit.
The reason why the Coalition Executive between PSOE and United Podemos wants to review the taxation of pension plans is because they are more beneficial for high incomes than for low ones. According to calculations made by the Independent Authority for Fiscal Responsibility (Airef), 37% of the beneficiaries of pension plan deductions belong to the 10% of the taxpayers with the highest income. And, as they contribute more, they benefit from 67% of the collection cost, which represents more than 1,100 million euros. In other words, two thirds of the fiscal cost of deducting pension plans benefits the richest 10% of taxpayers.
The Government is aware of this regressiveness, and that is why it has decided to modify the tax relief regime. In addition to reducing it strongly in individual plans, it is going to increase it in employment plans (created in the field of collective bargaining, usually in large companies and public administrations).
Contributions to employment plans may reach 8,000 euros per year, as up to now. But, in addition, its owners will be allowed to benefit from the tax deduction ceiling of up to 2,000 euros in individual plans. Therefore, up to 10,000 euros per year could be deducted.
Regressivity
From the insurance employers' association (Unespa) and the association of investment and pension fund managers (Inverco, controlled by the bank), they have been very critical of the Airef report and the Executive's proposal.
"Regarding regressivity, it is never usually taken into account that the owner of a pension plan has to pay taxes at the time of rescue. If you are a person who has had high incomes, you will also have a good income at the time of your retirement, apart from the public pension, and the income you obtain from the pension plan will be taxed at your marginal income tax rate ", explains Ángel Martínez- Aldama, president of Inverco.
According to Airef calculations, the tax deductions in pension plans had a fiscal impact of 1,643 million euros in 2019. Now, this is offset by what the Treasury receives from the retirees who rescue their plan. When this net effect is evaluated, the impact is 450 million euros.
In addition, most of this amount is also explained by a regulation that is already in extinction. For contributions prior to 2006, the participants can redeem them in the form of capital, applying a reduction of 40% on the consolidated rights. For example, if for 2006 you had 10,000 euros saved in a plan and when you retire you rescue everything at once, you will only have to pay 60,000 euros
This tax benefit, which has already been abolished, accounts for 300 million of the 450 million net tax effect of pension plans. As this advantage is in extinction, there are less and less people and money that can take advantage of it, so that in a few years a neutral tax effect could be achieved.
Airef itself recognizes that "the tax benefit supposes, in practice, a mere deferral of income from the active stage, when the contributions are reduced, to the retirement age, when the benefits are taxed as income from work," he points out in your report.
All in all, the Government is firmly determined to cut the relief in individual plans to bet on business plans. Of course, its objective is to expand that figure and that all types of workers (including employees of SMEs) and freelancers, can access it.