The summer campaign ends with 76,113 fewer unemployed in the month of September
Updated:
Keep

The summer campaign ended positively thanks to the advance in vaccination and the end of restrictions in the autonomous communities due to the improvement in the numbers of infections. Unemployment fell by 76,113 people (-2.28%) compared to the previous month, and broke the usual upward trend this month. The total number of unemployed thus stood at 3,257,802,, its lowest figure since February 2020, just a month before the pandemic broke out. On the affiliation side, 57,387 jobs were created compared to the August average, up to a total of 19,531,111 affiliates.
From the Ministry of Labor they emphasize that there have not been seven consecutive months of decreases since 2000, although the reduction in 2021 is more than triple that registered two decades ago. However, it must be taken into account that the unemployment data does not include either the people included in a Temporary Employment Regulation File (ERTE) or the self-employed who charge for the cessation of activity. In September, Social Security still registered 239,230 people protected by an ERTE as of September 30.
Unemployment declined in all economic sectors compared to August. Thus, in the services sector it decreased by 39,312 people (-1.68%) people; in agriculture it fell by 13,067 (-8.08%) people; in construction it fell by 12,309 (-4.53%) people; In industry, there were 6,668 (-2.45%) people registered and, finally, among the group without previous employment, it fell by 4,757 people (-1.68%).
Registered unemployment fell in 12 autonomous communities, among which the Canary Islands (-20,699), Catalonia (-12,658), Castilla La Mancha (-10,720) and Castilla León (-10,281) stand out. In September, the Canary Islands was the autonomous community in which unemployment fell the most, both in absolute and relative terms (-8.8%).
Increase membership
Membership also advanced in September, with 57,387 more contributors, up to a total of 19,531,111 affiliated workers. The General Regime registered an average of 55,517 more workers (0.35%) in September, reaching 16,146,403 employed persons. The sectors that registered the greatest increase were education (5.51%), administrative activities and services (1.93%) and information and communications (1.18%).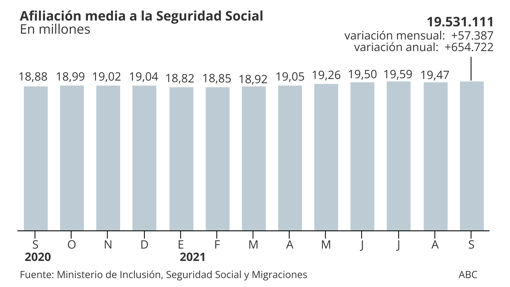 In September, eight regions were affiliated: Canarias (2.22%), Castilla-La Mancha (1.35%), Madrid (1.31%), La Rioja (1.03%), Valencian Community (0.71%) ), The Basque Country (0.56%), Catalonia (0.36%) and Navarra (0.01%). On the contrary, there were fewer affiliates, among others: Cantabria (-2.01%), Asturias (-1.80%), Balearic Islands (-1.62%) and Murcia (-0.85%)