The suggestive sensory "Enredo" by Eva Fàbregas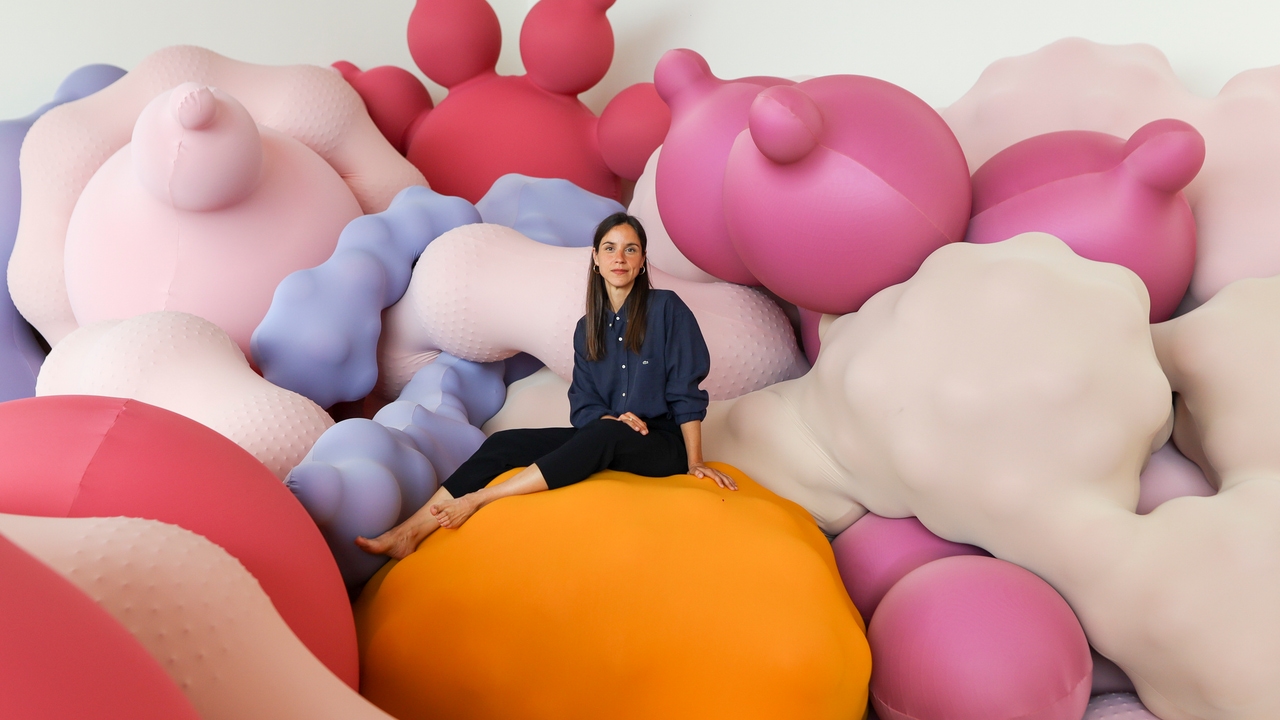 It is almost always a question of time, also of means, but it is difficult for curatorial and editorial work well doneespecially in artistic matters, do not bear fruit. Turgent, colorful, majestic, suggestive fruitslike those that now hang on the walls of the Botín Center in Santander thanks to the first chapter of the new exhibition program «Plots»which the Cantabrian gallery dedicates to the Catalan artist Eva Fabregas (Barcelona, ​​1988). But the analogy is not free, since Fàbregas "returns" to the Bay of Santander thirteen years after training there as an artist thanks to the art scholarships offered by the foundation that gives meaning to the center and which, in the short term, will be fulfilled as prophecies of artistic development.
Conceived as a choral exhibition, the exhibition that can be seen until next October 15 also features notable works by David Bestue, Leonor Antunes o Nora Aurrekoetxea in a kind of sensory journey crowned by an installation of epic proportions. Halfway between vice pop and amazing –juicy sin designed to steal "likes" on Instagram–, and a brainy reflection on tactile attractionPhysically, because of the curves, Fàbregas plants, in the middle of the building engineered by Renzo Piano, a series of inflatable balls, covered with a polyester very similar to the spandex used in sportswear, as if it were a curious Rorschach taste test. : beyond the breasts, testicles, buttocks and penises, there is really only a mirror, truly Freudian study of forms.
"It can evoke innocence, but also perversion or threat," he explained at a press conference Barbara Rodriguez Munoz, director of exhibitions and here also a curator together with Fàbregas herself. «It is a new construction project that began a little over a year and a half ago and in which I have felt very comfortable. They have given me enough confidence to develop the project on this scale, which is not something that anyone would do", the artist admitted wisely, before continuing: «I trust a lot what my body tells me, how a room makes me feel, and this is the result of that dialogue with space. Somehow, before setting everything up, he needed an order to be able to mess me up ».
primary regression
Past the elephant, partly pink and always with a trunk, to which the visitor to the "Plot"stands out among the works the presence of «The Helpers» (2015), movie Sarah Branch focused on the musical «performances» carried out in Brazil that use rhythm and composition as one more element of the ritual. The work, staged between Spain and Brazil, is part of a trilogy that began in 2010 and has a high ethnological value, here in dialogue with that kind of primary regression with which most of the works play. he does too «File: Drag models»a work recovered from Cabello/Carceller, in which different people assigned to the female gender reinterpret iconic roles from the most macho cinema, from John Travolta in «Grease» up Vin Diesel in "The Chronicles of Riddick"always from a contemporary and self-conscious reinterpretation.