The SUC ambulances, classrooms for the training of TES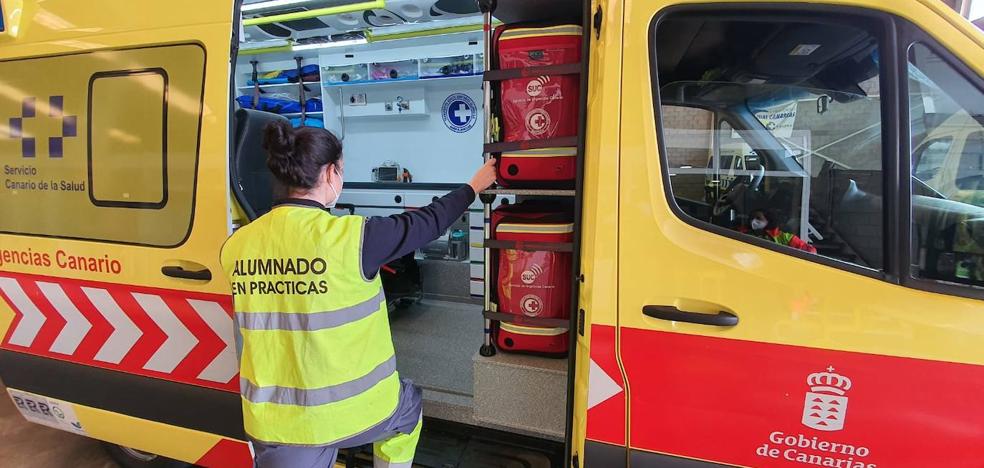 Future Health Emergency Technicians learn action protocols with real incidents and become familiar with health resources
Since March, a hundred students of the Technician in Health Emergencies (TES) cycle from different institutes and training centers in Gran Canaria, Lanzarote, Fuerteventura, Tenerife and La Palma have carried out their
practical training in basic life support ambulances of the Canarian Emergency Service (SUC), dependent on the Ministry of Health of the Government of the Canary Islands.
In this training period, students learn to deal with real situations and learn about the work they will do when they enter the labor market. In this sense they acquire skills in the
appliance management and the material that these resources have and put into practice the health action protocols, thanks to the collaboration of the SUC ambulance professionals.
Health Emergency Technicians, trainee student. /

MANAGEMENT OF SERVICES FOR HEALTH AND SAFETY IN THE CANARY ISLANDS SA

This training also incorporates practical knowledge of
coordination of resourcescommunications with the operating room, patient mobilization and immobilization techniques and medical transport, as well as patient assessment and assistance during transfer.
Practices are part of
last course of the Health Emergency Technician cycle and they are being carried out with the SUC by the students of the IES La Orotava Manuel González Pérez, IES Magallanes-San Isidro and CIFP Los Gladiolos, in Tenerife; IES Virgen de las Nieves, in La Palma; IES Primero de Mayo and CIFP Villa de Agüimes, in Gran Canaria; CIFP Zonzamas, in Lanzarote; and CIFP Majada Marcial, in Fuerteventura.