The strength of the Arena to overcome adversity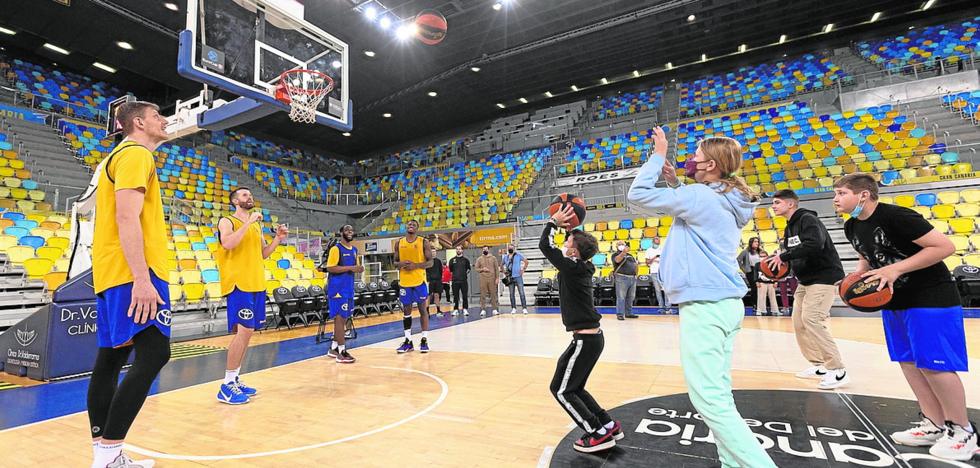 Gran Canaria, without AJ Slaughter, receives this Wednesday (8:30 p.m., Movistar Deportes -dial 53-) the MoraBanc Andorra of ex-yellows Hannah and Paulí in another vital appointment to continue in the race to be in the Playoff
There is no truce. After falling into a transcendental pulse with the
UCAM Murcia in the last day, together with the consequences that left the North American foreigner with a Polish passport out of action
AJ Slaughter after the hit received by the Dominican forward Sadiel Roja in the face, CB Gran Canaria, ninth classified with a balance of 14 wins and 13 losses,
resets to compete again this Wednesday, starting at 8:30 p.m. (Movistar Deportes -dial 53-) at the Gran Canaria Arena, against MoraBanc Andorrafifteenth with a balance of eight wins and 19 stumbles, in a battle for the privilege zone and for the quick zone.
The combined of
Porfi Fisacwhich retrieves
Canadian abroad Dylan Ennis after missing the matches against Umana Reyer Venice and Murcia due to gastroenteritis, intends to become strong in his fort to overcome adversity in the absence of seven dates for the conclusion of the regular phase of the domestic competition. After winning seven of their last ten league games, Granca's inescapable goal is very much alive, so they seek to regain confidence and exhibit the best version of capital pieces so as not to forgive before the shelter of their fans.
For its part, MoraBanc Andorra,
who have only won one of their last eight matches in the Endesa League, shakes up his squad in search of solutions to move up the table. In the last match played on the Unicaja court (78-74), Paulí, who defended the Claretian jersey for six seasons, was the most outstanding with 16 points, three rebounds and a PIR of 18.
The need for the Eudal block after the dismissal of Ibon Navarro -now on the Unicaja bench- is the most dangerous factor to take into account in
a Granca with no margin for error, and less so at the Arena, where the communion between the team and its fans in the derby against Lenovo Tenerife is still alive. The Surne Bilbao Basket this Sunday (12.00) and the Polish Slask Wroclaw next Wednesday will be two other dizzying stakes in the coming days on the island, but it is better to go game by game. The strength of the Sand.
Complaint for the action of Rojas
The island entity reported yesterday that "due to the incident suffered by AJ Slaughter in the match on Sunday, April 10, 2022 at the Palacio de los Deportes de Murcia in the match on matchday 28 of the regular phase of the Endesa League, the CB Gran Canaria has filed a complaint with the Single Competition Judge of the ACB League against the player Mr. Sadiel Rojas for his violent and unsportsmanlike behavior, urging said body to initiate the corresponding sanctioning file against the indicated player in the terms provided in the Disciplinary Regulation of the FEB».
In addition, UCAM Murcia presented another to the ACB for "incitement to hatred" against its player Rojas.