the strange mystery of the common man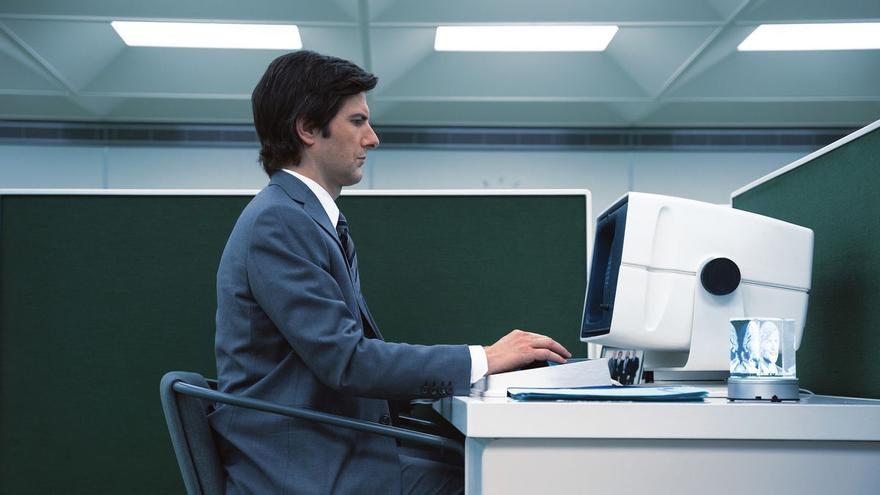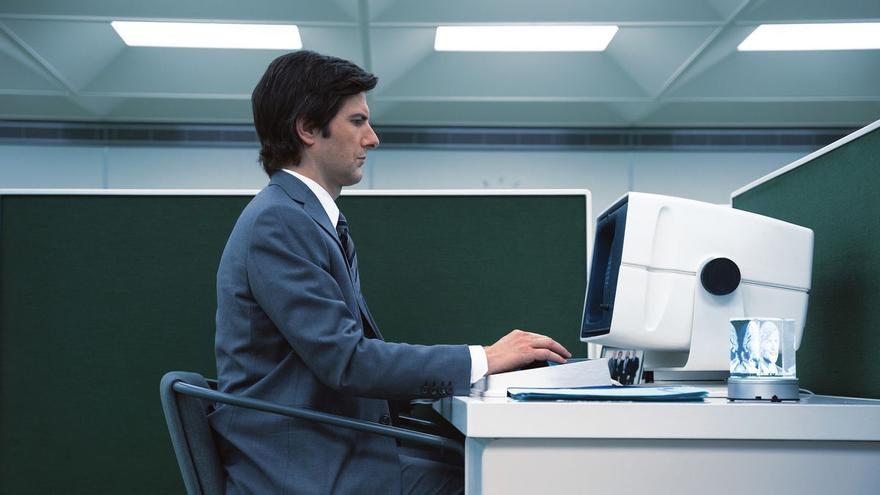 adam scott He was seven years old when he saw how the street of the small Californian town of Santa Cruz where he lived with his divorced mother and his two brothers went back seven decades in time to host the filming of a television adaptation of 'East of Eden'. The magic of the transformation made a deep impression on him, and young Adam decided at that moment that one day he would become an actor to be part of that world of wonders. Time did not weaken her vocation; As soon as he came of age, Scott left Santa Cruz and water polo to study acting in Los Angeles. Since then, the road to stardom has been long and short on rewards and it has taken three decades for Adam Scott to see his name at the top of the cast of a series with real packaging. He has finally achieved it, at the age of 48, with 'Separation' ('Severance'), an intriguing labor techno-thriller created by Dan Erickson and directed by Ben Stiller what AppleTV+ It premiered a couple of weeks ago.
In 'Separation', a Scott with striking hair puts his peculiar rodent physique and his talent as an actor at the service of the character of Mark Scout, a man devastated by a personal tragedy who works at Lumon Industries, a sinister corporation that has found the method for your employees to separate (radically) their work activity from their personal life. It wasn't too difficult for Scott to get into the role of a disgraced, work-insane individual: he lost his mother, a retired teacher, shortly before filming began, which lasted for eight months. At that time, strict health protocols forced the actor to live in isolation in an apartment in the New York neighborhood of Tribeca, far from his wife and his two children.
cult comedies
He must have thought that was an acceptable sacrifice considering what it had cost him to get there. After graduating from the American Academy of Dramatic Arts, Scott spent a decade and a half doing the kind of jobs (a couple of episodes in a series, a small part in a movie…) that allow an actor to survive without really leading him anywhere. site. His luck changed in 2008, when he was recruited to play a dim-witted yuppie in Adam McKay's 'Step Brothers' (premiered in Spain with the psychotic title of 'Brothers for balls'). That role opened wide the doors of television comedy and Scott chained two cult series, 'Partydown' (Starz) and parks and recreation (NBC), before switching gears and starring in the David E. Kelley drama 'Big Little Lies' (HBO).
ben stillerwho before 'Separation' had directed him in 'The Secret Life of Walter Mitty' (2013), has said of him that he is an actor who "Understand how rare it is to be normal". The definition is quite precise. There is something very unsettling behind the everyday appearance that Scott often projects in his work. And also outside of them. We talk about someone supposedly 'cool' that he has recorded a podcast of 25 chapters! to explain how much you like them U2. That's weird, isn't it?