The story of the teenage expert in quantum computing | Talent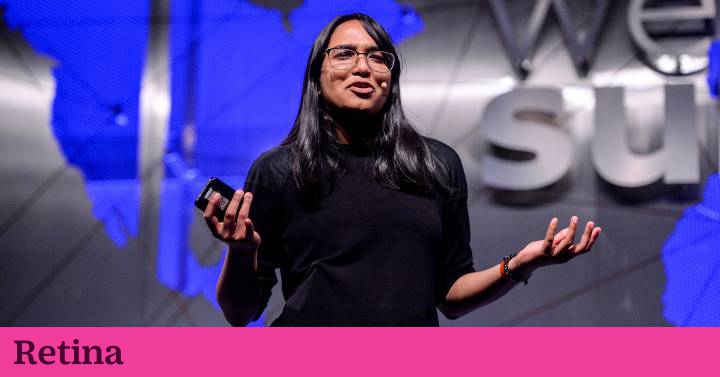 Brianna Gopaul has nothing against Taylor Swift. "He is a very good person," he says. But she doesn't understand why 11-year-old children turn their devotion on her instead of celebrating the exploits of famous scientists. "Why don't they admire Taylor Swift and not Michio Kaku or Neil deGrasse Tyson? I think they are the kind of person you admire if you want to find interesting ways to think about the world and learn new things," he explains.
That's what the young Canadian did when she was 11 years old. That and ask questions about the functioning of the world. "What is light?" These and other questions were raised before the oracle of the 21st century. "Luckily, I had internet and could just fall through the burrow and learn a lot of things in a matter of minutes," he recalls. Now he is 16 years old, this is the second time he has visited the Web Summit and he can now fill in his resume with professional experiences in two companies focused on current technologies.
Last summer he was in Vancouver, working with the Sanctuary AI team, a company dedicated to the cause of developing a general artificial intelligence – comparable to the human one – and the year before he spent working at Xanadu, a startup of quantum computing based in his native Toronto. How do you go from being a girl who admires an astrophysicist to being a teenager who works with emerging technologies called to revolutionize our near future?
Gopaul admits that his parents laid the first stone. "My mother works in real estate and my father is an engineer. While growing up, they were always very strict: the notes were the number one priority. They wanted to give me the best education I could have," he recalls. But, although he appreciates the support, he does not see so clearly that his means were the most appropriate. "Actually, your priority should be to learn, find interesting things and look for opportunities."
I sensed that when he contacted The Knowledge Society, a kind of accelerator for young students that aspires to train the next generation of Elon Musk's. And confirmed after completing the program. How are the gurus of the future formed? With less technology than you think. "I thought it was a program where you go to classes and learn about emerging technologies," says Gopaul. Instead, he learned philosophy: "They teach you to live and learn a certain way. We study the opinions of philosophers such as Socrates and Plato and the mentality of Stoicism … I didn't expect any of that."
What you do not learn in class
Gopaul defines it as a training to "become a better person" in general. This happens by being more grateful for everything you have compared to other people and learning to build meaningful relationships. "At school they don't teach you empathy, it's something you develop as an adult," he reasons. Another thing he didn't learn in school, besides quantum computing and artificial intelligence, is the motivation to learn. "They only tell you that you have to learn certain things," he says.
In fact, before entering The Knowledge Society, Gopaul had already flirted with quantum physics that was as fascinating as it was inaccessible. "I think the gap was that I had no internal motivation to start doing things with it. I never thought I had the ability to work in a company, thinking of ways to take advantage of quantum mechanics to build meaningful technologies," he reasons. With the push of the guru school, which also includes expert advisory programs with professionals from different emerging technologies, he got to work. "Luckily, there are many resources on-line. This is the main route. Also, one of the most important lessons I've learned is that people older than me are very generous with their time. They can spend hours trying to help you understand a concept. I am very grateful to have these kind of people in my life. People and resources on-line. This is how you learn, "he says.
And now that? "What fascinates me the most is the idea of ​​finding ways to make humanity exponentially smarter," he says. From its point of view with the expanded intellect, our species will finally be to address and solve its most important problems. "There are two ways to do this: one is to use machine intelligence, understood as general artificial intelligence, and the other is to use brain machine interfaces, such as chips inside your brain. These two technologies will help us achieve this goal." . To join these efforts, Gopaul aims to gain a foothold in companies such as OpenAI or Neuralink, which already take the lead.
The gender gap has seen it, but it has also seen efforts to close it by The Knowledge Society and other Canadian entities. "I know my value and if this is something I want to do, I will continue doing it," he concludes. The young woman is clear about the advice she would give to her even younger self: "Do not put limits on your potential. When we are young, we are told what we can and what we cannot do. I was lucky to realize this before most people: many of the limits we put on ourselves do not really exist. It has been created by society and the people in our lives, "he says.
The problem is in the perception. From his point of view, the mountains on whose top we imagine everything we can is not within our reach change in size depending on the barriers we create. "In most cases, our goals are not as far as we think. Literally yesterday I met someone who is connected to Elon Musk. That is my link. Now this mountain that I thought was very steep – Neuralink – is not at all." .
(tagsToTranslate) history (t) adolescent (t) expert (t) expert (t) computation (t) quantum (t) quantum (t) Canadian (t) brianna gopaul (t) have (t) end (t) adolescence (t) be (t) artificial (t) intelligence (t) path



Source link