The storm continues: the largest oil fund is around record lows | Markets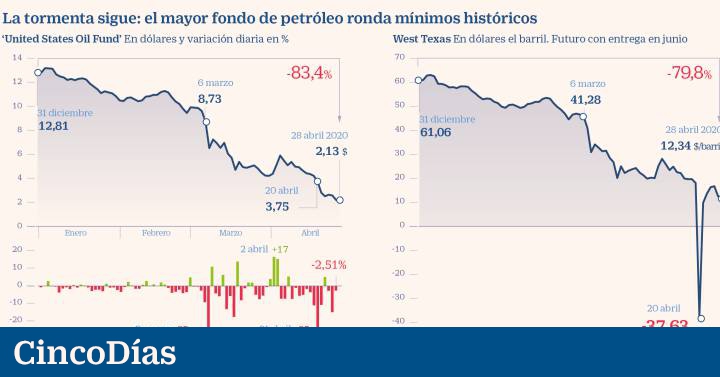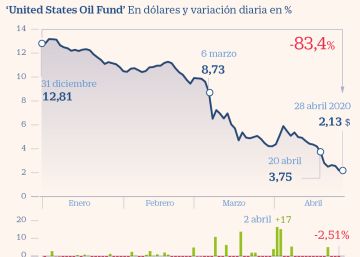 Although the price of oil has returned to positive, it does not mean much less that the problems have stopped. Yesterday, the West Texas Intermediate, benchmark crude in the United States, recovered 5.24% of its value until leaving the barrel of delivery in June at $ 13.45 per unit. Brent rose 6% to $ 21.2 a barrel on a relief day after the 8% left on Monday.
However, fear and uncertainty continue to wreak havoc on oil. The OPEC + pact (the cartel and its allies, among which Russia stands out) and the prospect of governments lifting the harsh confinement they have installed to try to save time in the face of the Covid-19 advance is not enough. Reserves continue to overflow and make markets fear that, as the expiration of June futures contracts approaches, a situation similar to that experienced in May will repeat and the negative price of West Texas oil will return .
In this harsh context, the United States Oil Fund (USO), the world's largest oil ETF, has sunk to near record lows. So far this year, the fund has dropped close to 83% of its value and, on Tuesday, closed at $ 2.21, just 0.9% of its lowest value ever recorded.
"The disruptions caused in the oil market by the pandemic and the oversupply of oil, along with regulatory limitations on the fund's positions in the oil futures market, are substantially impacting the fund's ability to make investments and may negatively affect their profitability ", reads a notice that has been placed on its website in an exceptional way by USCF, the manager in charge of managing this financial instrument.
In a move that points to even more trouble in the near term, the fund announced Monday that it will proceed to sell all of its positions in the West Texas oil contract for June delivery. The sale process ends today and, in its place, USO will dedicate 30% of its capital to the purchase of oil contracts that expire in July, while the rest will be distributed in successive months. In their previous plan, the most durable contract they contemplated buying was that of September 2020; now, it is the delivery in the month of June 2021.
"Mutual fund movements will put pressure on futures contracts with closer maturities in West Texas, causing sales to spread across the market, although price fluctuations will be wild in the coming weeks, we remain constructive longer deadline, "says Norbert Rücker, chief economist and next-generation analyst at Julius Baer.
From Renta 4, the firm's experts agree with Rücker, considering that in the short term excess supply and the destruction of demand will continue to penalize the price of crude oil. "We expect a progressive rebalancing in the medium term as the cuts agreed by OPEC + and others forced by low prices come into force," they point out.