The stock markets extend the falls in the week of Jackson Hole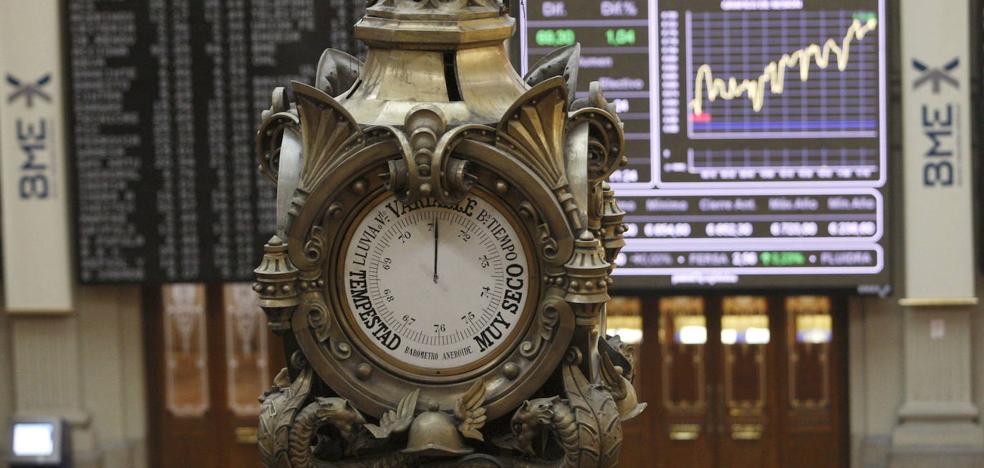 The Ibex-35 is left more than 1% while the euro loses parity with the dollar again
Investors collect their fruits after a summer of increases. The recent rally experienced by world stock markets gives way to a correction that is expected on time. But it will not be until the end of the week, with the start of the central bankers' meeting in Jackson Hole, when the markets can take a clearer direction.
It's the big date of the summer. Especially in a year marked by the tightening of monetary policies in Europe and the US and with the enormous uncertainty surrounding the future of rate hikes given the risk that the fight against inflation will end up leading to an economic recession, especially in Europe.
This perspective has been, precisely, the one that this Monday led the euro to lose its parity with the dollar again. Specifically, the single currency fell in the first hour to 0.9992 dollars, although after the opening of the stock markets it has once again reached the equilibrium level 'one by one'.
According to analysts at Link Securities, the depth of the cuts will largely depend on what central bankers in Jackson Hole say about inflation, the labor market, economic growth and their monetary policy intentions, "which will determine the short-term future of Western financial markets: currencies, bonds and stocks".
Waiting for the important meeting, the Ibex-35 extends the losses this Monday and leaves more than 1%. The selective thus falls below 8,300 points, with the values ​​most linked to the cycle and the evolution of raw materials leading the falls.
Acerinox loses more than 4%, while ArcelorMittal drops 3.7%. Banks also contribute to the red, with losses of 3.4% for BBVA and more than 2% for Bankinter and Banco Santander. For their part, CaixaBank and Sabadell also lost more than 1.5%.
The energy companies avoid the downward blow, but with limited increases that barely exceed 0.7% in Naturgy, the value that leads the table, on a day in which the price of gas has rebounded again, reaching a new maximum of 285 euros per megawatt hour.
In the futures markets, the price of oil continues its downward path, with a new fall of 0.5% that leaves the price of Brent, a reference in Europe, at 96.13 dollars. For its part, the American West Texas is below 90 dollars.