The Stock Market rises strongly after the European agreement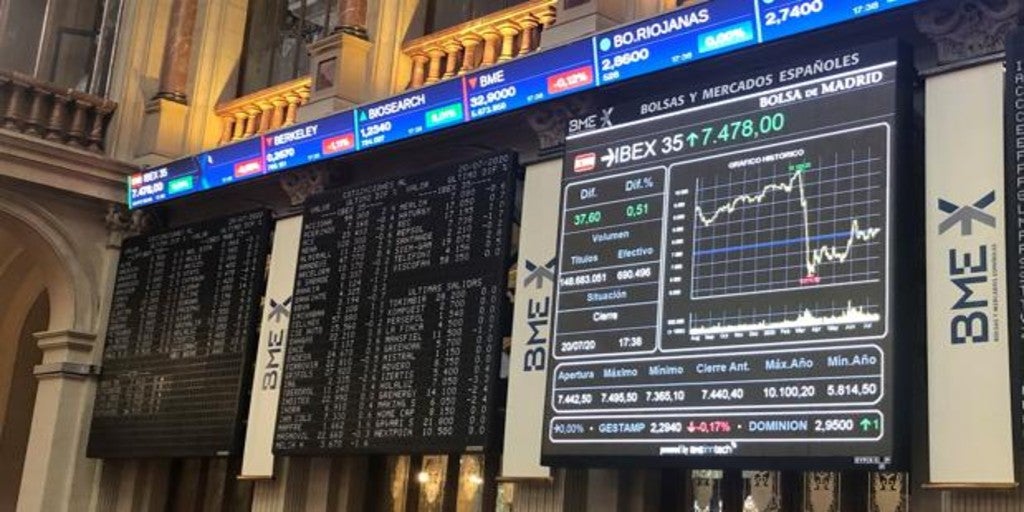 Updated:
save

The European agreement promotes the Stock Exchanges of the Old Continent. Especially the Ibex 35, which an increase of 1.83% is noted minutes after opening. In this way, the Spanish selective breaks the barrier of 7,600 points, after closing yesterday at 7,468. With today's earnings, the Spanish stock market adds a new day of optimism after yesterday there was already a rise of 0.51% due to the news that pointed to an imminent agreement in Europe, and which, as agreed, will allow Spain receive some 140,000 million euros, of which more than half will be direct aid.
Among the Ibex values, the ones that are increasing the most are the banks and components of the tourism sector, since they are expected to benefit the most from the European agreement. The Banco Sabadell, Meliá Hoteles and IAG stand out, with an appreciation of more than 6%. On the loss side, Acciona is the lowest value, 1.01%, and Enagás, 0.46%.
Of the great values ​​of the Ibex, Inditex scores 2.31%; Santander, 1.83%; BBVA, 1.31%; Repsol, 1.19%; Iberdrola, 0.89%, and Telefónica, 0.79%.
In Europe, with the euro at $ 1,145, the rest of the European places have also started the session with optimism regarding the aforementioned agreement. Thus, Milan is the highest selective, 2%, since Italy, together with Spain, is the country most benefited from aid European. For its part, Frankfurt, advanced 1.44%; Paris, 1.00%, and London, 0.48%.
In the debt market, and encouraged by the aforementioned agreement, the profitability of the Spanish ten-year bond, the benchmark, falls to 0.339%, the lowest since March, and the risk premium falls to 79 basis points.
In the raw materials market, the price of Brent crude, the benchmark in Europe, rises 0.23%, to $ 43.49, and this in a day in which the weekly report of the American Institute of Petroleum.