The stock market remains below 8,700 points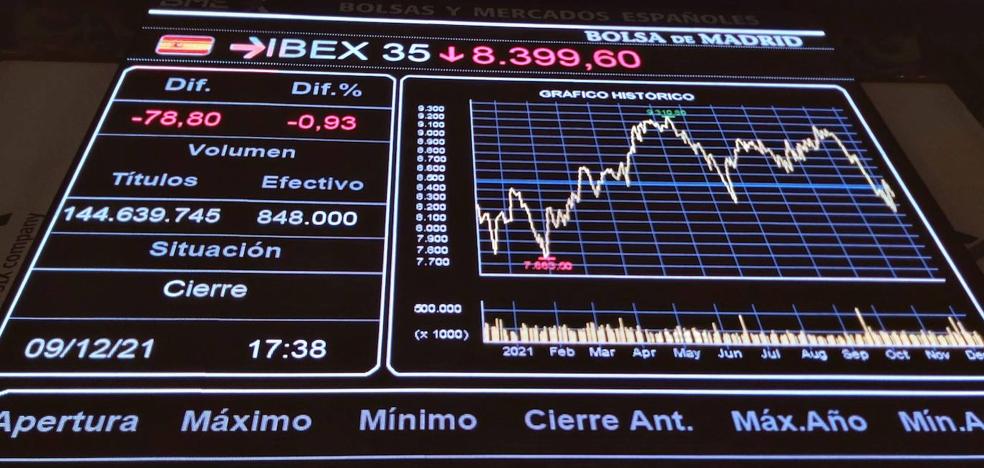 Monotonous session in the stock market, where the Ibex registers a minimum decrease of 0.06%
The Ibex 35 has registered a very slight fall of 0.06% in the session this Tuesday after the Easter break, which has led it to fall back to 8,694 points.
The context continues to be marked by the evolution of the war in Ukraine, which has caused the International Monetary Fund (IMF) to undertake a new general downgrade of its macro forecasts in the April edition of its 'World Economic Outlook' report, published this Tuesday.
In the case of Spain, the IMF contemplates a reduction in the Gross Domestic Product (GDP) of one percentage point for 2022, to 4.8%, and half a percentage point in 2023, to 3.3%. As for world GDP, the institution expects it to grow this year and the next by 3.6%, which represents a reduction of eight tenths compared to the January forecast for 2022 and two tenths in that corresponding to 2023.
Regarding the evolution of the war conflict, the Armed Forces of Ukraine stated this Tuesday that the Russian forces are trying to gain "total control" of the Donetsk and Lugansk regions, in the east of the country, after the Ukrainian President Volodimir Zelensky said Monday that Moscow has launched its large-scale offensive in Donbas.
In Spain, the Public Treasury has captured 1,959 million euros on Tuesday in an auction of bills at three and nine months and has done so by charging less for both references.
In this scenario, the biggest increases in the Ibex 35 have been presented by Siemens Gamesa (+3.32%), Grifols (+2.99%), Meliá (+2.55%), PharmaMar (+1.81%) and Drive (+1.71%).
On the contrary, in the negative terrain, Rovi (-3.23%), Merlin (-2.12%), Solaria (-2.02%), Colonial (-1.68%) and Ferrovial (-1) stood out. .55%).
The rest of the main European stock markets have also closed the session in 'red', with falls of 0.2% in London, 0.82% in Paris, 0.07% in Frankfurt and 0.96% in Milan .
The price of a barrel of Brent crude oil, a reference for Europe, stood at 107.40 dollars, with a decrease of 5.07%, while the barrel of WTI oil, a reference for the United States, fell 5.28% , up to $102.54.
Finally, the price of the euro against the dollar stood at 1.0788 'greenbacks', while the Spanish risk premium stood at 91 basis points, with the interest required on the ten-year bond at 1.844%.