The State forsakes thousands of high school graduates who need school support | Society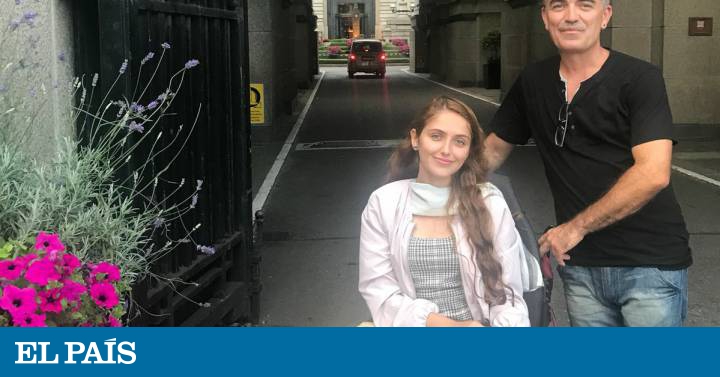 With 10 years Lucía Moreno, a child model and very athletic, was diagnosed with reflex sympathetic dystrophy, a degenerative multisymptomatic pathology that forces her to lie down almost all day. Lucia, today 17 and in a wheelchair, barely leaves her home in Torrent (Valencia, 81,000 inhabitants). Despite the enormous pains – which prevent him from resting – he has not neglected the studies. The obstacles, however, follow one another. Last year she lost the two support teachers who taught her at home four days a week (History, Language, English or Mathematics). He had passed the compulsory education stage and the State disregarded, as happens with thousands of students with rare diseases, hyperactivity or autism. Lucia's family battled – 200,000 signatures were collected on the change.org platform – and the Valencian Ministry of Education He decided that a teacher would give him 10 hours of Spanish and Valencian language classes in 1st year of Baccalaureate. "With her they have created a pilot plan," says her mother, Mercedes, who demands more class hours.
Mercedes says that her daughter passed 1st Baccalaureate with good grades, but that it is increasingly difficult to study – "there are times when she does not want to take medication to avoid deconcentration" – and 2nd Baccalaureate is more complex. Mercedes explains that the agendas "are designed for adults who study at a distance, not for people their age, with less maturity. He has many doubts about Greek or Philosophy and they have to be solved by phone or by mail ". This mother, dedicated to caring for her daughter, criticizes: "Why do you put barriers on who wants to learn? It is a very well spent taxpayer money. It has a lot to contribute. " The Valencian Community approved in 2018 a decree of educational inclusion that obliges the centers to "respond to the different needs of high school students through itineraries adapted to the different rhythms, learning styles and personal situations".
Protocol in the University
Other families are in Lucia's fight, because the educational system leaves their children helpless after caring for them with human and material support from children to secondary school. The universities have action protocols to assist them in the reception and monitor their passage through the classrooms, but there is a media gap between the Baccalaureate and the campus. They are at the expense of the will of the regional government and the degree of commitment to the inclusion of the center.
A spokeswoman for Ministry of Education and Vocational Training He explains that "in the state regulations there is a generic reference to these grants, but each autonomous community manages the resources. That is why, as managed, students receive help or not. " Education remember that there are ministerial scholarships for students with specific needs.
"The supports disappear as high school is reached. One thing is the theory of legislation and another is reality. The educational systems are very different in the autonomous communities and also the network of available resources ", explains Ruth Vidriales, psychologist and technical director of the Autism Confederation. "Secondary is more uncontrolled than primary, there are more teachers, one is supposed to be more independent, social relations become more demanding… And yet, the network of resources is becoming increasingly limited and teachers do not have the educational training a teacher has, "says Vidriales.
Between 2011 and 2018, students with specific needs who have completed high school have tripled, from 0.2% of students (1,463 high school students) to 0.6% (3,750 high school students). This is 0.9% of men and 0.4% of women. The number of graduates reaches 11,717 if the gifted are also counted – who need special treatment – and students with maturational delay or other learning disorders. There are 93,000 students in primary school (3.2%) and 53,100 (2.7%) in secondary school with special needs.
Extremadura Aridia Pizarro wants to study Computer Science to devote herself to video games. He does not lack cognitive skills, but social skills to communicate. You need to have a very marked agenda, without surprises, and have the exams explained to you — you don't understand the double meanings — or understand a lesson through graphics. These supports have been found until last year in the classroom TEA (Autism Spectrum Disorder) of his institute in Badajoz, designed for six students and three professionals. This year, after family protests, Aridia will combine attendance at the 1st year of Baccalaureate of Science with this TEA classroom. A solution of the Board that does not convince the father. "They have had to skip the regulations, we must change it. It cannot be that the professionals are overloaded with a seventh student. Next year, another girl will probably go to high school and what will they do? That there are eight in the classroom? "Asks Pizarro.
A growing problem
Marta Prieto, a specialist teacher in Therapeutic Pedagogy and responsible for education at the Association of Parents of Autistic Children of Badajoz, reports that the problem of homelessness of high school graduates with ASD has grown. Each time these schoolchildren are diagnosed before and the classrooms that support them in primary and secondary schools have spread throughout Spain. In the 2017-2018 academic year, a total of 739 students with ASD or neurodevelopmental disorders studied high school. "In Extremadura, 13 years ago, this tour began and now they reach high school or small training cycles with ASD with communication problems but not cognitive problems," Prieto reasons. "A decree in Extremadura specifies that they can divide their high school, but these students do not need to slow down, but adapt their access to the content." That is why he asks that the ASD classrooms be extended to that cycle and specific preparation for his guild, which is not trained for that stage and pulls on voluntarism.
Iván, like Aridia, also wanted to study Computer Science, but when he arrived at Baccalaureate four years ago he was left without support in Valdemoro, a municipality of Madrid with 75,000 inhabitants. His mother, Raquel López, moved heaven and earth without success. Today Raúl takes courses in foundations and progresses little by little, but his family no longer aspires to be a bachelor. Sources from the Ministry of Education of Madrid explain that specialist teachers and counselors give "direct support as an extraordinary measure and advise the high school education team on how to serve students with specific educational support needs: how to reinforce learning through tutoring, how to work different curricular aspects, etc.… "
In the fight are other neighbors gathered in a WhatsApp group with 80 participants. Valdemoro has eight ASD classrooms in elementary school and only one in secondary school and is in a concerted center. The Ministry of Education committed in writing to open a new ESO classroom, but this September the parents of two schoolchildren discovered that there would be no such space because they open with a minimum of three students and a third child was deleted.
"It always takes off those who need it most. It costs the same with two students as with three. In two years there will be six children ", laments Elena Ferré, mother of Raúl, a child with autism in 5th grade and responsible for education of the Valdemoro group. The solution has been to have a support technician – accompanying them from one classroom to another or being with them in the yard – and 17 hours a week for an Audition and Language teacher. "Is not sufficient. Each child has different support needs. If you pull them, they respond very well. As children are increasingly diagnosed before, these classrooms are very useful, "he emphasizes. For his son Ivan, for example, he simplifies the readings so that he doesn't get distracted or adapt the exam questions so that they are short and straightforward.
Modesto Díez, delegate of the Spanish Federation of Rare Diseases, poses a similar situation for these students. Extremadura has a protocol that coordinates Health and Education to support a schoolboy with a medical condition, but recognizes that healthcare is guaranteed – a nurse who treats it – but not so much the educational one. "Depending on the sensitivity of the center they have support or not."
"There are abandonments out of absolute despair"
"There is a lack of alternatives for students with special needs that does not go through the Baccalaureate. FP is a desert. There is almost nothing, there are no centers with support when it is a good alternative to find a job, "laments Ruth Vidriales, psychologist and technical director of the Autism Confederation. "Many end up leaving the education system out of absolute despair and lack of support. The family effort is what makes them often achieve their goals, "he continues.
The teacher Marta Prieto, mother of two children with autism, sets an example. She has a niece with Autism Spectrum Disorder who is currently studying Teaching thanks to "her tenacity and the support of her family, her teachers who were involved and the private teachers."
"There are many students who disappear from the statistics when they reach secondary school. Maybe they go to the special education circuit and probably stay at home in the second cycle of secondary school looking for other alternatives, "continues Vidriales.
Although the psychologist sees some improvement: "Now there is an awareness that students arrive at the Baccalaureate and think about adjustments. For example, with protocols in Selectivity to leave them some more time. " 1.8% of students in grade, 1.2% in postgraduate and 0.7% in doctorate have a physical or psychic disability, according to the data of the Conference of Rectors.
. (tagsToTranslate) state (t) helplessness (t) thousand (t) bachelor (t) need (t) support (t) school (t) system (t) prioritize (t) help (t) stage (t) mandatory ( t) compulsory (t) 11,700 (t) student (t) baccalaureate (t) special need (t) (t) remain (t) luck (t) regional government (t) (t) center



Source link