The stage recovers the lights and shadows of Paco España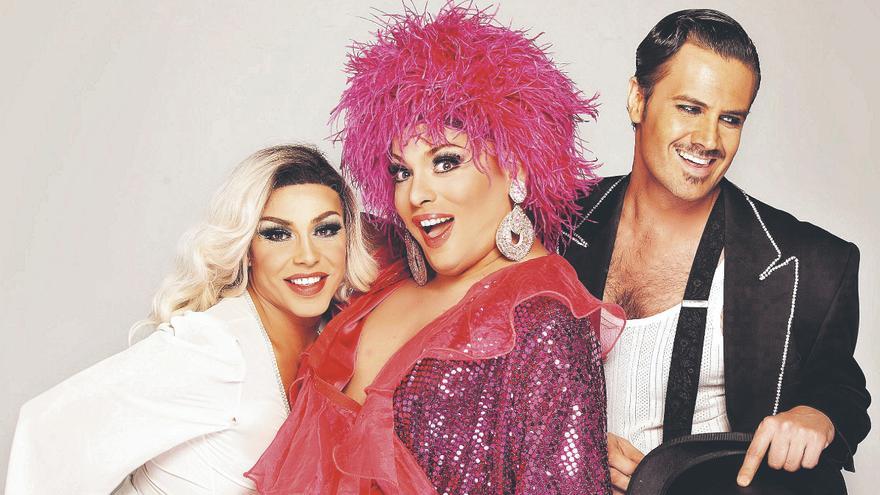 Paco España was a pioneer in the world of Spanish transformism at the end of the dictatorship and the best known transformist artist of the Spanish Transition. He recorded records; he did theater and cinema, and rubbed shoulders with the best of the country. "He lived like a queen and died like a beggar," explain those responsible for this show in which music, through the songs that Paco himself can interpret, will play a determining role.
The national premiere of Paco España, was a show that will take place at the Guiniguada Theater in Las Palmas de Gran Canaria on November 4, 5, 6 and 7, with a very limited capacity, due to current sanitary measures. Later, on November 13, it will be seen at the Fuerteventura Conference Center. That is the beginning of a tour in the Canary Islands that will be completed throughout 2021 and that will possibly be expanded with performances in theaters and halls of Madrid, Barcelona and Malaga for the spring of next year.
He recorded records, made theater and cinema and rubbed shoulders with the best of the country in La Trancisión
Paco España, it was a show, it is a text by Santiago Escalante and José Ignacio Galán that covers the artist's life on his journey from success to oblivion, full of songs and situations that made him a benchmark of modernity and freedom of that epoch.
Luxuries and drugs surrounded a life that ended in a miserable way. The actor and transformer José Ignacio Galán, known as Nacha la Macha will be the one who gives life to the character of Paco España. His experience as a singer and actor allows him to get into the temperamental skin of this icon, an artist whom he knew and admires deeply.
It is "a risky but necessary project in such a complicated context for culture", explains Israel Reyes, from Gran Canaria. This show is Clapso's new commitment to theater committed to visibility and LGTBI rights, a portrait of an era and an indispensable character to understand the challenges posed for our society that some long for bygone times.
A cast delivered
"When I started in transformism, I already knew that Paco was one of the greatest," recalls Nacho Galán. "I was lucky enough to meet him in Madrid for just one night, but I was never able to enjoy his art live. As I grew up with my character as Nacha la Macha, the public flattered me, telling me that he reminded them of Paco España ", admits the popular artist.
From his vision, he believes that his own experience "of 17 years on the scene" will help him to face the role of Paco with the respect and affection he deserves ", he says before adding that" it is a myth that we must vindicate and value and even more in this land that he loved so much ".
The feat of Francisco Morera García -paco España's real name- was to skip the molds of a Francoist society, in which, to avoid difference and pain, it was better to marry and create a family. Paco did so, and according to his sister Fefina says that "he said yes I want to be in love" with a dancer from his show, in Barcelona, ​​with whom he had his two children Ricardo and Manoli.
But Paco España declared himself bisexual, and on stage he was a "sissy", as he said, with a lot of art and talent.
Israel Reyes, who co-directs the show, says that "this project comes to me from the hand of the author Santiago Escalante who, together with Nacho Galán, collected for years all the material published about the artist from La Isleta. The process has been very enriching since Santiago has incorporated details and data provided by Paco's son ", says the theater entrepreneur. "My work", he continues, "is focused on visual and musical staging. This emotional journey brings us back to the man who never knew he was iconic. "
"Paco from his art to the same thing as me: fighting for equality", says Santiago Escalante
Reyes, poses in this emotional journey to portray the boy and the man, the controversial artist and the tormented lover, take us to a very hard time and social context for people and the LGTBI community, a time that seems blurred but unfortunately, some are trying to recover .
"I", Santiago Escalante responds about whether it was necessary to recover a character like Paco España, "as an author I have always written a social and vindictive theater. Paco from his artistic form towards the same thing as me: fighting for equality. I have had to create a text with those values, something essential in these times in which we have much to lose if we do not fight to defend what we have achieved ", recalls Escalante, one of the most prolific authors on the Spanish scene and that with this work demonstrates once again his deep knowledge of theatrical architecture creating atmospheres and scenes that contribute to recreate the myth.
This project has the backing of the Ministry of Equality of the Government of the Canary Islands, the production support of the Cabildo de Fuerteventura, the Council of Equality of the Cabildo de Gran Canaria and Culture of the City Council of Las Palmas de Gran Canaria. In addition to the participation of the General Directorate of Culture of the Government of the Canary Islands through the Guiniguada Theater.
"This time I have to play the devil," acknowledges the actor José Carlos Campos. "The shadows, so necessary when there is so much light," he adds. "I am a part of Paco himself, the temptation, the vice, the apple, his demons. This character also acts as a narrator of the story from the point of view of the honorable enemy with whom he has to deal ".
The artist was born into a humble family in La Isleta, achieved success in theaters in Madrid and Barcelona and ended up dying broke and alone.
Germán Arias tells about the creative process that "nine of the most emblematic songs by Paco España have been recreated and covered, adding value to his lyrics and updating the sound, more cinematographic". "There is the choir and festive part and the most dramatic songs that he always sang live stand out, and here Nacho brings a sure value because in this show everything is sung live", he adds.
The last but essential leg of this artistic bank that is Paco España, was a show is José Vicente Martínez, known as Tracy, has been working for 25 years as a transformer, stand-up artist and master of ceremonies in various venues and theaters in Valencia. "I hope this show has the welcome we want and take the life of Paco Spain on tour so that people do not forget the hard moments that Paco lived in the Transition and that they should not return," he says.
Paco's angel
José Vicente Martínez de la Fuente, better known by his stage name Tracy Pop, born in Valencia in 1972, began his artistic career 25 years ago in the cabaret group Las Supersónicas. For 20 years he has been the star of the Valencian show restaurant Turangalila as a stand-up writer and main actor. Between 2011 and 2012, he played Blondy on Mónica Naranjo Madame Noir's international tour, where he was also the designer and stylist of the work. He combines his work as an actor with that of designer for the firm Tray Styling, dressing prominent artists on the national scene. He has participated in several video clips, international catwalks and theater productions. On the importance of recovering in Paco Spain, it was a show, where he interprets the Angel, the story of the Gran Canaria transformista thinks that "people should not forget the hard moments that Paco lived in the Transition in our country and that we should not allow come back ", says the artist who climbs Guiniguada for the first time.
A demon with a career
The actor José Carlos Actor has done it all. Grancanario, graduated in Dramatic Art with extensive professional experience in classical theater, contemporary theater, musicals, cinema and television. He has numerous courses in interpretation, dance and singing with teachers such as Itziar Pascual, Juan Carlos Corazza, Anatol Yanowsky, Karen Taft School, Gelu Barbu, José Maria Sepúlveda … As a director and producer he has just released The Last Inhabitant of the Planet, he has He has been the master of ceremonies for the famous Crazy Horse in Paris, has worked at the Lio PachaáIbiza and has been the star of the national tour of the musical Cabaret. In addition, in his career, numerous roles under the command of Israel Reyes stand out, as well as having participated in the Carnival of Las Palmas de Gran Canaria. "I am a part of Paco himself," Campos says. "The temptation, the vice, the apple, its demons – role it plays." This character also acts as a narrator of the story from the point of view of the honorable enemy with whom he has to deal ".
In the skin of myth
José Ignacio Galán Ordóñez is a Spanish actor, singer and transformer. He studied acting at the ESAD in Seville, later moving to Madrid to continue his artistic career. Nacha La Macha, his best known character in the Spanish countercultural scene, has an experience on stage for more than 17 years. Popular in the locals of Chueca, later crossing its borders, becoming one of the greatest exponents of transformism. Tireless maker of galas throughout Spain, she has crossed borders with international tours of the most important cities in Mexico as well as triumphing in Montevideo, New York and Buenos Aires in 2009. She has released four albums and participated in about eight films . In theater he has starred in three shows. In 2016 she was recognized in the II Awards of the LGTBI Festival of Andalusia for her artistic career giving visibility to the group. In the assembly Paco España, it was a show interpreting Paco.