The Spanish satellite Ingenio departs for French Guiana to be launched in November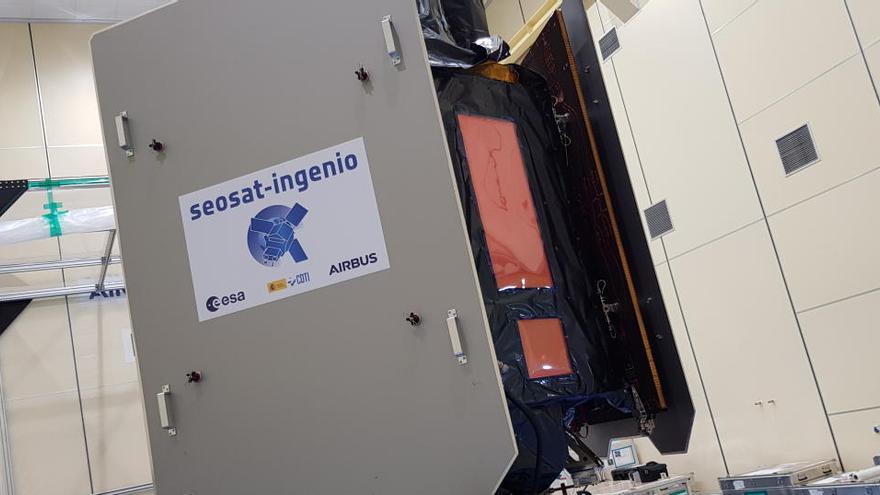 He high resolution optical satellite Ingenuity, the largest space project carried out to date by Spanish industry, will start tonight from the Torrejón de Ardoz Air Base (Madrid) bound for Kourou (French Guiana), from where it will be put into orbit in November.
The satellite will allow image capture of the earth's surface for civil and military use.
The Minister of Science and Innovation, Pedro Duque, who attended this afternoon at the Torrejón Air Base to board the SEOSAT Ingenio on the cargo plane that will transport it to Kourou, stressed that this satellite confirms that the Spanish aerospace industry is "capable of leading complete satellite systems, moving to the group of more advanced European countries ".
Ingenio, a project of the Center for Industrial Technological Development (CDTI) in which ten Spanish companies have participated, houses a high resolution optical instrument whose images will be used "both for safety and for agriculture or the environment", of which may have "for any of the services of the Government of Spain and for distribution to companies if they need it ", he added.
Duque has underlined the importance and "the increase of competitiveness and the technological level of the Spanish aerospace industry and in particular of the manufacture of satellites ".
"Thanks to the tenacity of Spain's participation in the European Space Agency during all the years of its existence, we have been acquiring new capabilities that culminate in the current state of Spanish industry," he indicated.
Wit is the second of the satellitesmanufactured within the National Program for Earth Observation by Satellite (PNOTS), and will complement the radar images captured by the Paz satellite, launched into orbit in February 2018 for primarily military use.
The President of Airbus Spain, Alberto Gutierrez, recalled that Ingenio, "designed and manufactured in Spain as Airbus as a tractor company, is part of a dual system", and pointed out that the Paz satellite "is becoming a success for the Ministry of Defence, which has been operating it for at least a year. "
Gutiérrez has indicated that "with this second link, the SEOSAT Ingenio satellite, with optical technology, Spain is equipped with the ability to capture high precision satellite images, to be used for dual purposes on civil and military grounds. "
The president of Airbus Spain has explained that the Ingenio launch phase has been delayed by the pandemic, which has forced the closure for three months of the Kourou base and to "accommodate all planned launches" that had been canceled.
The shipment of the SEOSAT Ingenio satellite for its next launch is, in his opinion, "the first phase of a journey that will put into orbit technology ".