The Spanish industrial fabric seeks its opportunity to reconnect in 5G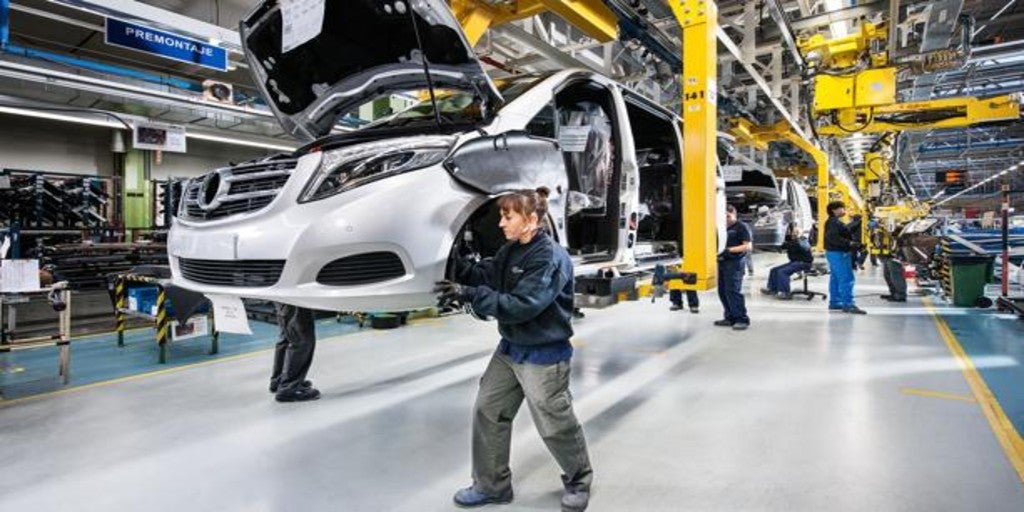 MADRID
Updated:
save

Imagine that thanks to a sensor it could be remotely control the life cycle of a worker's jacket of a production plant, analyzing, among other indicators, the humidity and temperature conditions to which it has been exposed? Or being able to locate, through a connectivity chip, a 20,000 euro tool lost in a large factory? Or that a driverless industrial vehicle, that moves 300-kilo pallets or the wing of an airplane, will move freely through a plant with a reaction time of between 1 and 2 milliseconds so as not to collide? Or that an engineer could see, hear and connect from his home to an entire factory and give instructions in real time to adjust the systems? OR drones, without pilots, flying over huge ships to transport small parts or monitor production safety? Well, all those cases are around the corner, or almost, with 5G technology.
The fifth generation of communications opens a window of unimaginable possibilities to the industry. What's more: many voices point out that it would even be a lifesaver from which our industrial fabric, in notable decline in recent decades, even though it has shown its ability to adapt and its efficiency reorienting its processes during the worst moments of the pandemic productive and manufacturing masks, respirators and protective equipment for toilets, as if they have been doing it all their lives. Without forgetting that "the main contributor to balance in the balance of payments is the industrial sector for its exports," he points out. Bernardo Villazán, co-director of the Chair of Connected Industry at Comillas ICAI.
For all this, many believe that «Developing the industrial sectors would help us to get out of the Covid-19 crisis. It is proven that the regions with greater industrial development have less unemployment, "he says. Luis Abad, CEO of Altran Spain, an international consulting firm in Engineering and R&D services. Even with 5G, in an industry 4.0, there would be a golden opportunity to change the current economic model highly dependent on the service sector.
But the truth is that the industry has been in slow agony for years. According to national accounting data from the National Institute of Statistics (INE), it now only represents 14% of the Gross Domestic Product (GDP), compared to the 19.8% that it represented fifteen years ago. Of course, very far from the objective of the European Union to reach 20% of the GDP in 2020. The fall of the manufacturing industry (without construction) is also serious: in the last eight years it has gone from 16% to 12% of the GDP.
That can change. "The industrial sector may once again have a higher development than other sectors and gain weight in the composition of our GDP thanks to the boost of 5G," he says Enrique Ramirez, President of the Observatory of Industry 4.0. Everything would revolve around the smart factory, fully connected through the 5G network. This will drive the development of Industry 4.0 technologies, that is, the digital transformation of industrial processes. "5G would facilitate wireless connection between machines compared to previous wired industries and it would promote technologies such as the Internet of Things (IoT); robotics, giving us access to powerful robots with remote control and access; augmented or mixed virtual reality and Artificial Intelligence that is already beginning to be a reality in many of the companies in our industrial fabric, "says Ramírez.
In these advanced production plants the devices will be massively connected, «Communications will be ultra reliable, something essential for industries such as the connected vehicle; automation will allow the production of goods of all kinds, and the digitization of processes will provide the continuous collection and analysis of data from the entire production chain ", continues Ramírez. The ability to respond to any incident will be immediate. There will be very low latency. In a factory everything is moving, so you have to react in real time, in milliseconds. And that is allowed by 5G, "he says. Arturo Azcorra, director of IMDEA Networks Institute, professor at UC3M and vice president of 5Tonic.
To go into more detail, with one of many examples of the possibilities of this technology: «One of the biggest costs of an industrial plant is a stop. But if we apply Artificial Intelligence and data analytics, through the 5G network with greater capacity, we can analyze the failures that it may have in the future and perform predictive maintenance eliminating errors ", explains Luis Abad. They will be more flexible factories that can even "change an assembly line in a short time by having all the robots connected wirelessly. And go from manufacturing washing machines to microwave ovens in 24 hours. Operators could control the machines from their homes, they could telework. It is going to mean a very strong change in the way of understanding industrial production ", considers Azcorra. There would even be a great novelty: «The companies themselves could have their private band, have their own network, and not through an operator. Therefore they would have the guarantee that their robots work as they want, "he says. Pere Tuset, Director of the Master of Industry 4.0 at the Univertat Oberta de Cataluyna (UOC).
All this translates into lower production and maintenance costs, with more efficient equipment, which could even react automatically to a problem without the need for a human being to intervene. Automated production could easily be adapted to changing demand, manufacturing goods of all kinds, innovative and more personalized products. "We would have products that we are not yet able to see and new business models would appear now unimaginable," insists Abad. They would also save energy costs because they would be a more efficient plant. "It would invigorate industry and production facilities of any kind and lead to increased productivity and competitiveness. It is a standard technology that can be applied in many ways, "says José Luis Doñoro, Head of Industrial Communications and Cybersecurity at Siemens Spain.
At the moment, the application of 5G technology in the industry is a very unknown horizon. "The true potential of the 5G network in the industry is yet to be discovered. If we combine it with the technologies we have, it could be the revolution ", considers Luis Abad. A reflection should be made first: «With industry 4.0 we already have some capabilities. And on the 5G network there are issues to analyze such as security, which is a very critical issue in industrial environments; standardization, to what extent it is accessible or not for the industry, and the business, if it is profitable for an operator to deploy 5G network in factories that are not in the center of large cities, and it is in these places where it will be more profitable because there are many devices on the move. That is why it is necessary to consider what an industry needs from 5G ", Bernardo Villazán-Gil wonders.
Talent deficit
Of course, our industry has the capacity for big change, but 4.0 technologies mature at different speeds. "In robotics, for example, Spain is the third country in Europe with the most deployment in the automotive sector. The use of AI is making it possible to offer many smart solutions, "says Villazán-Gil. "There are companies with a high level of maturity," says José Luis Doñoro. "Our telecommunications infrastructure is among the best in the world," says Abad.
Even so, experts miss greater investments in R&D. Another weak point is the talent deficit to manage and direct Connected Industry 4.0. «There is a huge demand for profiles on cybersecurity, data analytics, industry 4.0 … We have an important gap in Vocational Training », points out Villazán. And there are invisible obstacles, as the Observatory of Industry 4.0 has detected. Unfortunately, resistance to change and innovation in companies also hinders the development of these new technologies.
There is time, but it is a train that the industry should not miss. At the user level, the 5G network may be closer, in «industry it is a little lagged because they are complex applications that must be tested. There are years left for a general use of 5G technology in the industry ", says José Luis Doñoro.
The slow progress of digital transformation
According to the latest Smart Industry 4.0 study from the Industry 4.0 Observatory, digitization is advancing in Spanish companies. "In the last year, companies that have a digital transformation plan have increased by 28% to 78%," says the president of this entity, Enrique Ramírez. However, there is still a long way to go. Another report from PwC ("Global Operations Study 2018") concludes that two thirds of Spanish industrial companies are lagging behind in the digitization process: in particular, 68% are in a medium or low digitization stage and 32% at an advanced level. With projection in the next 5 years, our industrial companies expect, on average, to increase their revenues by 11.1% and reduce their costs by 19.4% as a result of digitization. The technologies in which they are investing the most are predictive for the maintenance of assets and products and in the implementation of digital systems to control and monitor manufacturing processes. Regarding which ones they believe have the greatest projection, they point out those related to the Internet of Things. The application of AI is almost marginal.