The Spanish comic says goodbye to Velázquez del Cosmos | Ka Boom blog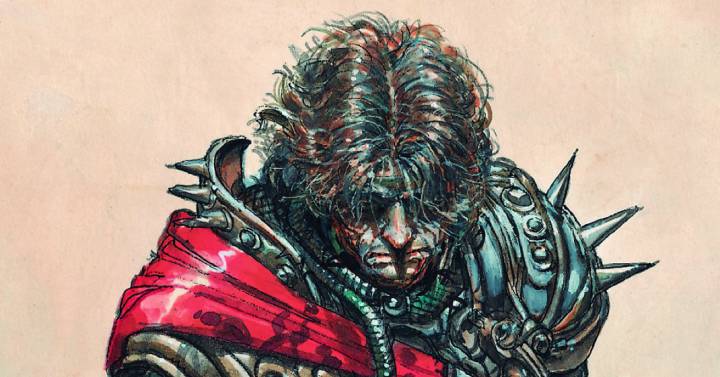 Damn, I wanted it. Speaking in silver, like the land that saw him born, it is like the Spanish comic reminds the Argentine magician Juan Giménez (Mendoza, 1943-2020), a giant-sized illustrator; an incomparable dreamer with his eyes always aiming high; to the cosmos. He lived in Spain, but when he saw himself a victim of the pandemic he decided to return to his native Mendoza. He died there on April 2, 2020. He was 76 years old.
"When I think (I still can't say I remember) about Juan, his person comes to mind before, his unbearable sense of humor, his posture as an eternal biker, the anecdote of when we met in the middle of a secondary road between Naples and Pompeii, to Hugo Pratt, who showed us the way because the driver had been lost. Normal, if it hadn't been that Pratt had been dead for 10 years. And also comes the image of his eternal Silvia. And then his wonderful colors ", he summarizes , with emotion, Ángel de La Calle, co-director of the Avilés Comic Days, director of the Black Week in Gijón and winner of the national award at the last International Comic Fair in Barcelona with War Paintings. He stays with City (Astiberri, 2015), "his work, narratively speaking, more enduring".
Who was Juan Giménez? It is a question that, unfortunately, will haunt many casual readers of the comic. Cesar Mallorquí, author of colossal stature and also an eternal observer of the cosmos, told me once, during an interview for this house, that Spain's contempt for the imaginary, for the fantastic, sank its roots in a church "jealous of the supernatural". Giménez, from the sister country, but one more for everything that united him to our nation, was, to summarize it very briefly, a pureblood of the imaginary whose mane was nebulous, his skin, dark matter and his eyes, supernovae.
He achieved immortality with The caste of the metabarons, that enormous work in blood alliance with the Chilean Alejandro Jodorowsky, who began his editorial career back in '92 - it could be said that in '81, since the first Metabarón visited a priori another Chilean masterpiece, The Incal- on the French stamp Les Humanoïdes Associés and finished in 2003 an overwhelming work, a Sistine chapel dedicated to a Greek tragedy, or shakespiriana, with the cosmos burning in the cyclorama. The Metabarons were the culmination of that dream that haunted Jodorowsky, his Dune that it never was, and that it finally flew, and without needing the gloss, in this immortal story. Giménez's hyperrealistic pictorial approach of overwhelming beauty and Homeric ability to portray the epic was a crucial element in the Titanic carving of the Metabarons.
Her relationship with the Chilean was transcendental for her career and transcendent for her life. With humor, in an interview given to the festival Curtas from Villagarcía de Arosa, Giménez remembered the details of that first meeting: "When I was introduced to him, I met a guy with a good presence but who was dressed absolutely in purple. Everything. Socks, shoes, suit, shirt, tie, cufflinks ... and that made me even more self-conscious. Then, when he started talking to me, I realized that he was a normal guy. Some time later I asked him why he was dressed in purple. And he answered: 'It's because of envy. With this I reject the envy". Shortly after, in that same interview, Giménez drew it like this, in words: "He analyzed my pupils, like in Blade Runner, and he said: 'Juan, you have all the freedom in the world' [...]. I respected everything. Until the semicolons. "
"I always marveled at how he created those fantastic worlds with his watercolors. The artifacts, ships, planes, armor ... You could stop in his vignettes to enjoy all the detail that he gave his readers.", Remembers Paco Roca, who is left with Garbage from the panoply of the Argentine. Memorable, fun and touching is the anecdote of the author So Blonde —with the adaptation of The key to the abyss by José Carlos Somoza in the making—, for whom the Metabarones are a Proust cupcake with the aroma of first love: "A long time ago, in another life with another name and another hair color, a boy discovered a breed of warriors, their glories and losses, woolly toads that spoke and asked for the warmth of their master's body, whores, nuns and meat sacrifices . Yes, girls and boys, I fell in love with Jodorowsky's texts and Giménez's illustrations. Sit tibi terra levis."
But it was not only the comic where Velázquez de Giménez's wickerwork amazed. In another of those territories forgotten by the cultural eye of Spain, the golden age that the Spanish video game lived at its dawn, Jiménez was, like Azpiri and Luis Royo, the incomparable vendemotos when it came to illustrating those video game covers that promised what that could never be given at the time. "Although my colleagues will be choosing a wonderful page, I am going to rescue an illustration that he made for Ópera Soft, in the midst of the golden age that the emerging Spanish video game lived in the 80s and that made my 14 or 15-year-old self I was dying to buy that game. Something that, of course, I did not take long to do, "says Jorge Iván Argiz, editor at Dolmen Editorial and co-director of the Avilés Comics Conference and the Celisus 232 transmedia festival. The video game in question, accompanying this text image, was Black Sun. By the way, Giménez's own favorite, as he himself confessed during an interview to the retro video game blog A better past, was the one made for Livingston Guess II by Opera Soft.
All the actors in the comic have memories for Juan Giménez. David Macho, an agent of Spanish authors who colonize with extraordinary success Marvel and DC, remembers him this way: "A great conversationalist, a great person and a wonderful author, unmatched. A teacher in everything, but especially when it comes to telling stories, anecdotes. What will remain of him the most is the memory of a good, funny man who tells his own stories and those of others and always with a smile on his face ". Macho's work is Ace of Pick (Editorial Dolmen, 2012).
Laureano Domínguez, editor at Astiberri, is also left with a smile: "His sense of smoke, his youthful spirit and the moments shared on the many trips in which we have coincided over 30 years." The Metabarons is that of David Hernando, editorial director of Planeta Cómic: "Few cartoonists like him have been able to transmit so much emotion to science fiction. Their metal creations seemed to come to life on every page." Oscar Valiente, director of Norma Editorial, who also has traces in his memory of his videogame covers, defines it this way for Ka-BOOM: "Juan Giménez's only ambition was to draw, to paint, he dreamed of dying glued to his box of brushes and watercolors, and this has been accomplished because fortunately, for him but especially for us readers, he has continued working until the last moment. The loss is enormous because he was a person very loved by the entire sector, and because he still had a lot to tell."
To close, a reflection by Giménez, in response to the question on the topic that says that the past was always better: "I think we should not say" better "exclusively. It is possible that each generation has its" best "past in this present that we are living. " One of those who are present, a legacy that prolongs the lineage of great Ibero-American illustrators, is Álvaro Martínez Bueno, one of the star DC cartoonists, the land of Batman, Superman and company: "Juan Giménez was a unique portent in the history of comics, perhaps having been born in the golden century he would have a room in El Prado. My feeling from the first time I saw his work was to be to one galactic distance from that talent and still feel its warmth like a nearby sun. "Like a nearby black sun, burning, beautiful and dark, in the cosmos.