The son of the king who fell into the void and the caretaker who committed suicide | Culture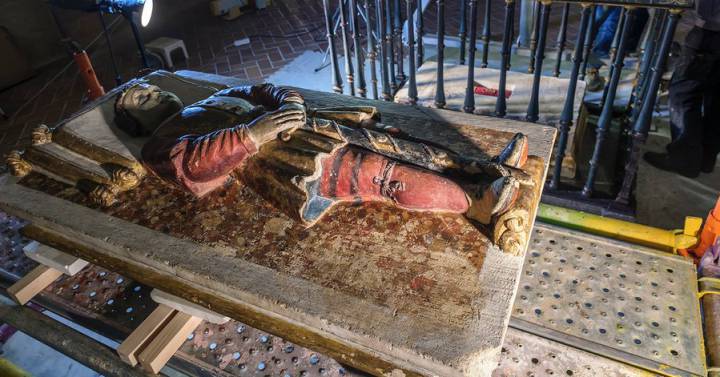 On July 22, 1366, the little infant Don Pedro peered into one of the adarves of the Alcazar of Segovia. He lost his balance and fell from a considerable height. Moments later, her caregiver, desperate, did the same. The kid was buried in the old Segovian cathedral. Now, more than six centuries later, his tomb has been opened to carry out restoration works in the hall of Santa Catalina de la seo. Inside, a small chest has appeared with "a silk blouse with fabric buttons, a larger skirt and a fabric belt of the same color, which made a curl, kept three bones", presumably of the small, as has made public the Cathedral of Segovia.
The infant Don Pedro, son of King Henry II of CastileHe was buried in a grave with a lid that reproduced his effigy. What was ignored is that inside it the small chest had been placed, now open in the presence of the dean of the cathedral, Ángel García Rivilla, and responsible for the Junta de Castilla y León, as well as various restorers.
Experts consider, by virtue of the size of the fabrics and bones found, that the infant should "be a very young child, and not a 10 or 12 year old boy, as the medieval chronicles point out", as well as let his own understand image carved on the sepulchral lid. The remains have been sent to a laboratory to determine exactly "the exact age of death and pathologies that could have". The dresses have been transferred to the Restoration Center of the Board, in Simancas, for its restoration and later exhibition in the cathedral museum.
The child's grave was erected by the king's express wish in the center of the old cathedral's choir. The monarch left written that "he should be illuminated by two hackers day and night and guarded by two trusted porters of the town hall forever." But in 1522, the old cathedral, because of the Communities WarIt was heavily damaged and it was decided to lift another one where the boy's remains were taken.
On August 25, 1558, with the new cathedral almost finished, the remains of Don Pedro are moved to their new location and placed in a Renaissance sepulcher where you can read: "Here the infant Pedro Pedro fixed the Lord King Don Enrique Segundo – It was 1404, Year 1366 ". There are no more details. Until now, when science can determine the exact causes of his death.