The Social Security debt climbs 71% in the last year and touches a new ceiling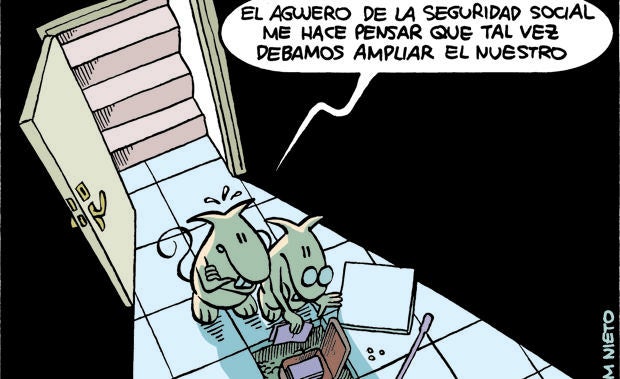 MadridUpdated:
The Social Security debt continues its climb and in May rose 4.1% to 46,821 million euros. Only in the last year has registered a rise of 71%, adding to its liabilities 19,434 million euros more.
On the other hand, the debt of the whole of the public administrations has increased in 12,400 million euros in May, up to 1.19 trillion euros, which is close to 98% of GDP and once again hits historical highs after a slight fall in the fourth month of the year, according to data published this Wednesday by the Bank of Spain.
Specifically, the public debt has grown 1% in May compared to the previous month, reaching 1.19 billion euros, and rebounded by 3.3% compared to the same month last year, rising by 38,688 million euros in the last year.
With the methodology used by the Ministry of Economy and Business (linear interpolation between the last known nominal GDP and the one predicted at December 31, 2019), the percentage of debt over GDP it has been placed in May in 97.5%, compared to 97.09% in December 2018.
The department of Nadia Calviño has maintained that «the data of May 2019 is, then, consistent with the goal of the debt-to-GDP ratio of 95.8% by the end of 2019 contained in the Stability Program 2019-2022 ». In this sense, they have argued that the monthly balance has a volatile evolution conditioned to the concentration of emissions in the first months of the year and maturity dates in January, April, July and October.
In those months they have usually taken place balance reductions, while in the remaining months the balance increases, especially in the first half of the year.
Sánchez and the autonomies fatten the debt
If we take a look at the administrations, the growth of the State debt explains almost all the increase in public debt in May, as it increased monthly by 9,082 million, to 1,051 billion euros. RAs of the previous year, it has risen by 3.9%, adding 40,141 million euros in one year.
The public debt of the autonomous communities has also contributed to the Total indebtedness increased in May, as it rose by 1,638 million of euros, up to 298,568 million euros. At year-on-year level, it has risen by 2.6%.
Instead, local corporations have reduced their indebtedness in 290 million in May compared to the month of April, up to 26,040 million, which in the last year cut their debt by 2,871 million, 10% less.
. (tagsToTranslate) debt (t) publishes (t) social security (t)



Source link