The soccer field 11 of the Sports City of Siete Palmas, renovated and ready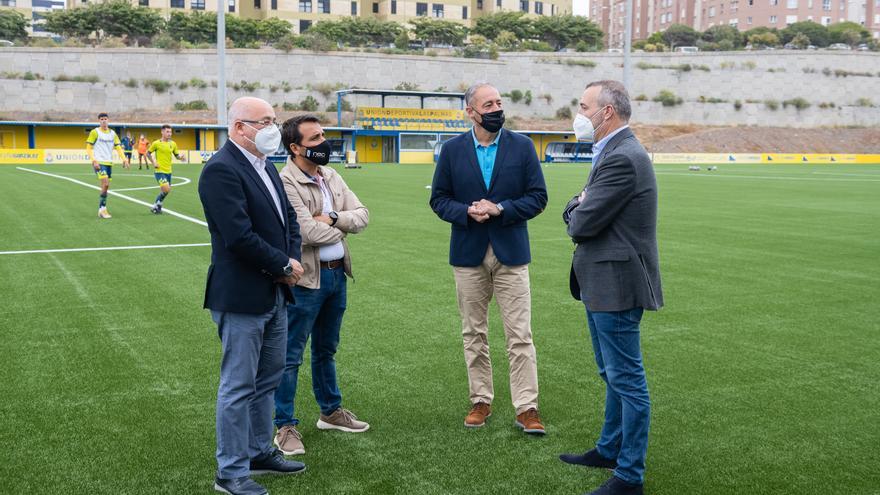 The soccer field 11 of the Sports City of Siete Palmas is now ready for the competition after the adaptation works that have been carried out there since last March. An action that had a budget of 407,313.95 euros and was carried out by the company Fieldturf Poligras SA
It was the second work that was started this year, after the start of the enclosure and refurbishment actions of the West tower of the Gran Canaria Stadium, which are continuing. Modernization and optimization actions in order to promote the great potential of the Siete Palmas Sports City for the official competition on the Island.
The opening ceremony was attended by the president of the Cabildo de Gran Canaria, Antonio Morales; the Minister of Sports, Francisco Castellano; the president of the Las Palmas Sports Union, Miguel Ángel Ramírez; and the representative of Fieldturf Poligras SA, Orlando Socorro.
Francisco Castellano indicated "that today we are reopening the lawn of this 11 football field of the Siete Palmas Sports City after the adaptation works, whose objective has been to modernize and optimize it. A field completely renovated in less than two months, a record time, with a budget of more than 400,000 euros and that already has the FIFA certificate ".
Antonio Morales pointed out that "this work has been carried out in record time and in which the Insular Sports Institute has been very involved. With this state-of-the-art lawn we respond to the needs of this infrastructure ".
For his part, Miguel Ángel Ramírez was delighted with the work and stressed that "the football field 11 has been marvelous with this new lawn. For several years we have been asking the Insular Sports Institute for the need for this change and today it is a reality ".
Actions carried out
The work consisted of changing the grass, which due to its deterioration will be replaced by a last generation system, Core 42-17, with an Alveosport Nut 3001-10 mm base. In addition, the actions have included the installation of new irrigation cannons, repair of rain gutters and marking of the lawn.
It should also be noted that it was about obtaining the homologation certificates of the field, which have been validated by FIFA a few days ago. The environment of the field was conditioned, such as the new changing rooms and the organization of the bleachers area to improve the comfort and accessibility conditions of the public.
As a particularity of the work, we opted for the recycling of the materials to be eliminated, especially the replaced grass itself, which was reinstalled in the traffic band area that surrounds the natural grass of the Gran Canaria Stadium, to beautify the entire perimeter.
With the works that have been carried out in the Siete Palmas Sports City, a set of actions is started following the guidelines of the Master Plan, which will follow its roadmap to implement the rest of the sports uses in the area.